Front Page Photo
Calf Moose
Photo By Carl Thompson
June 06, 2006
Tuesday

Although this baby moose appeared to be alone at the time it was photographed recently in the Soldotna, Alaska area, the mother, or cow moose, was close by. Approaching a calf moose can be dangerous as a cow moose will protect her calf vigorously.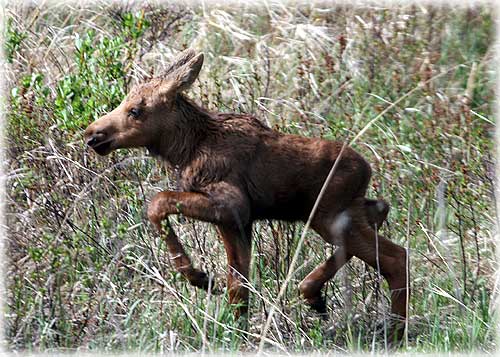 Calf Moose
Photo by Carl Thompson of Ketchikan, Alaska
www.carlsphotos.com

According to the Alaska Department of Fish and Game's Wildlife Notebook Series, the moose is the world's largest member of the deer family.
Cow moose generally breed at 28 months, though some may breed as young as 16 months according to information provided on the web site of the Alaska Department of Fish and Game. Calves are born any time from mid- May to early June after a gestation period of about 230 days.
Newborn calves weigh 28 to 35 pounds and within five months grow to over 300 pounds.
Cows give birth to twins 15 to 75 percent of the time, and triplets may occur once in every 1,000 births. The incidence of twinning is directly related to range conditions. A cow moose defends her newborn calf vigorously.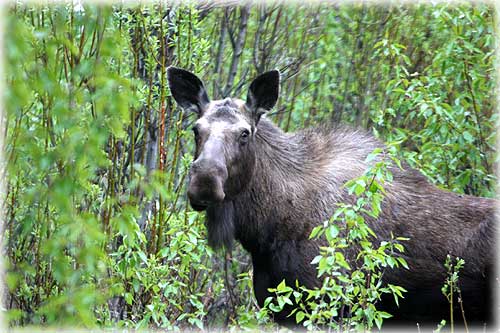 This Soldotna area cow moose is not related to the calf moose pictured above.
Adult females weigh 800 to 1,300 pounds. Only adult males have antlers. A bull moose in prime condition can weigh from 1,200 to 1,600 pounds.
Photo by Carl Thompson of Ketchikan, Alaska
www.carlsphotos.com

Calves begin taking solid food a few days after birth. They are weaned in the fall at the time the mother is breeding again. The maternal bond is generally maintained until calves are 12 months old at which time the mother aggressively chases her offspring from the immediate area just before she gives birth.
In Alaska, moose can be found in suitable habitat from the Stikine River in the Panhandle to the Colville River on the Arctic Slope.
Of interest, in Europe moose are called "elk".
On the Web:
Alaska Department of Fish and Game: Wildlife Notebook Series
http://www.adfg.state.ak.us/pubs/notebook/notehome.php

E-mail your news & photos to editor@sitnews.us


Publish A Letter on SitNews Read Letters/Opinions
Contact the Editor
SitNews
Stories In The News
Ketchikan, Alaska