Front Page Photo
Alaska Fire/Smoke

June 30, 2005
Thursday

On Tuesday, June 27, Fairbanks was directly in the path of smoke blown in from fires just north of Eagle. In the following days, smoke blanketed the entire Interior, which led to an air quality alert issued for the region by the Division of Air Quality of the Alaska Department of Environmental Conservation (ADEC).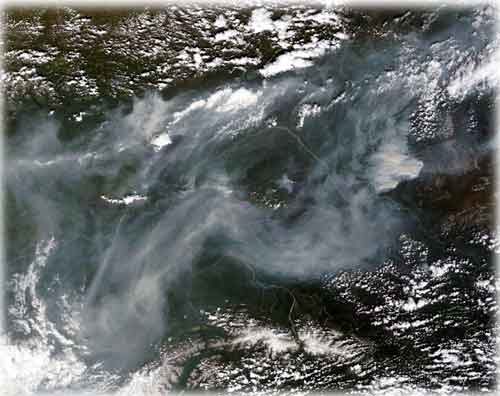 GINA, a facility at the Geophysical Institute, provides statewide imagery for Alaska, updated in near-real-time, is available by following the link "Alaskan Images Fire/Smoke" at http://www.gina.alaska.edu
Geographic Information Network of Alaska (GINA) was established in 2001 as the University of Alaska's mechanism for organizing and sharing diverse geospatial data and technological capabilities.
According to a study just released by the National Center for Atmospheric Research/University Corporation for Atmospheric Research, wildfires in Alaska and Canada in 2004 emitted about as much carbon monoxide as did human-related activities in the continental United States during the same time period.
The team concluded that the Alaskan and Canadian wildfires emitted about 30 teragrams of carbon monoxide from June through August of last year. Because of the wildfires, ground-level concentrations of ozone increased by 25% or more in parts of the northern continental United States and by 10% as far away as Europe.
Related News:
Wildfires major source of air pollution, study says By LEE BOWMAN - Wildfires that burned more than 11 million acres of Alaska and Canada last summer put about as much carbon monoxide into the atmosphere as did tailpipes and smokestacks in the United States during the same period, according to a new study. - More...
Wednesday - June 29, 2005
Source of Photograph:
Geographic Information Network of Alaska (GINA)
Web Site

E-mail your news & photos to editor@sitnews.us


Publish A Letter on SitNews Read Letters/Opinions
Submit A Letter to the Editor
SitNews
Stories In The News
Ketchikan, Alaska