Girl injured when running into roadway
by Dick Kauffman
June 27, 2005
Monday

Ketchikan, Alaska - An 11-year old girl was injured when she ran into the roadway without looking and was struck by a passing vehicle. The accident took place around 4:16 pm Sunday at 11.2 mile North Tongass Highway.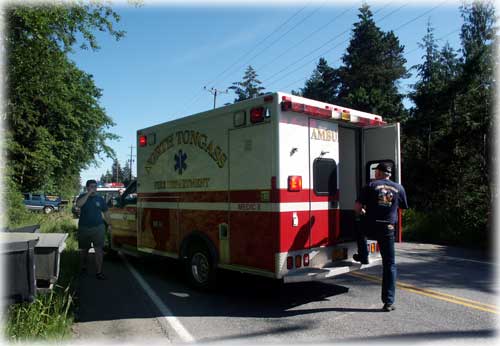 North Tongas Volunteer Fire Department EMT prepare
to transport the accident victim to Ketchikan General Hospital.
Photo by Dick Kauffman

According to Alaska State Troopers, their investigation "revealed Haley M. Harvey, age 11, of Ketchikan ran into the roadway without looking and was struck by a passing vehicle driven by Nicole Stump, age 33, of Ketchikan."
Harvey was transported to Ketchikan General Hospital by the North Tongass Volunteer Fire Department ambulance. Reportedly Harvey suffered a broken leg and numerous abrasions.
Ketchikan resident George Houck who was driving behind Stump, said they both began to slow down when they saw the kids walking along the side of the road. He said he knew Stump began to slow down because he saw her brake lights go on. Houck said he then saw Stump make an immediate turn to the left in an effort to avoid the young girl who ran into the road unexpectedly.
A witness on the scene said it appeared that Harvey bounced off the side of the vehicle onto the side of the roadway and was very lucky that she hadn't run in front of the car.
There are no sidewalks or bike trails along 11.2 mile North Tongass. Pedestrians, including children, frequently walk along this busy stretch of the highway visiting a grocery store in the area. Construction has begun in the Mud Bight area that will widen the road from Mud Bight to Whipple Creek.
The Alaska State Troopers' investigation continues.

Publish A Letter on SitNews
Read Letters/Opinions
Submit A Letter to the Editor
SitNews
Stories In The News
Ketchikan, Alaska