USA wants action, not talk from Syria, secretary of state says
June 26, 2005
Sunday

Secretary of State Condoleezza Rice called on Syria June 23 to take action against cross-border activities contributing to the insurgency in Iraq and to stop supporting terrorist groups trying to destroy the Israeli-Palestinian peace process.
In a press conference with other Group of Eight (G8) foreign ministers after their meeting in London, Rice also expressed the hope that an outward-looking European Union will continue its expansion.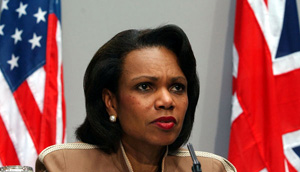 Secretary Rice participated in a joint press availability following the G-8 foreign ministers meeting in London, United Kingdom, June 23, 2005
during her trip to Europe.
State Department photo by Richard Lewis.
Asked about cross-border insurgents entering Iraq from Syria, Rice said, "I would simply say to the Syrian government, let's not have more words about what they're prepared to do about Iraq, let's have action. This is a government that can take action on its border to prevent these cross-border activities that are really contributing dramatically to insecurity in Iraq. So if they're prepared to do it, they should just do it."
Earlier in the day, Rice called on Syria to stop acting in a destabilizing way in Lebanon. She made those remarks following her meeting with French Foreign Minister Philippe Douste-Blazy.
When asked about terrorism directed against Israelis as they withdraw from Gaza, Rice said Palestinians, Syrians, Iranians and indeed the entire international community have a responsibility to act.
"[T]he Palestinians have responsibilities and those responsibilities include using their security services in whatever way they can, in whatever state they are, to fight against those who would try and destroy the process that will now be under way for withdrawal," she said.
Turning to other states in the region, Rice said "There cannot be a blind eye to the activities of states that are supporting terrorist groups, whether it be the Syrians, where the Palestinian Islamic Jihad is headquartered in Damascus, or the Iranians, who have never supported the peace process and continue to support terrorism."
She added that the international community "must speak with one voice about the terrorism and to the states that are supporting terrorism."
Rice said she has asked the Israelis to do their part as well, including easing closures, dealing with the humanitarian situation of the Palestinian people, and in general trying to strengthen the hand of moderates in the Palestinian territories. Israel in addition has a responsibility "not to try to prejudge a final status agreement with its activities and to support a Palestinian leadership that has cast its lot with a peaceful outcome," she said.
Regarding the future of Europe in the wake of the French and Dutch referenda rejecting the proposed European Union constitution, Rice reiterated that the United States is in favor of a strong Europe able to meet the demands of global leadership. How Europe constitutes itself is up to Europeans, she said, adding that the United States has always encouraged an outward-looking Europe and regards its willingness to expand as an inspiration to other reforming and democratizing states in Europe.
"I would sincerely hope that that would continue, including the promises and obligations that the European Union has made to a number of states including Turkey," she said.
In opening the press conference, British Foreign Secretary Jack Straw said the G8 ministers (representing Canada, France, Germany, Italy, Japan, the United Kingdom, the United States and Russia) were joined in their meeting by Afghan Foreign Minister Abdallah Abdallah, who briefed them on progress being made in his country. Straw said the G8 ministers reassured Abdallah that the "international community's commitment to Afghanistan is for the long term."
Straw said the group also discussed Iran, the western Balkans, United Nations reform, Sudan and North Korea.
Rice was in London after traveling in the Middle East June 17-20, and then to Brussels, Belgium, for a conference on international assistance for Iraq June 21-22.
On the Web:

Publish A Letter on SitNews
Read Letters/Opinions
Submit A Letter to the Editor
SitNews
Stories In The News
Ketchikan, Alaska