Bush Confident Iraq's Democracy Will Be Successful

Assures Iraqi prime minister there is no timetable for troop withdrawal
June 26, 2005
Sunday

President Bush expressed his confidence that the Iraqi people will succeed in their efforts to establish "a democratic and peaceful Iraq that represents all Iraqis."
Speaking Friday with visiting Iraqi Prime Minister Ibrahim al-Jafari at the White House, Bush said, "I'm confident the Iraqi people will continue to defy the skeptics as they assume greater responsibility for their security and build a new Iraq that represents their diversity."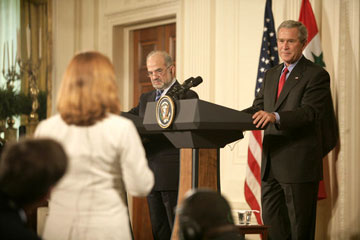 President George W. Bush and Prime Minister Ibrahim Jaafari listen to a question from the media Friday, June 24, 2005, during a press availability in the East Room of the White House.
White House photo by Eric Drape
"We're optimistic that more and more Iraqi troops are becoming better trained to fight the terrorists. We're optimistic about the constitutional process. There is a political track that's moving forward in parallel with the security track," Bush said.
The president praised the Iraqi people for defying "the car bombers and assassins" to hold their "first free elections in a half century" seven months after resuming their sovereignty, as well as forming a transitional government in April and including a larger number of the Sunni minority in the committee to draft Iraq's constitution.
The president said insurgents and others committing violent acts against Iraqi civilians, security forces and multinational forces "will not succeed" in their goal to "drive us out of Iraq before the Iraqis have established a secure democratic government."
"They try to kill, and they do kill innocent Iraqi people, women and children, because they know that it bothers people to see death. And it does. It bothers me. It bothers American citizens. It bothers Iraqis," Bush said.
The president refused to set a timetable for the withdrawal of U.S. forces from the country, saying, "if you have a timetable, you're conceding too much to the enemy."
"You don't have to worry, Mr. Prime Minister, about timetables," Bush told al-Jafari.
The Iraqi leader thanked the president and the American people for their support, saying, "You have given us something more than money; you have given us a lot of your sons, your children that were killed beside our own children in Iraq."
This, he said, "is more precious than any other kind of support we receive, [and] you have to be proud before your own people that you presented us for the maintenance of democracy in Iraq, and to remove the dictatorship."
Al-Jafari said that the Iraqi people's success "is your own success," and said, "We do not forget those who served us beside us at hard times."
The prime minister also called upon other countries to help Iraq's economy and security.
"The Iraqi people had a specific request, which is toppling down Saddam Hussein for reasons relating to their dignity and their politics," he said, adding "Right now we have another danger, which is terrorism."
The fight against terrorism is one "to keep the human dignity and civilization" and requires "that we all act together," he continued. " It's not only the duty of Iraqi people but other countries as well."
Al-Jafari also expressed his appreciation to Secretary of State Condoleezza Rice for her "great role" in the International Conference on Iraq that concluded in Brussels, Belgium, June 23.
He said Iraqi women are increasingly participating in their country's future, with 30 percent having participated in recent elections, and six women ministers in the transitional government. The prime minister said he also intends to add another woman to the government to serve as his deputy.
Al-Jafari expressed confidence that Iraq's constitution will be written and approved by the Iraqi people, and that the success of the political process will undermine the terrorists.
"I see from up close what's happening in Iraq, and I know we are making steady and substantial progress," he said. "People said Saddam [Hussein] would not fall, and he did. They say the election would not happen, and they did. They say the constitution will not be written, but it will. And the political process, as well, including the Sunni Arabs, will further undermine the terrorists," al-Jafari said.
On the Web:
Publish A Letter on SitNews
Read Letters/Opinions
Submit A Letter to the Editor
SitNews
Stories In The News
Ketchikan, Alaska