GINA collaboration to boost response to summer fires
June 23, 2005
Thursday

The Geographic Information Network of Alaska (GINA) has provided the first Alaska Landsat 5 emergency response scene to the Alaska Fire Service. GINA ordered the scene early June 22, 2005 and was able to have it available for fire personnel later that afternoon.
Tom Heinrichs, GINA technical services manager, said the scene was passed to the Alaska Fire Service mappers shortly after receiving it. The scene was to be used for a briefing map to be flown to the fire late yesterday.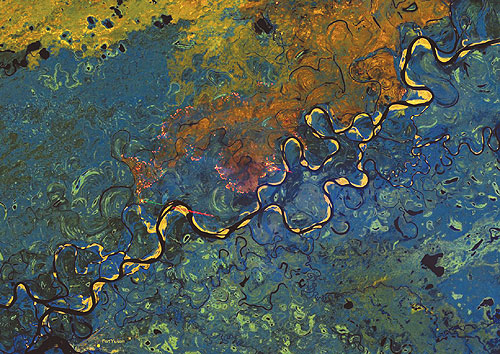 Image credit: GINA, University of Alaska

The Geographic Information Network of Alaska (GINA) at the University of Alaska Fairbanks Geophysical Institute is collaborating with other agencies to provide near-real-time satellite data to the Bureau of Land Management's Alaska Fire Service. Armed with images taken from space, fire personnel will be able to track hot spots and fire movement, even under heavy smoke that may ground mapping aircraft. Data from Landsat 5 and MODIS satellites will be available to fire crews and other users in less than 24 hours through the GINA network.
Landsat 5 satellite data is now captured at the NOAA/NESDIS Fairbanks Command & Data Acquisition Station at Gilmore Creek, Alaska. GINA then transmits the data over high-speed networks to Sioux Falls, South Dakota, where it will be processed and archived at the USGS National Center for Earth Resources Observation Systems.
This is the fourth season MODIS satellite data will provide information to fire personnel through GINA. The entire state of Alaska can be viewed in one pass by MODIS satellites, which makes several passes each day. Due to the satellites' multiple spectral bands, GINA is able to supply users with natural color images of smoke and terrain, as well as thermal images. MODIS images and fire detection points are processed by GINA and delivered to agencies within 40 minutes of reception.
While MODIS data allows users to view the entire Alaskan landscape, Landsat 5 provides users the ability to see critical areas at a higher resolution.
"This timely data will be a useful supplement for wildfire managers. The 30-meter resolution imagery from Landsat 5 will give firefighters more precise locations and finer-grained pictures than the statewide coverage of 250-meter resolution MODIS scenes we provide them several times each day," said GINA Director and University of Alaska President's Professor of Remote Sensing Buck Sharpton.
Source of News:
GINA, a facility at the Geophysical Institute, was established in 2001 as the University of Alaska's mechanism for organizing and sharing diverse geospatial data and technological capabilities.
Web Site

E-mail your news & photos to editor@sitnews.us


Publish A Letter on SitNews Read Letters/Opinions
Submit A Letter to the Editor
SitNews
Stories In The News
Ketchikan, Alaska