Eagle Scout Project Helps Local Fire Departments
By Dick Kauffman
June 19, 2005
Sunday

Ketchikan, Alaska - Jeff Owings completed his Eagle Scout project at Fire Station #1 with a donation of 20 backboards he constructed with the help of other Scouts and local businesses. Members of four local fire agencies were on-hand Friday afternoon for the presentation of the backboards which are used to carry injured persons.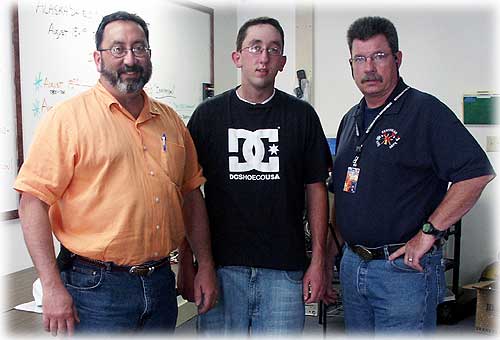 Left to Right: Dave Owings, Scout Jeff Owings and KFD Assistant Fire Chief Jim Hill...
Photo by Dick Kauffman

The Ketchikan Fire Department, North Tongass Volunteer Fire Department, South Tongass Volunteer Fire Department, and the Ketchikan International Airport firefighters each received 5 backboards made by Owings that would be beneficial in any large-scale event.
Jeff Owings presented the backboards to the fire agencies on behalf of all those who helped him with his Eagle Scout project including the Scouts, Wal-Mart, Model Builders, Madison Lumber & Hardware, Sign Pro and his mom and dad - Dave and Karen Owings. Owings also thanked Pete Prichard, Joe Johnson, Jack Rodgers, Jake Rodgers, Kyle Heaton, Harlan Heaton, Phillip Johnson, and Andrew Crosby.
Jim Hill Assistant Fire Chief of the Ketchikan Fire Department said, "Jeff's project has great timing too because on August 15-19, 2005 all of Ketchikan's emergency responders and health professionals will be involved in a statewide Homeland Security Exercise called Alaska Shield/ Northern Edge." Hill said during this upcoming exercise, "Local emergency responders and health-care workers will be tasked beyond their capabilities and require the assistance of additional State and Federal resources."
"The backboards Jeff made will be used in a mass-casualty scenario at an undisclosed location," said Assistant Chief Jim Hill.
Dave Owings, Jeff's father, said that it took Jeff 120-hours to complete the 20 backboards.
Fire Technician Tim Garton of the Ketchikan International Airport Fire Department is presented 5 backboards for the Ketchikan International Airport Fire Department made by Jeff Owings...
Photo by Dick Kauffman

Fire Chief Josh Workman of the South Tongass Volunteer Fire Department is presented 5 backboards for the South Tongass Volunteer Fire Department made by Jeff Owings...
Photo by Dick Kauffman

Fire Chief David Hull and Jack Rodgers of the North Tongass Volunteer Fire Department are presented 5 backboards for the North Tongass Volunteer Fire Department made by Jeff Owings...
Photo by Dick Kauffman

Assistant Fire Chief Jim Hill of the Ketchikan Fire Department is presented 5 backboards for the Ketchikan Fire Department made by Jeff Owings...
Photo by Dick Kauffman
E-mail your news & photos to editor@sitnews.us


Publish A Letter on SitNews Read Letters/Opinions
Submit A Letter to the Editor
SitNews
Stories In The News
Ketchikan, Alaska