Lifestyle
"Vegan Potluck Extravaganza"
By Nancy Coggins
June 16, 2005
Thursday

Ketchikan, Alaska - A parade of vegan dishes streamed in the front door of the party house, shouting, "Here we come to show off our stuff!" Stars of the evening, these dishes took center stage. As if they had legs, dishes filled with all kinds of vegetables kept arriving for the Vegan Potluck Party. By 10:00 PM, at least 30 containers of food of all shapes and sizes covered the dining room buffet table and the spare side tables. The vegan dishes chorused, "It's time to celebrate healthy eating!"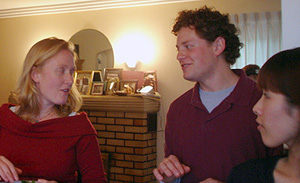 Partygoers eat vegan choices, made from at least 30 different dishes, like finger food.
Photo by Joan Walker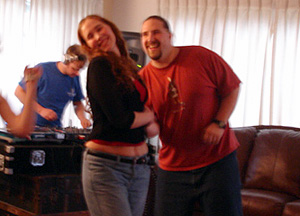 Energetic dancers, benefiting from
vegan power, keep right in step.
Photo by Joan Walker
Who has ever heard of a vegan party, anyway? Whether they had or hadn't, some 50 food lovers had come to the bash for some very tasty eating. Some of the samplers professed researching vegan recipes on the Internet for the occasion, so though not all partygoers were vegans at home, they at least were vegans at this event.
Since there was so much choice of food, the best approach, as suggested by hostess Sarasvati Hewitt, was to, "Sample only a little of each dish so as to be able to taste them all." But even that method broke down whenever one particular dish pleased the palate too much!
"Just taste me and see," cried the eggplant and mushrooms dish; it was consumed just as fast as the fresh sushi gently held in wafer-thin seaweed wraps. The defensive sushi took the offensive: "While the fish part of me is not vegan, my seaweed and lotus roots are." The very colorful salsa with its dark corn chips confidently stated, "Try me, I'm full of onions." The numerous rice-based dishes with all kinds of different colorful vegetables that had been cooked just to the point of perfection silently vied for attention because each displayed a different combination of vegetables.
Then on came the DJ's, Whiskey Dan a.k.a. King Pin and D.J. DAEHL, spinning and mixing the music on their vinyl records for the crowd. At one point, there must have been five couples on the dance floor (the living-room), moving around with their creative dancing to music from the classic to modern. To the delight of the guests in the adjoining rooms who wanted to talk, the DJ's had aimed the speakers at a large couch to absorb some of the volume.
One could eat freely from this bounty of nutrient-dense vegetables without feeling stuffed and immediately go out and dance. It helped that these vegetables were loaded with the right kinds of fats, proteins, hormones, antioxidants, and vegetable sugars. As an added bonus, they contained hefty amounts of fiber, chlorophyll, enzymes, and phytonutrients. Consequently, the energetic dancers didn't miss a step. One dancer was even flipped over her partner!
"Presentation is just as important as taste," clamored the bright, grated carrots that sat next to chunks of pineapple and other carefully arranged color-contrasting fresh fruits and vegetables. The alfalfa, spicy radish and French Garden sprouts, which had sprouted from seeds into little living plants, had all their nutrition in tact. These sprouts being very patient with the guests who tried them last, simply stated, "For maximum living energy eat us any time." Baked garlic cloves and the asparagus spears that had been quickly sautéed in limejuice were among the many items on that night's seemingly endless menu. For libation, some people brought beer in ordinary bottles, while others arrived with wine in very exotic bottles. So all the handsome vegan dishes were in good company.
Grown-ups of many ages and nationalities enjoyed lively conversations. If a prize had been given to the person whose home was farthest from Ketchikan, it would have gone to educator Junko Omae from Gero City, Japan; Gero City has been Ketchikan's sister city for exchange students and language teachers for 19 years. Talk between old friends and new kept the party hopping from 5:00 PM until well past 10:00 PM.
The dark carob-topped cupcakes, made with flaxseed meal, healthy flour and other ingredients beckoned to the sweet tooth as they dared all comers, "Come on, try me!" And, to the delight of many, they delivered more frosting than cake. But, in spite of looking dull, the carob mousse held the trump card as it contended, "I'm king and I'm in control!" Mouths watered in anticipation of enjoying its creaminess, and the guests scooped it up with large, fresh strawberries. Yet in spite of stiff competition, the huge dish of cut-up fresh fruit held its own.

Even after sampling all these vegetables, the guests kept coming back for more as if they couldn't get enough. Always, the appearance of a new face or two in either of the two dining-room doorways meant still another vegan dish was about to enter. Each one seemed to boast, "Give me a drum roll. Now I am the star on center stage!"
The music played throughout the night. The Vegan Potluck Extravaganza was not to be missed; it was a bash to end all bashes. Who knows what the party's long-term impact would be on meat-eaters and vegetarians, but for that evening, vegan reigned supreme.
Nancy Coggins is a freelance writer living in Ketchikan, Alaska.
Contact Nancy at ncoggins(AT)kpunet.net


Publish A Letter on SitNews
Read Letters/Opinions
Submit A Letter to the Editor
SitNews
Stories In The News
Ketchikan, Alaska