Fire season is in full swing this year
June 16, 2005
Thursday

Ketchikan, Alaska - The Ketchikan-Misty Fiords Ranger District would like to remind everyone that it is dry and the fire season is in full swing this year. District employees have responded to three fires in the last 10 days. The fires have ranged from a single-tree fire on Betton Island; to an unattended escaped campfire in Salt Lagoon near George Inlet; to the four-acre fire adjacent to the North Point Higgins School. Two of these were campfires left unattended and the four-acre fire fire at Point Higgins was probably started by fireworks.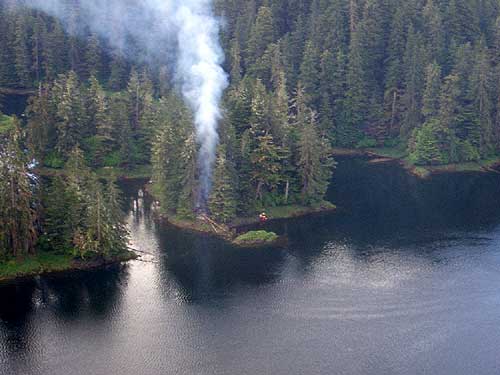 Unattended escaped campfire in Salt Lagoon near George Inlet
Photo courtesy US Forest Service

"Suppression activities for these preventable fires can cost several thousand dollars," said Ketchikan Misty Fiords District Ranger Lynn Kolund
"Please remember that unattended fires from campfires to trash fires all have potential to become wildfires," he said. "Fires that occur within the wildland-urban interface, such as the North Point Higgins Fire, could spread to homes or outbuildings. This is a serious situation and people need to use extreme caution due to the unusually dry season so far."
"Do not start fires during periods of extremely dry weather when high winds are predicted. Campfires should be contained within approved fire rings at all developed recreation areas such as the Forest Service campgrounds at Ward Lake and State of Alaska managed campgrounds," said Kolund. "Campfires left unattended in other undeveloped recreation areas or on the beaches have the potential of turning into a larger fire and cost money to put out."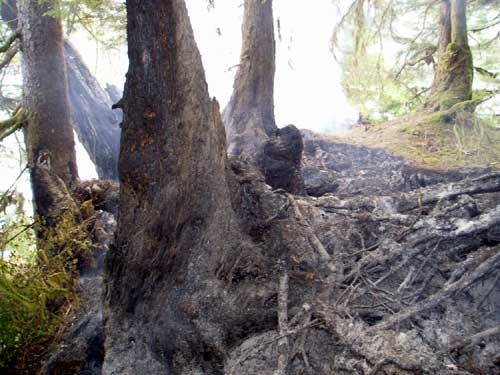 Unattended escaped campfire damage in Salt Lagoon near George Inlet
Photo courtesy US Forest Service

Fourth of July celebrations are just around the corner and Forest Service officials urge everyone to use extreme care when using fireworks. It is illegal to use fireworks on federal lands.
Forest Service Law Enforcement officer investigate all suspicious wildfires as to origin and those responsible for the fire. Serious criminal and or civil penalties such as fines could result if the fire is determined to be arson or attributed to neglect of the parties responsible.
"If everyone practices safe fire measures, they can enjoy the holidays and beautiful summer days that Southeast Alaska offers to visitors and residents alike," said Kolund.
Related Story:
Source of News & Photographs:
USFS - Tongass National Forest
Web Site

E-mail your news & photos to editor@sitnews.us


Publish A Letter on SitNews Read Letters/Opinions
Submit A Letter to the Editor
SitNews
Stories In The News
Ketchikan, Alaska