Individuals Honored for Dedication & Service to Youth & Elders
by M.C. Kauffman
June 14, 2005
Tuesday
Ketchikan, Alaska - A festive celebration with over 100 people attending was held at Ocean View Friday evening to recognize the significant contributions of four professionals who are leaving or retiring from their current positions.
Pamela Shull, the chairman of the Ketchikan Regional Youth Facility recognized long-time resident Ron Barnes for his 24 years of service in Ketchikan. Barnes was presented a plaque in recognition of his long time commitment to making a difference in the lives of Ketchikan youth and their families, including the development of a local facility to keep the family connection alive. She said, "The Ketchikan Regional Youth Facility would still be only a dream, if it were not for Ron."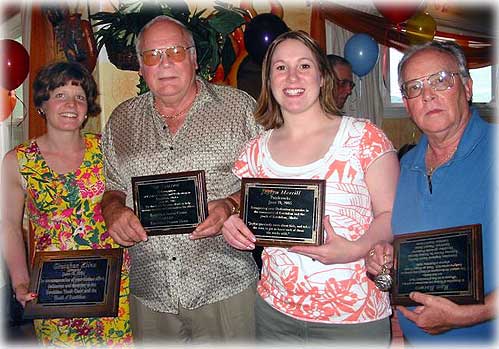 Recognized for their dedication and service to the youth and elders of the Ketchikan community are Gretchen Klein, Ed Zastrow, Jaylyn Merrill, and Ron Barnes.
Photo courtesy Gretchen Klein

Barnes is retiring from his position as Superintendent of the Ketchikan Regional Youth Facility. He also worked as a Juvenile Probation Officer, at the Gateway Center for Human Service, Ketchikan Pioneers Home and the Excelsior Youth Center. Barnes has dedicated many years and many long hours in helping at-risk youth and their families.
Shull said, "It has been a pleasure working with Ron, as a parent and as the Chair of the Ketchikan Regional Youth Facility Citizens Advisory Board."
Jaylyn Merrill, the Coordinator of PATCHWorks, was recognized for her dedication and service to the youth of Ketchikan by Lynda Adams. Adams said, "Jaylyn genuinely cares about kids, and takes the time to get to know each of them that she works with."
Noting that PATCHWorks focuses on 40 developmental assets, Adams said Merrill is the 41st. Merrill will be leaving PATCHWorks.
Nancy McDonald presented a plaque to family member Ed Zastrow in recognition of his excellent service and dedication in his efforts to help increase services and information for elders. Zastrow has been involved with the Ketchikan Senior Center, AARP and the Ketchikan Pioneers Home.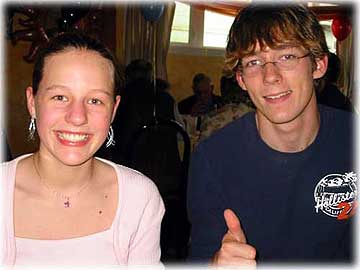 Rebekah Wiedenhoeft and Brandon Maxwell
Photo by Gretchen Klein
Also recognized were members who are leaving Ketchikan Youth Court. Recognized were Brandon Maxwell and Rebekah Wiedenhoeft. Maxwell was recognized as the first to received the KYC senior scholarship and Wiedenhoeft was thanked for her work with Ketchikan Youth Court.
As Gretchen Klein began to bring the event to a close by thanking everyone for attending, Cheryl Fultz said... just a minute. Klein who worked to help organize the celebration didn't know until that moment that she would also be one of the individuals recognized that evening. Cheryl Fultz, Ketchikan Youth Court Board Member presented a plaque to Klein for her tireless efforts and contributions in the development of Ketchikan's first Youth Court.
The Board of Directors for Ketchikan Youth Court, with enormous help from Bobbie McCreary and Ketchikan Youth Court members, roasted Klein, the exiting director of Ketchikan Youth Court. Youth Court members each told a humorous story about Klein. There were comments made about her creative spelling, multi-tasking and driving habits. Klein took all of these light jabs with her usual gracious smile.
Fultz said, the closing comments made by Bobbie McCreary to Klein were sincere. "Gretchen, you will be missed at the Ketchikan Youth Court!"
About Friday's event, Bobbie McCreary said, "Friday night's event was an inspiring and fun way to honor those who have worked to make such a difference in the lives of youth and families in our community." McCreary said the event was motivated by Gretchen Klein who is known as an "event organizer par excellence".
The Revilla Island Prevention Coalition also helped to sponsor this event emphasizing "the strength of our community is a future dependent on you", said McCreary.
Contact M.C. Kauffman at mc@sitnews.us

Publish A Letter on SitNews
Read Letters/Opinions
Submit A Letter to the Editor
SitNews
Stories In The News
Ketchikan, Alaska