Aspen miners leave few leaves unturned
By Ned Rozell
June 08, 2005
Wednesday

Aspen leaf miners, tiny insects that turn quaking aspen leaves into silvery medallions, have been thorough in their coverage of interior Alaska the past few years. From an infestation that covered 1,400 acres in 2000, the insects expanded to 584,405 acres in 2004, according to forest health specialists.
The telltale tracks of the aspen leaf miner larvae.
Photo by Ned Rozell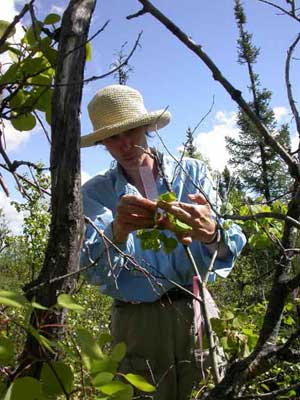 Ecologist Diane Wagner measures an
aspen tree on Ester Dome near Fairbanks.
Photo by Ned Rozell
"Think about how many aspen leaves there are out there, and almost every single one of them has a few miners in it," said Diane Wagner, an insect and plant ecologist with the Institute of Arctic Biology at the University of Alaska Fairbanks. Wagner, her colleague Pat Doak and graduate student Dianna Steiner were at a field site on Ester Dome recently to learn more about one of Alaska's most noticeable insects.
In early June 2005, when the scientists were checking aspens on Ester Dome, there was again evidence of large numbers of aspen leaf miners. Almost every aspen leaf high on the 2,500-foot hill had white eggs of the aspen leaf-miner moth, Phyllocnistispopuliella. At lower elevations, where the trees were deeper into the growing season, most aspens were silver instead of green when viewed from a distance. The larvae of the aspen leaf miner eat tunnels through leaf cells on the top and bottom surfaces, creating mazes that fade the leaves from their normal dark green.
Doak and Wagner began their study two years ago when the leaf miner became ubiquitous around Fairbanks. The current infestation extends from Whitehorse, north to Alaska's Porcupine River, continuing west, almost to Galena and about as far south as the Kuskokwim River near McGrath.
"It seems to have found all the aspen we've got," said Jim Kruse, the U.S. Forest Service entomologist for the Interior. "I don't know how much more these aspens can take. It seems like they're getting hit earlier every year."
On Ester Dome, Wagner, Doak and Steiner were removing leaf miners from a group of small aspen trees. At the end of the growing season, they will compare the growth of infested trees to aspens without leaf miners. In a similar experiment last year, they found the leaf miners affected the growth of trees.
"It wasn't a dramatic growth difference, but it was detectable," Wagner said.
The bugs attacking Alaska's aspens are tiny whitish moths as thin as pencil lead, so small that four of them could ride on the back of a mosquito. Those moths overwinter on the forest floor, emerge after the snow melts, and lay eggs on aspen buds when they pop from stems. When the aspen leaves develop, so do the little yellow caterpillars that scar them. The caterpillars feed on leaves until they emerge as an adult moth in about three weeks. Unlike many other tiny insects that die within a few weeks, the moth lives a full year, through the heavy rains of summer, the frosts of autumn, and the deep cold of winter, surviving under a blanket of snow.
"That's just astounding isn't it?" Wagner said. "These tiny creatures are so tough."
The researchers are looking at what the aspen is doing to defend itself against the leaf miner. Some aspen leaves have several tiny glands, called extrafloral nectaries, which secrete nectar near the base of the leaf. This nectar attracts ants, which eat leaf miners.
"Leaves that have extrafloral nectaries have less mining damage on them," Wagner said. "Moths often lay more eggs on leaves that don't have nectaries."
Are the aspens creating more of these glands in response to the leaf-miner attack? That's a question the scientists want to answer, among dozens of others, like whether the moth's predators and parasites will put a dent in the moth population. Another intriguing question is whether the leaf miner is responsible for this year's bumper crop of aspen seeds, which have floated around the Interior like snow this spring.
"When plants set large numbers of seeds it can be a sign that they have plenty of resources or that they are really stressed," Doak said. "The hot, dry summer of 2004 and the leaf miners might be making aspens say 'we are stressed, we might die, so we need to reproduce.'"
This column is provided as a public service by the Geophysical Institute, University of Alaska Fairbanks, in cooperation with the UAF research community. Ned Rozell [ nrozell@gi.alaska.edu ] is a science writer at the institute.

E-mail your news & photos to editor@sitnews.us


Publish A Letter on SitNews Read Letters/Opinions
Submit A Letter to the Editor
SitNews
Stories In The News
Ketchikan, Alaska