New Alaska Psychiatric Institute Dedicated
June 07, 2005
Tuesday
Alaska Governor Frank H. Murkowski and other state, local officials and mental health advocates participated Friday in a dedication ceremony for the new Alaska Psychiatric Institute (API), located next to the old API.
"The new Alaska Psychiatric Institute will serve our citizens who suffer from psychiatric disabilities with the best programs we can offer," said Governor Murkowski. "This facility's form and function embody the best thinking of many Alaskans who worked more than 15 years to build the most sophisticated psychiatric treatment center in the nation."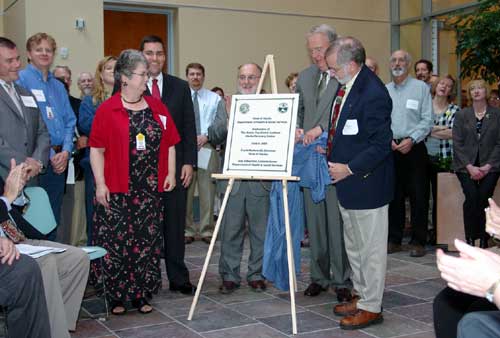 Dedication ceremony for the new Alaska Psychiatric Institute (API)

The project to build a replacement hospital is part of a broad effort by the Alaska Department of Health and Social Services to enhance and create new community-based mental health services in the Anchorage area, and increase the quality of care at API.
"This facility was designed for consumers, with consumer participation in the planning and design," said Department of Health & Social Services Commissioner Joel Gilbertson. "Alaskans designed and built a superior facility, ahead of schedule and on budget. This is a great accomplishment. We can all be proud of how we worked together to find a better way to serve our friends and families who need psychiatric care."
The original API opened in 1962 and has been exhaustively documented as being obsolete in every possible regard. In the new API all units and patient care services are offered on a single level in the Alaska Recovery Center. Each unit has private landscaped courtyards with covered areas and non-fenced walls for security. All areas are accessible by way of a large, airy " Main Street," which connects all units.
Adult treatment will be administered in the Alaska Recovery Center which focuses on "Role Recovery," a specialized form of empirically tested psychosocial rehabilitation especially designed for persons with mental illness, based on the successful Boston Center for Psychiatric Rehabilitation treatment model. Through Role Recovery, API makes every effort to provide any and all necessary clinical treatments and services so that consumers have every hope and opportunity to return to a productive, safe, and fulfilling life in their respective community.
In addition to Role Recovery, guests at the Alaska Recovery Center also participate in an integrated psychoeducational treatment program, Partners in Excellence in Psychiatry, developed by the University of Medicine and Dentistry of New Jersey. This educational focus actively teaches an individual about their illness, how to manage crises as they emerge, and how to develop and maintain a healthy lifestyle. The new addition to the treatment at API brings recovery full circle to involve patients in the development of their own treatment and recovery plan.
"Our focus on recovery consists of a comprehensive approach to assist each person and his or her family and loved ones, and other networks of support in the community, to work together for the person," said Ron Adler, API Director and Chief Executive Officer. "At the Alaska Recovery Center, we take a comprehensive approach to assist each person and his or her family and loved ones, and other networks of support in the community, to work together for the person."
The new API TeleBehavioral Health Program is located in the new facility. This innovative concept in service delivery extends the clinical infrastructure of the hospital to rural-remote areas not served by itinerant behavioral health professionals and provides greater services via technology. The TeleBehavioral Health Program expands behavioral health services to underserved populations in rural and remote areas of Alaska.
API currently provides TeleBehavioral Health services through sites in Galena, Ft. Yukon and Fairbanks, Alaska. Preparation is underway to provide services to residents of the area served by Mount Sanford Tribal Consortium through two clinics in Chistochina and Mentasta Lake. Plans to expand to eight additional sites are currently being developed.
API will also house a multi-disciplinary Fetal Alcohol Syndrome diagnostic screening team that will provide early diagnostic screenings and treatment recommendations for children suffering from FAS.
The new $35 million, 121,000 sq. ft. facility will be ready for patients to move in July 2005. The Department of Transportation and Public Facilities was responsible for the design and construction management of the project.
Source of News & Photograph:
Alaska Department of Health & Social Services
Web Site

E-mail your news & photos to editor@sitnews.us


Publish A Letter on SitNews Read Letters/Opinions
Submit A Letter to the Editor
SitNews
Stories In The News
Ketchikan, Alaska