NOAA Fisheries Expert Wins Mapping Award
June 02, 2005
Thursday

Juneau, Alaska - NOAA Fisheries computer mapping and database analyst Steve Lewis of Juneau, Alaska has won a prestigious award for his extraordinary achievements placing layers of computer-accessible information on maps of Alaska's sea floor. But a proxy will have to accept the award: the National Guard is deploying Lewis, a Blackhawk helicopter pilot, to Iraq.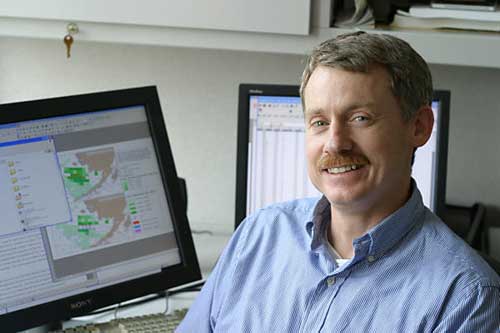 NOAA Fisheries Expert Steve Lewis

The Environmental Systems Research Institute (ESRI) gives the Special Achievement in GIS Award Award to people "who have made extraordinary contributions to our global society and set new precedents throughout the GIS (geographic information system) community," according to ESRI.
The 2005 Special Achievement in GIS Award will recognize Lewis' work in making accessible mapped layers of information about Steller sea lion habitat in Alaskan waters. With Lewis's map displayed on the computer screen, viewers can click on a given area and read displays of geographic, biological and legal information associated with that place on the sea floor.
Lewis is a member of NOAA Fisheries' Alaska Region Analytical Team. Jim Noel, a contract programmer for NOAA Fisheries and another member of the analytical team, also helped on the award-winning project.
This is not the first time Lewis and Noel have garnered an award from ESRI. In 2002, their work with essential fish habitat mapping won an award for providing other analysts, policy makers and the public "both spatial and tabular essential fish habitat data in a user-friendly environment".
To explore the mapping that won both awards, go to http://www/fakr.noaa.gov/maps/
The 2005 ESRI award will be handed out at a July awards ceremony in San Diego.
Lewis will leave his home in Juneau, Alaska to start his National Guard mobilization in mid-June. He expects to start his one-year assignment in Iraq near Mosul in late August.
Source of News & Photograph:
NOAA Fisheries
Web Site

E-mail your news & photos to editor@sitnews.us


Publish A Letter on SitNews Read Letters/Opinions
Submit A Letter to the Editor
SitNews
Stories In The News
Ketchikan, Alaska