Fallen Soldiers Honored For Their Sacrifices
By Dick Kauffman
June 01, 2005
Wednesday

Ketchikan, Alaska - The sacrifices of our fallen soldiers were honored on Memorial Day in Ketchikan as citizens had the opportunity to remember our soldiers killed in battles and celebrate their service to our country. Members of the American Legion Post #3, VFW Post #4352, military members, and citizens began the ceremony with a brief parade from the American Legion Post to Centennial Square for the placement of the wreath.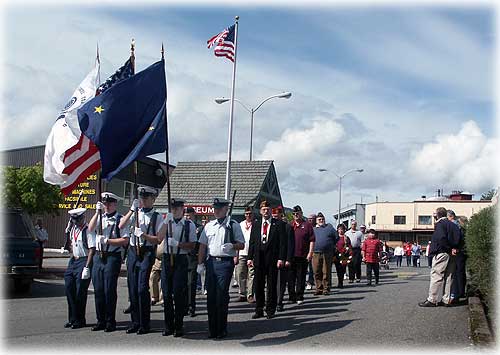 Memorial Day: Parade to Centennial Square led by the USCG Color Guard
Photo by Dick Kauffman

Speaking at Centennial Square Kenneth Horn, V.F.W. Commander of VFW Post #4352 thanked those who had attended to honor and pay tribute to U. S. veterans. Horn said, "Memorial day is about remembering, because freedom isn't free. Men and women have been paying the ultimate sacrifice for our freedom since the birth of our nation." Horn said Memorial Day was born out of necessity due to the horrific loss of life in the civil war which killed more Americans than any other of our nation's wars before or since. He said, "Today we continue to honor our fallen but not forgotten comrades killed in defense of our nation's freedoms. All of our nation's citizens should regard it as their duty to remember why we are here today."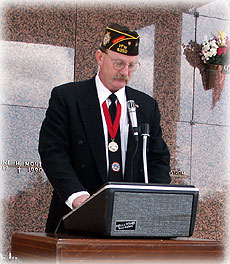 Kenneth Horn, V.F.W. Commander of VFW Post #4352 introduces the guest speakers at Bayview Cemetery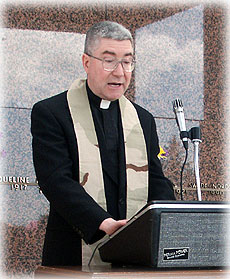 Father Patrick Travers,
Holy Name Catholic Church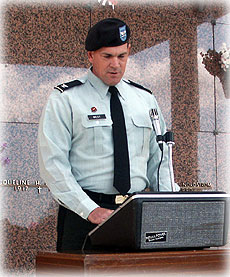 Colonel Jerry West, Commander of the Joint Task Force Alaskan Road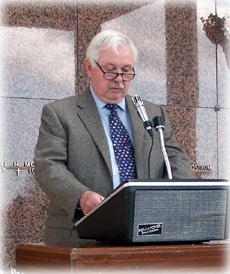 Mike Salazar, Mayor
of the Ketchikan Gateway Borough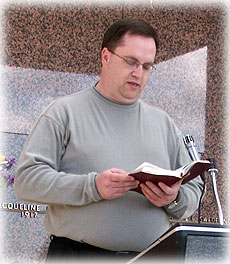 Pastor Doug Edwards,
First Baptist Church
Following Horn, VFW Post Chaplin Dennis Spurgeon gave a prayer and the wreath was placed. The ceremony then moved to Bayview Cemetery where the colors were raised by Joe Sadlier, Past Post Commander, VFW Post #4352, and James Marmon, Vice Commander of the American Legion Post #3.
Kenneth Horn, V.F.W. Commander of VFW Post #4352 opened the ceremony at Bayview Cemetery introducing Father Patrick Travers of the Holy Name Catholic Church who presented the Invocation.
Chief Warrant Officer Charles Jones, ATON Branch Chief and Port Services Officer, ISC Ketchikan, was the first guest speaker. CWO Jones said, "As we gather here to remember those who have died in service of our country, let us also remember those who must continue on without their sons, daughters, brothers, sisters, mothers or fathers, for they too have made the ultimate sacrifice for this country."
Jones said, "Those who died for our country did so without prejudice. It did not matter to them as to which branch of service they served, Army, Navy, Marine, Air Force, Coast Guard or National Guard. It did not matter if they were a born citizen or naturalized. It did not matter what their religious preference was. The only thing that did matter was that they were serving their country."
"Let us remember the Missing In Action who do not have anyone returning to their gravestones for memorial services today, " said Chief Warrant Officer Jones. "Let us also remember those whose bodies were not recovered and rest in peace on the battlefield where they died or inside their ship or aircraft."
Jones said, "Some of us here today are family members of those we are honoring. Some were friends and some of us have had the privilege of serving with them. I lost a cousin who died when his plane was shot down in Vietnam. I also had the privilege of having served with some Navy seals that made the ultimate sacrifice in Panama."
"They were all well trained and eager to do their duty, and too young to have died so soon. These men and women will forever remain young for that is how we will always remember them," said Jones.
The Coast Guard lost one of its members last year said Jones just before Memorial Day when suicide bombers in boats attacked an oil pumping station he was guarding. Jones said, "He was DC3 Nathan Bruckenthal and he left behind a young wife who was pregnant with their first child. As a small service this death affected us all greatly."
"Some in this country feel that we lost the meaning of Memorial Day, when Congress changed the day of observance to make it a three-day weekend. As we are showing today by our presence here in this moment of observance, the exact day makes no difference. We must always make it a point to remember those who have made the ultimate sacrifice," said Chief Warrant Officer Charles Jones.
Just as ships that pass the Arizona Memorial render honors to those that died that day and whose bodies are still entombed in the wreck, we need to take a moment everyday and render honors to all those that have died in service to our country said Jones.
Following Jones was Colonel Jerry West who is the Commander of the Joint Task Force Alaskan Road on Annette Island.
Colonel West said when he was young, Memorial Day meant school was over for the summer. It meant picnics and barbecues, baseball, the Indianapolis 500, parades and patriotic speeches. He said, "I'm sure many of you have similar memories."
"But we grow older, and we learn that Memorial Day means so much more than that," said Colonel West. "We might not be able to enjoy those barbecues and baseball games if it hadn't been for the sacrifices of the men and women who have served in our Armed Forces and kept this great country free. Memorial Day is an opportunity for us to honor those who have gone before us, those who chose the profession of arms to defend our lives and liberty - at the expense of their own lives. It is fitting that we set aside a day to honor them and their contributions."
Colonel West said, "I'm sure many of you folks will take advantage of this beautiful day and plan a barbecue, a picnic, a fishing trip, a hike, or some outdoor activity. Good! That's what holidays are for. But while you enjoy yourselves and spend time with your families on this Memorial Day, I ask you to take a moment to reflect and thank all those past and present who have chosen to serve in the Army, the Navy, the Coast Guard, the Air Force, or the Marines. "
Marty West the Vice Mayor of the City of Ketchikan was the next guest speaker. West said, "The military has been a tradition in our family. During the Vietnam era, my husband was in the Army, my brother was in the Air Force - like our dad who flew in the Pacific during World War II - and continued in the reserves flying supply missions into Korean and Vietnam." West said her father-in-law was career Navy also in the Pacific and named another of his sons for a shipmate killed in action. West said, "Our son carries on that name." She said today they have a nephew on his second tour in Iraq.
Marty West said, "It's a sad honor to be with you today but an important one. It's important we honor those who died to insure out democracy, who walked clear eyed and bravely to face the dangers of war. It's important to remember the sacrifice they made and to pass along to the next generation appreciation of this sacrifice and the obligation to insure it was not without purpose. It's important we cherish the principles on which our country was founded and to pass to our children the love of freedom, the reverence for life, the imperative of free speech, and the necessity to safeguard our uncommon government that gives power to its citizens."
In this time of division in our country West said it's important to be mindful of our common debt to the fallen as we remember them. West said we should remember, "That it is our patriotism that binds us together, our faith that moves us forward, and it is their courage that has made this possible."
Vice Mayor of the City of Ketchikan Marty West and others attending the Memorial Day ceremony listen to guest speakers. West was also a guest speaker.

The last guest speaker was Mike Salazar, Mayor of the Ketchikan Gateway Borough. Salazar began by saying, " It is with the utmost respect and humble appreciation that I stand here today as we observe our nation's 137th Memorial Day."
Salazar said, "Today our hearts are filled with gratitude to those brave service men and women who have laid down their lives for our great country. We must always remember that freedom, and the blessings it brings, often exact the ultimate sacrifice." He said, "These courageous men and women, each so different in heritage and background, shared the common bonds of the armed forces - duty and sacrifice." All of them reached a moment in their lives when race and religion, creed and color made no difference said Salazar. "What remained was the essence of America - the fighting spirit of a proud, valorous people... and they are the soldiers who have paid the price for the freedoms we enjoy."
Salazar said, "As we remember these brave warriors and their comrades in arms on this Memorial Day, we must look to the future as well as the past. In today's world, freedom comes cloaked in uncertainty and America still relies on her sons and daughters to defend her liberty." Mayor Salazar said, "The cost of independence remains high, and we are still willing to pay it." He continued, "We do not pay it gladly, but we pay it with deep reverence and with thanks to those who have made the sacrifices for America. Their sacrifices were on our behalf and they were great and they were many."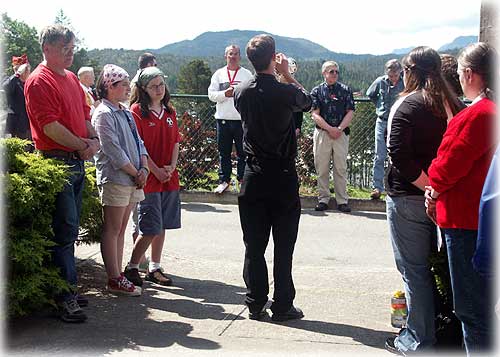 Taps played by Jeffrey Carlson brings the Memorial Day ceremony to an end...

The men and women in our Armed Forces, are today's patriots said Salazar. "They have committed their lives to keep the United States strong and ready. The quality of their deeds and their devotion to duty sets a shining example for all Americans. Their fellow Americans hold our service men and women in the high esteem that they have so unquestionably earned."
"We know that in the days and years to come, more brave souls will sacrifice their lives for our great country and we include them in our thoughts and prayers today," said Salazar.
Salazar concluded his remarks saying, "I would like to finish with the words that appear on a memorial within Arlington National Cemetery. Nothing speaks higher to the memory of fallen Americans than these: "Not for fame or reward, not for place or rank, not lured by ambition or goaded by necessity, but in simple obedience to duty as they understood it, these men suffered all, sacrificed all, dared all and died."
Linda Holstrom the VFW Auxiliary President followed with the Placing of Wreaths. The benediction was presented by Pastor Doug Edwards of the First Baptist Church and Taps was performed by Jeffrey Carlson bringing the Memorial Day ceremony to an end.
Photographs by Dick Kauffman.
Publish A Letter on SitNews
Read Letters/Opinions
Submit A Letter to the Editor
SitNews
Stories In The News
Ketchikan, Alaska