Knowles Makes Campaign Stop In Ketchikan
June 24, 2004
Thursday

Ketchikan, Alaska - Former Governor Tony Knowles made his first stop in Ketchikan since officially kicking off his campaign for the United States Senate. More than 75 people attended a community gathering at the Ted Ferry Civic Center Wednesday evening to hear the presumptive Democratic nominee talk about the issues that he says matters in this campaign for the United States Senate: creating jobs, better education, affordable health care, a strong national defense, protecting our personal freedoms, and the experience and leadership to make that happen.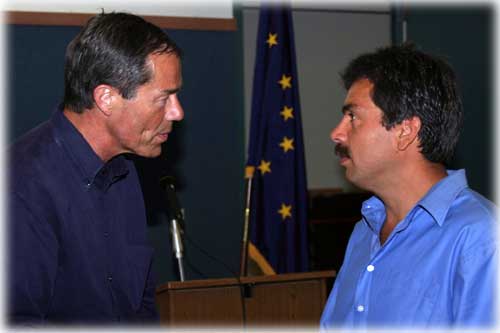 Tony Knowles chats with KGB Assembly Member & KIC Tribal Council Member Samuel Bergeron during Wednesday's community gathering....
Photo by Carl Thompson

Before visiting Ketchikan, Knowles had previously traveled to 24 other Alaskan communities in a ten day period including Homer, Sterling, Kenai , Soldotna, Juneau , Metlakatla, Craig, Fort Yukon, Barrow, Nome, St. Lawrence Island, Unalakleet, Bethel, Aniak and many villages in between.
After three terms on the Anchorage Municipal Assembly, Knowles served as two-term mayor of Alaska's largest city from 1981-1987. He was first elected governor of Alaska in 1994 and reelected in 1998.
Related Information:
In the News:
Ketchikan: Listen to this KRBD story... Former Governor Tony Knowles made his first campaign stop in Ketchikan since officially announcing his bid for the U.S. Senate last month. KRBD's Deanna Garrison caught up with the presumptive Democratic nominee Wednesday.
KRBD - Ketchikan Public Radio - linked Thursday am - June 24, 2004

E-mail your news & photos to editor@sitnews.org


Post a Comment View Comments
Submit an Opinion - Letter

Sitnews
Stories In The News
Ketchikan, Alaska