Viewpoints
Thanks KJ
by Gretchen Klein
June 19, 2004
Saturday

Ketchikan Youth Court was able to raise $494.00 to give to KJ Harris to help with his medical expenses. While our members can not join the barbecue today, June 19th, KYC members and friends wanted to give help to him in gratitude for all his support and good will in Ketchikan.
Thanks KJ for all your support of the mission of our youth organizations in Ketchikan. Without your support many monthly activities and classes for KYC would not be possible.
Gretchen Klein
Ketchikan, AK - USA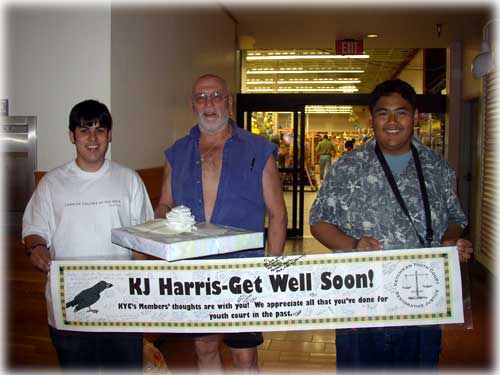 KYC members Alex and Jonathan who helped collect money for KJ present KJ Harris the $494.00 at the Plaza on Friday, June 18th...
Note: Comments published on Viewpoints are the opinions of the writer
and do not necessarily reflect the opinions of Sitnews.
Post a Comment -------View Comments

Submit an Opinion - Letter

Sitnews
Stories In The News
Ketchikan, Alaska