Viewpoints
New berthing for cruise ships
by Thomas Ferry
June 01, 2004
Tuesday

DEAR CITIZENS OF KETCHIKAN:
Very soon you will be faced with a decision as to where new berthing for cruise ships will be built. This decision will be one of the most important that has faced Ketchikan in many years.
As far as I can gather the northern option has overwhelming community support. I would hope that Sitnews readers will write in with their viewpoints about this matter as Sitnews really has become the voice of the people.
The main questions are:
What is the better location, south of the Thomas Basin breakwater, or north of the tunnel?
What location will benefit more citizens?
What location has room for expansion?
What location would tourists prefer sailing into?
What location will provide more jobs for local carpenters and entrepreneurs?
Which location will provide more tax revenues to the city coffers?
I think I know the answer as so many do, but would like to keep this most important matter for Ketchikan's future in the spotlight. So please people, write in with your opinions. It is important to hear all sides.
Thank you,
Thomas Ferry
Ketchikan, AK - USA
North of tunnel...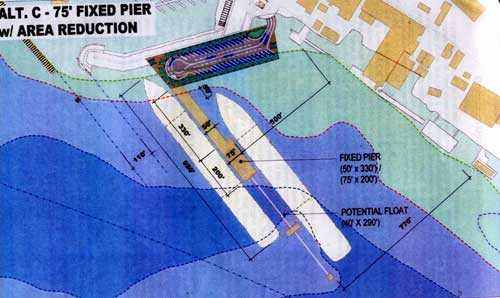 Thomas Basin plan...
Note: Comments published on Viewpoints are the opinions of the writer
and do not necessarily reflect the opinions of Sitnews.



Post a Comment -------View Comments

Submit an Opinion - Letter

Sitnews
Stories In The News
Ketchikan, Alaska