Southeast Alaska's Chinook troll fishery suspended
Alaska to Appeal Ruling on Southeast AK Chinook Fishery by Federal Court in Washington
Posted & Edited By MARY KAUFFMAN

May 11, 2023
Thursday

(SitNews) - On May 2nd, U.S. District Court Judge Jones submitted his decision to adopt U.S. Magistrate Judge Michelle Peterson's recommended order to suspend Southeast Alaska's Chinook troll fishery. The closure is driven by the Wild Fish Conservancy's claim that Southeast's troll fishery poses harm to Washington's Southern Resident Killer Whale population.
A Seattle federal Court issued the landmark order halting the harvest of Chinook salmon in Southeast Alaska that plaintiff Wild Fish Conservancy said has persisted for decades, jeopardizing the survival of federally-protected Southern Resident killer whales (SRKW) and wild Chinook populations coastwide. According to the Wild Fish Conservancy, this decision will immediately allow the starving Southern Resident population far greater access to these Chinook which are the whale's primary prey, marking a turning point for their recovery.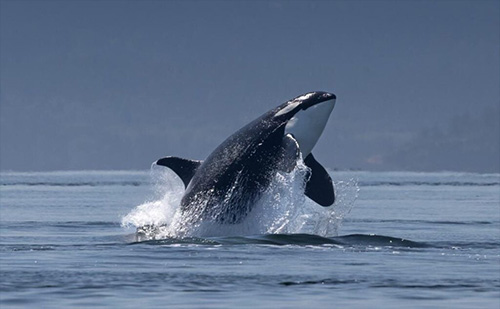 Orca
Photo courtesy Wild Fish Conservancy

"This Court decision is the largest victory for Southern Resident killer whale recovery in decades and will be celebrated internationally. After years of inaction by our federal government to address the prey crisis facing the Southern Residents, Judge Jones' decision will finally provide starving orcas immediate access to their primary prey," says Emma Helverson, Executive Director of Wild Fish Conservancy. "What's more, by allowing far more wild Chinook to return home to their spawning grounds, this action is also helping to recover and restore wild Chinook from rivers throughout Oregon, Washington, and British Columbia, essential to rebuilding both populations in the long-term."

On May 02, 2023, U.S. District Judge Richard A. Jones issued a final ruling in Wild Fish Conservancy's lawsuit agreeing that halting the summer and winter seasons of the Southeast Alaska Chinook troll fishery is the most appropriate remedy. The Court subsequently remanded NOAA Fisheries' inadequate biological opinion in order for the agency to address the serious underlying violations of environmental law previously found by the Court.

The State of Alaska plans to appeal a bitter ruling for the Alaska Southeast troll fishery today by a federal judge in Washington. The order by U.S. District Court Judge Richard Jones upheld a magistrate's earlier opinion by adopting, in part, a report and recommendation that vacates the incidental take statement for the Southeast Alaska winter and summer commercial chinook troll fishery, which has the practical effect of closing the fishery until a new ITS is in place.

The Wild Fish Conservancy sued the National Marine Fisheries Service alleging several violations of the Endangered Species Act and National Environmental Policy Act. The plaintiff's primary claim is that Southeast Alaska fisheries and the associated prey increase (hatchery) programs threaten both wild salmon and the listed Southern Resident Killer Whales that depend on this salmon for food off the coasts of Washington, Oregon, and Canada.

"Vacating the ITS and effectively closing the fishery is a radical step. We'll continue to pursue every available avenue in defense of Alaska's fisheries," said Alaska Attorney General Treg Taylor. "We understand the critical importance of this fishery to the affected fishermen and communities across Southeast. We will be filling a request to stay the order pending appeal and immediately notifying the Ninth Circuit that an appeal is forthcoming."

"We have a responsibility to look out for our fisheries and the Southeast coastal communities and families that rely on them," said Alaska Fish and Game Commissioner Doug Vincent-Lang. "The State of Alaska abides by the terms of the Pacific Salmon Treaty and the Biological Opinion that is tied to it, and it is troubling that this ruling singles out our fisheries."

Alaska has argued in its filed pleadings that the Southeast commercial chinook troll fishery has little effect on the listed species, especially considering the gauntlet of predators between the fishery and the identified pod of whales. "Shutting down the Southeast Alaska salmon fisheries would have negligible, if any, impact on the Southern Resident Killer Whale, as any Chinook not caught in Southeast must travel some 700 miles past Canadian commercial and recreational fisheries, tribal fisheries, Northern Resident Killer Whale, and Steller sea lions, which are also predators of large Chinook, and Southern U.S. fisheries to reach the Southern Resident Killer Whale."

"The court's decision is disappointing, not only because it puts the future of Alaska's small-boat fishing families in jeopardy, but it distracts from the larger, more urgent issues that are causing the continued decline of the Pacific Northwest's Chinook and orca populations," said Alaska Longline Fishermen's Association Director, Linda Behnken. "The science and data clearly shows that habitat loss, dams, climate change, water pollution, and urbanization are harming salmon and orcas in the Northwest - not our hook-and-line fishery that operates almost 1000 miles away and has done so sustainably for over 100 years."

Southeast Alaska's troll fishery directly employs 1,500 fishermen, with 85% of troll fishery permit holders living in Southeast Alaska, and is consistently one of Southeast Alaska's top three most valuable fisheries, providing renewable income for fishing families living in the region's rural, isolated communities. Prized around the world for its premium quality salmon, the troll fishery generates $148 million annually in economic outputs that include restaurant sales, consumer purchases, transportation jobs and other benefits accruing throughout the West Coast of the U.S. and beyond.

"The Wild Fish Conservancy continues to miss the mark when it comes to salmon conservation; instead of attacking local communities and families that rely on wild salmon, they could be supporting meaningful action that leads to real solutions," said Alaska Longline Fishermen's Association Board Member and commercial fisherman, Jeff Farvour. "Our fleet and organization will continue to fight Wild Fish Conservancy's spurious lawsuit and do everything we can to protect the salmon that our fishery and families depend on."

The Businesses for Conservation and Climate Action coalition was also disappointed to learn of the Seattle U.S. District Court's Judge Richard Jones' decision on May 2nd to vacate the incidental take permit for Southeast Alaska's summer Chinook troll fishery, which typically begins on July 1st. Wild Fish Conservancy, located in Washington, filed the lawsuit based on their claim that Southeast Alaska's troll fishery poses harm to Washington's Southern Resident Killer Whale population and endangered Chinook salmon stocks.

"This lawsuit is a dangerous attack on some of Alaska's smallest and most sustainable businesses. The Wild Fish Conservancy has framed small-boat fishing families as a threat to orca whales, rather than taking on scientifically demonstrable and far more challenging impacts like dams, pollution, and unsustainable urbanization. While it is unlikely that any orca will benefit from this ruling, rural Alaska people and communities will absolutely suffer," said David Levine, President and Founder of American Sustainable Business Network and member of Businesses for Conservation and Climate Action. "It's ironic and tragic that Wild Fish Conservancy would target Alaska's troll fishermen - they are some of the most vocal and active conservation advocates anywhere, and to lose them would be an irreplaceable loss to the conservation and small business communities."

Quoting a news release from Businesses for Conservation and Climate Action, operating 800 miles from Washington, Southeast Alaska's troll fishery directly employs 1,500 fishermen and is a lifeline for Southeast Alaska's rural, isolated communities. Often regarded as a leader in fishery sustainability and conservation, Southeast Alaska's troll fishermen use hook-and-line gear to individually catch salmon. The fishery is low volume, low impact but high value. In addition to an average annual ex-vessel value of $37 million, Southeast Alaska's troll fishery generates $148 million annually in economic outputs that include restaurant sales, consumer purchases, transportation jobs and other benefits accruing throughout the West Coast of the U.S. and beyond.

"Alaska fishermen will continue to fight this misguided litigation to protect the wild salmon that we depend on," said Linda Behnken, director of the Alaska Longline Fishermen's Association and member of Businesses for Conservation and Climate Action. "Our families, livelihoods, and communities depend on wild salmon–and have for generations. Sustaining salmon runs is part of Alaska's culture and constitution. This lawsuit is a dismal distraction from the real work needed to restore salmon and orca habitat in Puget Sound."

U.S. Senators Lisa Murkowski and Dan Sullivan (both R-Alaska), and Representative Mary Sattler Peltola (D-Alaska), condemned the ruling by the U.S. District Court in Seattle, Washington in favor of a lawsuit filed by Wild Fish Conservancy (WFC) that will effectively shut down a Southeast Alaska small boat troll salmon fishery. Wild Fish Conservancy argued that the Southeast Alaska salmon harvest is a primary contributor to the population decline of Southern resident killer whales hundreds of miles to the south in Puget Sound. On March 6, the Alaska congressional delegation filed an amicus brief supporting Southeast Alaska troll fishermen with the District Court. The District Court's ruling upholds a December 2022 ruling by a Seattle-based magistrate judge that failed to consider other potential causes and the impacts of similar fisheries in Oregon and Washington.

"This is a disastrous decision for Southeast Alaska that will only serve to harm those small boat troll fishermen who are trying to provide for their families. This lawsuit should have been dismissed months ago, but now threatens devastating restrictions that will harm hundreds of Alaskans and dozens of coastal communities - all while doing nothing to actually benefit the Puget Sound orca population," said Senator Murkowski. "Common sense and sound science must guide efforts to protect species. This uniquely awful decision blames Alaska for Washington's problems, and suggests that an end to sustainable fishing in Southeast Alaska can cure decades of destructive environmental practices in Washington. If you want my 'biological opinion,' this is beyond ridiculous and cannot stand. The delegation will stand together, along with the State of Alaska, to fight this ruling."

"That a federal judge in Washington State sided with radical environmentalists to shut down our state's small boat, hook-and-line troll salmon fishermen is outrageous," said Senator Sullivan. "What's most remarkable about this case is that the judge and Wild Fish Conservancy totally ignore much more likely causes of the orca decline, like the toxins, pollution, noise disturbance, and vessel traffic that have undoubtedly wreaked havoc in the Puget Sound region. This is the latest example of how extreme environmental groups weaponize and abuse the Endangered Species Act to devastate Alaska's small businesses and entire communities. I have already spoken with the NMFS Director to encourage her to vigorously fight this ruling on appeal and expeditiously complete an updated biological opinion so that our fishermen are not tied up at the dock this summer. I want our Southeast fishermen to know that we will continue to fight this irrational decision with everything in our power, and work to ensure Alaska's hardworking fishing families can do what they do best—fish."

"If this order is allowed to stand, Southeast Alaska will suffer a devastating loss, putting thousands of jobs at risk in communities that depend on this sustainably-managed fishery," said Representative Peltola. "I will be joining the state of Alaska, NOAA, Alaskan fishermen, and other conservation groups who agree that this lawsuit is frivolous and incapable of protecting a whale population that faces much greater threats such as pollution and habitat loss in its home region near Seattle. I strongly support the Governor's movement to appeal this ruling and save the summer fishing season, and I encourage NOAA to complete an update to the Biological Opinion at the center of this case."

The Alaska House Coalition also released statements in response to the ruling by U.S. District Judge Jones adopting the magistrate judge's report and recommendations, effectively shutting down the winter and summer chinook troll fisheries in Southeast Alaska.

The Southeast Alaska troll fishery is an important part of Alaska's commercial fishing industry, generating approximately $85 million in annual economic impact and providing income for approximately 1,450 fishermen and their families. The fishery is also an important cultural and social tradition in Southeast Alaska, with nearly all of the 33 communities in the region home to resident permit holders and crew members.

"It is astonishing that an outside group can disrupt the livelihoods of Alaskans," said Representative Dan Ortiz (NA-Juneau). "Alaska, as a state, has a right to make its own decisions about its resources."

"The decision to shut down the troll fishery based on a flawed biological opinion sets a dangerous precedent for managing fisheries by lawsuit rather than sound science," said Representative Rebecca Himschoot (NA-Sitka). "The impact of the closure of the troll fishery will be felt not only by the fishermen and their families but also by the many small businesses and communities that depend on the industry."

"We are deeply disappointed in the ruling by U.S. District Judge Jones, which has the potential to devastate the Southeast Alaska troll fishery and the communities that depend on it," said Minority Whip Louise Stutes (R-Kodiak). "The troll fishery is a vital part of our state's economy, and its closure would have far-reaching and long-lasting consequences for the thousands of Alaskans who depend on it. If allowed to stand, this could be the beginning of the end for commercial fisheries as we know it in Alaska."

"The science is clear that the threats to the orca population in question are centered hundreds of miles south of Alaska's troll fisheries," said Representative Sara Hannan (D-Juneau). "The district judge's order is utterly misguided and will have devastating consequences for one of the most conscientious fishing fleets on the Pacific."

"I'm pleased that the Dunleavy administration is taking immediate steps to appeal this ruling in an attempt to salvage this year's summer salmon fishery," said Representative Andi Story (D-Juneau). "I'll be working with my colleagues to determine what other actions we can take to protect Alaskans who rely on this fishery."

The Alaska House Coalition will continue to work with the State of Alaska, the Alaska Trollers Association, and other stakeholders to support the Southeast Alaska troll fishery and defend the industry against this harmful decision.

In NOAA Fisheries' biological opinion evaluating the fishery's impact on threatened and endangered species, NOAA admitted that over the last decade and persisting today, Chinook harvest is occurring at levels that are unsustainable for the long-term survival and reproductive success of both threatened wild Chinook populations and endangered Southern Resident killer whales. Still, NOAA authorized the harvest to continue at these levels relying on proposed mitigation they claimed would offset this serious harm. In summary judgement in August, the Court overwhelmingly found the mitigation was insufficient and violated the Endangered Species Act (ESA) and that NOAA failed to conduct legally required environmental review of the mitigation, which would include opportunities for public input and an evaluation of alternatives, such as reductions in harvest.

NOAA Fisheries released a statement saying they are aware of the U.S. District Court decision to remand their 2019 Biological Opinion that evaluates the effects of the Southeast Alaska salmon fisheries on threatened and endangered species, and to vacate the Incidental Take Statement for the Chinook summer and winter commercial troll fishery. The 2019 Incidental Take Statement that applies to the rest of the Southeast salmon fisheries remains in place. NOAA Fisheries knows these issues are of utmost importance to the communities that rely on the SEAK troll fishery. We are working expeditiously to address the court's order.

Southern Resident killer whales were listed as Endangered in 2005. Currently, there are only 73 individuals in the population, an alarming decrease from nearly 100 only 25-years ago. Reduced prey availability, specifically large and abundant wild Chinook, has been identified by killer whale experts and NOAA as the primary cause of their decline. Research has shown an alarming 69% of Southern Resident killer whale pregnancies are aborted due to insufficient Chinook salmon and inbreeding depression has been identified as a growing threat to the population's survival and recovery.

"This is unbelievable news, yet so long in coming," said Wild Orca's Science and Research Director, Dr. Deborah Giles. "The high pregnancy failure rate within the Southern Resident killer whale population is linked to poor nutrition, so having more fish returning to their home waters in British Columbia, Washington, and Oregon, will increase the whales' prey base and improve their chances of giving birth to healthy calves."

In an expert declaration evaluating the effect of the troll fishery's harvest on the Southern Resident population, modeling by Dr. Robert E. Lacy projected closing the fishery would increase prey availability by approximately 6%, which would be enough to stabilize the population and stop their decline toward extinction, though additional actions would be required to begin to grow the population. The Court stated: "Though there is uncertainty as to how much prey would ultimately reach the SRKW, the record before the Court suggests that closure of the fisheries meaningfully improves prey available to the SRKW, as well as SRKW population stability and growth, under any scenario." As a result of yesterday's decision, approximately 172,000 Chinook that would have been harvested or indirectly killed in the 2023 summer and winter seasons of the Southeast Alaska troll fishery will now be able to continue their historical migration south to home spawning grounds and into the whale's key foraging areas.

"Dr. Lacy's findings suggest that the single action of closing this fishery would increase prey availability enough to stabilize the Southern Resident population. Stopping the precipitous decline of the whales toward extinction is the highest priority toward recovery efforts. These findings clearly demonstrate that Chinook harvest in Southeast Alaska's troll fishery is contributing to the decline of the whales, validating why the Court's decision is so critically important to the survival of this population," says Helverson.

Quoting a news release from Wild Fish Conservancy, while the fishery occurs in Southeast Alaska marine waters, most people are unaware that up to 97% of all Chinook harvested in the Southeast Alaska troll fishery migrate from rivers throughout British Columbia, Washington, and Oregon. Roughly half of the fish harvested originate from the Columbia River, and many come from populations listed as Threatened under the ESA. Currently, these Chinook are harvested in their ocean rearing habitats preventing them from migrating back into southern waters where the Southern Resident killer whales encounter them. Majority of stocks harvested in the fishery are identified as priority stocks for the Southern Residents.

"Alaskan fishers should not be blamed for NOAA's chronic mismanagement of this fishery, and we are sincerely sympathetic to the burden this decision will pose to Southeast Alaskan communities," says Emma Helverson, Executive Director of Wild Fish Conservancy.

Helverson said, "However, this decision will finally address decades of harm and lost opportunity this overharvest has caused to fishing communities throughout British Columbia, Oregon, and Washington who depend on these fish, particularly Tribal and First Nations. In addition to the unparalleled benefits to killer whale and Chinook recovery, the Court's decision is addressing this historic inequity and restoring control to coastal communities of the destiny of salmon recovery in their home watersheds."

"The underlying harvest issues in this case are not an anomaly, but rather just one example that demonstrates the problems caused when harvest occurs in the ocean where it is impossible to avoid unintentionally harming threatened and endangered populations or intercepting high proportions of salmon from rivers coastwide," says Kurt Beardslee, Director of Wild Fish Conservancy Special Projects. "Scientists are increasingly calling for harvest reform measures that shift harvest out of the ocean and into fisheries in or near each river of origin where salmon return, providing fisheries managers and coastal communities the ability to manage recovery with far greater accuracy and success."





On the Web:
Wild Fish Conservancy v. Scott Rumsey, et al. Order Adopting Report and Recommendation



Source of News:
Wild Fish Conservancy
wildfishconservancy.org

Alaska Department of Law
www.law.alaska.gov

NOAA Fisheries
noaafisheries.gov

Alaska Sustainable Fisheries Trust
www.thealaskatrust.org

Alaska Longline Fishermen's Association
www.alfafish.org

Businesses for Conservation and Climate Action
www.asbnetwork.org/overview/businesses-conservation-and-climate-action

Office of U.S. Sen Lisa Murkowski
www.murkowski.senate.gov

Office of U.S. Sen. Dan Sulllivan
www.sullivan.senate.gov

Office of U.S. Representative Mary Sattler Peltola
www.peltola.house.gov

Alaska House Coalition
www.akleg.gov
Representations of fact and opinions in comments posted are solely those of the individual posters and do not represent the opinions of Sitnews.


Send a letter to the editor@sitnews.us
Contact the Editor
SitNews ©2023
Stories In The News
Ketchikan, Alaska

Articles & photographs that appear in SitNews are considered protected by copyright and may not be reprinted without written permission from and payment of any required fees to the proper freelance writers and subscription services.

E-mail your news & photos to editor@sitnews.us

Photographers choosing to submit photographs for publication to SitNews are in doing so granting their permission for publication and for archiving. SitNews does not sell photographs. All requests for purchasing a photograph will be emailed to the photographer.