Long after run to glory, Balto lives on
By NED ROZELL
May 11, 2023
Thursday

(SitNews) - A dog that pulled his way into history has given scientists insight into what makes Alaska sled dogs and other working breeds unique.
Researchers have used a tiny patch of skin cut from a taxidermy mount of Balto to determine that the 1925 Serum Run hero had no wolf in his recent background. They also found that Balto, a black husky built like a tank, was full of mixed-breed vigor and was adapted to make the most of a diet that included starch.
Serum Run musher Gunnar Kaasen poses with Balto, a leader on his mushing team.
Photo courtesy of the Alaska State Library portrait file
On Feb. 2, 1925, musher Gunnar Kaasen drove Balto in lead position of a 13-dog team into Nome while carrying packages of diphtheria serum in his sled bag. Kaasen was the last of 20 mushers who relayed the antidote 674 miles from Nenana to Nome.
Alaska officials in 1925 chose dog teams to carry the liquid to disease-stricken Nome because aircraft were new and unproven within the territory. Alaska had a railway line from Seward to Nenana, to which the serum was shipped and picked up by the first dog musher.
In a golden era for newspapers — whose reporters were connected by telegraph to people in the far north — the successful delivery of the medicine to Nome from Nenana in less than six days was big news.
"Final Dash Brings Antitoxin to Nome, But It Is Frozen. Believe Serum Still Good," was the headline in the New York Times on Feb. 3, 1925.
The feat of saving many sick people in Nome — and the fame that came with it — led to the recent discoveries regarding the genetic makeup of Balto, his rugged teammates and dogs that pull sleds today.
The modern story begins in Cleveland, 3,500 miles from Front Street in Nome. Balto now stands there in a bold pose, preserved at the Cleveland Museum of Natural History.
How did Balto get there? Within days of Kaasen's finish in Nome, he received offers of a movie deal and a tour of the states. Kaasen and his dog team soon left Alaska for Seattle on a steamship.
As part of a nine-month deal to tour the Lower 48, Kaasen sold the team to the tour's promoter.
At the end of the contract, after Kaasen traveled to New York City to attend the unveiling of a Balto statue in Central Park, he returned to Alaska without the dogs.
The promoter then shipped the Serum Run dogs by train back to the West Coast. There, he housed them in a small room in Los Angeles, charging people 10 cents a ticket to see them.
A businessman from Cleveland saw the once-noble beasts in a sorry state. By pleading to people via an ad in the Cleveland Plain Dealer, he quickly raised enough money — from kids, factory workers and other dog lovers — to purchase the team. He freighted the six remaining dogs back to Cleveland, where Balto lived out his life in more pleasant style at a zoo.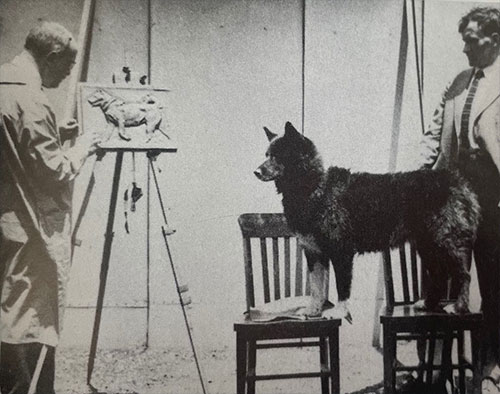 Balto poses for a sculptor while in New York in July 1925. The resulting statue of Balto still stands in Central Park.
Photo courtesy of the Cleveland Public Library
When Balto died in 1933, a taxidermist at Cleveland's museum preserved and displayed him.
Many years later, veterinarian Jerry Vanek (who has mushed the Serum Run route from Nenana to Nome) attended talk on sled dog genetics by Cornell University's Heather Huson. Vanek knew of Balto's preserved existence and told Huson.
Huson, who has lived and mushed dogs in Interior Alaska, saw in Balto an opportunity to find out more about dogs operating at their peak capacity. She is an author of the recent paper "Comparative genomics of Balto, a famous historic dog, captures lost diversity of 1920s sled dogs" in the journal Science.
Balto's genetic makeup shows a greater ability to process starches — examples of which are rice, beans and other plants — when compared to wolves and Greenland sled dogs.
"Through domestication, dogs became better adapted to a diet shared with people, which includes a lot of non-meat food sources and requires enhanced starch digestion," Kathleen Morrill of the University of Massachusetts Chan Medical School, a paper co-author, wrote in an email.
"Dogs really aren't carnivores, they're omnivores — you've seen them eating grass," said Cristina Hansen of UAF's Department of Veterinary Medicine, who is also head veterinarian for both the Yukon Quest and Copper Basin 300 sled dog races.
Hansen wonders if dog mushers, who vary in what they feed their dogs for maximum performance ("Ask 100 mushers, you'll get 100 answers"), should maybe be feeding them more starch.
Balto also was more genetically diverse and therefore a bit healthier than many dogs today. It's a trait Hansen called "hybrid vigor," which she has seen at work many times on cold, dark trails like the ones over which Balto trotted.
"Sled dogs don't have many breed-associated diseases," she said. "They aren't bred for physical traits, they're bred for performance."




Since the late 1970s, the University of Alaska Fairbanks Geophysical Institute has provided this column as a public service in cooperation with the UAF research community.
Ned Rozell [ned.rozell@alaska.edu] is a science writer for the Geophysical Institute.
Representations of fact and opinions in comments posted are solely those of the individual posters and do not represent the opinions of Sitnews.


Send a letter to the editor@sitnews.us
Contact the Editor
SitNews ©2023
Stories In The News
Ketchikan, Alaska

Articles & photographs that appear in SitNews are considered protected by copyright and may not be reprinted without written permission from and payment of any required fees to the proper freelance writers and subscription services.

E-mail your news & photos to editor@sitnews.us

Photographers choosing to submit photographs for publication to SitNews are in doing so granting their permission for publication and for archiving. SitNews does not sell photographs. All requests for purchasing a photograph will be emailed to the photographer.