HAARP research attracts conspiracies, misunderstandings
By ELLE FOURNIER
May 24, 2017
Wednesday PM

(SitNews) - Even a casual Google search for the University of Alaska Fairbanks' High-frequency Active Auroral Research Program, better known as HAARP, can get really strange, really fast.
HAARP attracts more attention than the average scientific research facility, likely because of its focus on an obscure area of the atmosphere called the ionosphere. This has led to misunderstandings about the purpose of the HAARP facility, said Chris Fallen, UAF research assistant professor in space physics and aeronomy.
HAARP cannot control the weather, contrary to one conspiracy theory. It has too little power and affects a different part of the atmosphere, Fallen said.
Neither can it manipulate our brains, as alleged by another theory. Generally, space physicists focus on regions more than 60 miles above our heads, where HAARP's radio waves are 100 times weaker than those from mobile phones, he said.
The High-frequency Active Auroral Research Program facility near Gakona features a 40-acre grid of towers to conduct research on the ionosphere. The facility was built and operated by the U.S. Air Force until 2015, when ownership was transferred to UAF's Geophysical Institute.
UAF photo by Todd Paris
What HAARP can do is heat small regions of the ionosphere and observe the effects. Often HAARP research is conducted during campaigns, where scientists gather and operate the facility's ionospheric heating instrument to conduct experiments for a few hours each over the course of several days.
During the recent HAARP campaign in February, Fallen learned that public interest in the facility is more broad and positive than previously thought.
"When you look on Google, the top 10 results are almost all conspiracy theories, but that doesn't necessarily mean that that is most of the interest" in HAARP, Fallen said.
While Fallen's main objective is to study HAARP's artificial aurora, his secondary goal is to increase access to reliable information about the facility.
"Most of the real information about HAARP is contained in open academic literature that Google does not usually present in typical searches," he said.
Fallen used social media earlier this year to alert the public to when the ionospheric heating instrument would be operating and at what frequency. During the four-day campaign, Fallen's Twitter account and website had 10,000 unique visitors.
"I was surprised by the magnitude of the interest," Fallen said. "My Twitter account went from an account with about zero traffic — my mom, maybe — to a large increase during the campaign."
The opportunity to listen to HAARP generated a lot of attention. Hundreds of people sent reports of their audio observations to Fallen via Twitter, and many posted recordings of HAARP transmissions on YouTube. When websites that function as interfaces to digital radios became overloaded, helpful HAARP enthusiasts broadcasted the transmissions over YouTube Live.
"It was cool to see how many people were really engaged and enthusiastic about it," Fallen said.
Many people were also interested in seeing the effects of HAARP in the sky. Because HAARP interacts with the same area of the atmosphere that creates the aurora, scientists can use the HAARP instrument to create airglow or artificial aurora. Photographers with equipment sensitive enough to capture the natural aurora can photograph the airglow created by HAARP.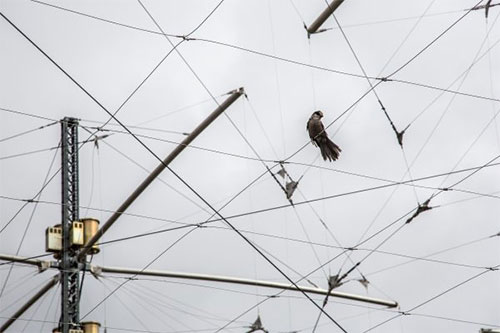 A gray jay rests on a wire in the HAARP antenna grid near Gakona, Alaska.
UAF photo by Todd Paris
While researchers were able to create an artificial aurora during the most recent campaign, and Fallen used Google Earth to communicate the approximate location of the airglow, he knows of no successful public photograph of the phenomena. According to Fallen, the airglow was probably too dim to capture due to equipment, ionosphere and weather conditions.
HAARP's February campaign was the first conducted since the facility transferred to UAF ownership. Originally, HAARP was a program jointly managed by the U.S. Air Force and U.S. Navy. When the military no longer needed the equipment and planned to shut down operations, the keys to the facility were passed to UAF. Since August 2015, UAF has been responsible for operations and maintenance of the remote research station, originally developed at a cost of about $290 million, pending final transfer from the USAF.
The February campaign included researchers from Cornell, Virginia Tech, Los Alamos National Lab, Naval Research Lab and UAF. Researchers from all over the world are interested in using the HAARP facility because it offers a way to look at what is happening in a region of space that is hard to study, Fallen said.
The ionosphere affects long-distance radio communication, GPS navigation, and satellite communications and radar. Though the heating energy from HAARP is a tiny fraction of the energy that routinely comes from the sun, the ability to control and time the heating process allows scientists to conduct research more effectively.
If the idea of heating a portion of the atmosphere sounds a bit jarring, don't worry: The effects of its operation are minimal and dissipate within seconds to minutes of turning off HAARP's instrument.
"It's like putting a space heater in your backyard on a cold day," said Fallen. "If you put your hand right in front of it, it feels hot. But when you turn the heater off, the warmth goes away quite quickly."
Fallen believes that the more the public interacts with HAARP, observing its effects for themselves, the more it will become clear: There really are stranger things out there than the HAARP facility.
This article is provided as a public service by the University of Alaska Fairbanks' High-frequency Active Auroral Research Program.
Elle Fournier [cmfournier2@alaska.edu] is a writer with the High-frequency Active Auroral Research Program
Representations of fact and opinions in comments posted are solely those of the individual posters and do not represent the opinions of Sitnews.

Contact the Editor
SitNews ©2017
Stories In The News
Ketchikan, Alaska

Articles & photographs that appear in SitNews may be protected by copyright and may not be reprinted without written permission from and payment of any required fees to the proper sources.

E-mail your news & photos to editor@sitnews.us

Photographers choosing to submit photographs for publication to SitNews are in doing so granting their permission for publication and for archiving. SitNews does not sell photographs. All requests for purchasing a photograph will be emailed to the photographer.