BOEM Conditionally Approves Shell's 2015 Exploration Plan
May 11, 2015
Monday PM

(SitNews) Anchorage, Alaska - The Bureau of Ocean Energy Management (BOEM) announced today that after a comprehensive review and consideration of comments received from the public, stakeholders, and Federal and state partner agencies, the department has conditionally approved Shell Gulf of Mexico, Inc.'s revised multi-year Exploration Plan (EP) for the Chukchi Sea.
Among the conditions of approval is the requirement that Shell obtain all necessary permits from other state and federal agencies, including permits to drill from the Bureau of Safety and Environmental Enforcement (BSEE) and appropriate authorizations under the Marine Mammal Protection Act. Another condition of approval prevents Shell from commencing drilling operations until all Biological Opinions under the Endangered Species Act have been issued and requires all operations under the plan comply with the terms and conditions included in those Biological Opinions.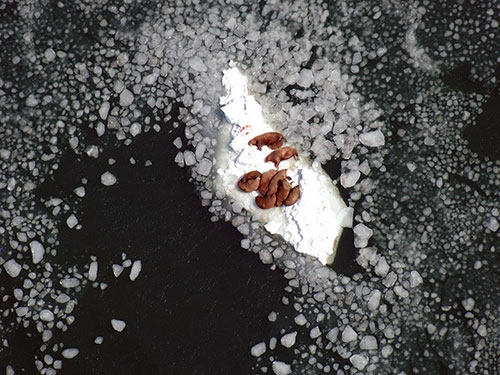 Walrus cows resting on sea ice in Alaska, while nursing their calves.
Photograph by BRAD BENTER, U.S. Fishi & Wildlife Service

"We have taken a thoughtful approach to carefully considering potential exploration in the Chukchi Sea, recognizing the significant environmental, social and ecological resources in the region and establishing high standards for the protection of this critical ecosystem, our Arctic communities, and the subsistence needs and cultural traditions of Alaska Natives," said BOEM Director Abigail Ross Hopper. "As we move forward, any offshore exploratory activities will continue to be subject to rigorous safety standards."
U.S. Sen. Lisa Murkowski (R-Alaska), Alaska's senior senator and chairman of the Senate Energy and Natural Resources Committee, today welcomed the Interior Department's conditional approval of Shell's Arctic exploration plan for this summer.
"Approval of Shell's exploration plan for Alaska's Chukchi Sea marks another important step toward the United States assuming a leadership role in the Arctic. With an estimated 25 percent of the world's undiscovered conventional oil and gas resources and active exploration by countries like Russia, it's critical that we move forward as a nation and set the standard for responsible development in the Arctic," said Murkowski in a prepared statement."
Continuing, Murkowski said, "Interior's approval of the exploration permit is a key step, but more needs to be done in the coming weeks to ensure that Shell's exploration program proceeds this summer. There is a total of seven permits that Shell must receive before it can resume drilling. Continued collaboration by the responsible federal agencies to ensure those outstanding permits are not saddled with unworkable conditions will be critical. With this latest milestone, I am cautiously optimistic and stand ready to continue working with the agencies to ensure exploration is conducted safely for the maximum benefit of Alaskans and our nation."
U.S. Senator Dan Sullivan (R-AK) also responded to today's announcement. In a prepared statement Sullivan said, "I'm pleased to hear that the Department of Interior conditionally approved Shell's Revised Chukchi Sea Exploration Plan," said Sen. Sullivan. "As I said to Department of Interior Secretary Sally Jewell during a February meeting, the federal government needs to work with the states and with private industry to unleash our country's enormous economic potential and become the world's energy super-power. For years, the Obama administration has stymied efforts to achieve this important national goal through regulatory delays and restricting access to federal lands in Alaska. I hope that this announcement is a new approach by the federal government. The Department of Interior and Shell still have work to do before any exploratory drilling occurs in the Arctic this summer, but today's news is a positive step."
According to the Bureau of Ocean Energy Management (BOEM), the Exploration Plan describes all exploration activities planned by the operator, including the timing of these activities, information concerning drilling vessels, the location of each planned well, and actions to be taken to meet important safety and environmental standards and to protect workers, resources, wildlife and access to subsistence use areas. In accordance with the National Environmental Policy Act, the review of the EP included the preparation of an Environmental Assessment and a subsequent Finding of No Significant Impact.
"The review of this Exploration Plan was a team effort," said James Kendall, BOEM Alaska Regional Director. "We'd like to thank the experts in our cooperating agencies, the tribal government representatives who took time out from their busy schedules to do government-to-government consultations and of course the many members of the public and stakeholder organizations who provided us with valuable comments during the review process."
Shell's revised EP proposes the drilling of up to six wells within the Burger Prospect, located in approximately 140 feet of water about 70 miles northwest of the village of Wainwright. Shell will conduct its operations using the drillship M/V Noble Discoverer and the semi-submersible drilling unit Transocean Polar Pioneer, with each vessel providing relief-well capability for the other. The two drilling units and their supporting vessels will depart the Chukchi Sea at the conclusion of each exploration drilling season.
Bureau of Ocean Energy Management (BOEM) notes that the Department of the Interior is currently undertaking an ambitious reform agenda to strengthen, update and modernize Outer Continental Shelf (OCS) energy regulations. In April the Department announced proposed regulations to better protect human lives and the environment from oil spills. The proposed measures include more stringent design requirements and operational procedures for critical well control equipment used in OCS oil and gas operations.
The proposed well control rule, which is open for public comment, addresses the range of systems and equipment related to well control operations. The measures are designed to improve equipment reliability, building upon enhanced industry standards for blowout preventers and blowout prevention technologies. The rule also includes reforms in well design, well control, casing, cementing, real-time well monitoring and subsea containment, stated Bureau of Ocean Energy Management (BOEM) in a news release.
Additionally, the Department released proposed Arctic standards in February that will ensure that exploration of the Alaska OCS is subject to strong standards specifically tailored to the region's challenging and unforgiving conditions. The proposed rule, which is open to public comment until May 27, 2015, includes many required measures that have been adopted previously as conditions on Shell's Arctic operations and which BOEM also adopted in its approval of this revised EP. Those standards build upon existing Arctic-specific standards as well as experience with previous operations offshore Alaska.
Responding to news that the Bureau of Ocean Energy Management today approved Shell's exploration plan for drilling in the Arctic Ocean this summer, the National Audubon Society said in a prepared statement, "Some ideas are just non-starters, like drilling for oil in the Arctic Ocean," said Audubon President and CEO David Yarnold.
Yarnold said, "Spills under ice sheets can't be controlled, and America doesn't need the oil in order to maintain its energy independence. So this is just cynical partisan politics, a public relations bone that the Obama administration is throwing to Shell. This way, the Obama team gets to pretend that 'all of the above' (including risky offshore drilling) is a legitimate energy strategy as a way to deflect criticism from a much-needed global agreement on greenhouse gas emissions controls. It's a phony deal, but worse, issuing this first permit is a slippery slope that could lead to environmental catastrophe for birds, other wildlife and people. Is today's ruling just bad policy, cynical or politically motivated? How about all of the above?"
Alaska House Resources Co-Chair Ben Nageak thanked the president and U.S. Dept. of the Interior for their conditional approval allowing Shell's summer drilling program in the Arctic to proceed.

"It's about time they recognized that we in the Arctic will do all we can, as a people and a state, to uphold our rigorous conservation and land protection standards," said Nageak (D-Barrow). "The Big Environmental lobby has fought for decades to deny my people the economic and societal opportunity that responsible and well-managed exploration and development will bring. We are thankful for the decision and look forward to the company complying with all permit provisions and will welcome them back to the Chukchi."

The Interior Department's Bureau of Ocean Energy Management's decision is predicated on Shell's ability to gain a series of remaining drilling permits for the project, originally slated for summer 2012.

"I'm encouraged that the President and Interior Department have finally awakened to the reality that Shell will follow the law and do right by the State of Alaska, indigenous peoples and federal regulators," said Alaska House Majority Leader Charisse Millett (R-Anchorage). "We hope this signals a change in the federal government's attitude toward their own permitting system and Outside environmental interests, who don't have the Alaskan people in mind. We're the nation's Arctic. We're the nation's energy future. It's time for the Obama administration to let us unleash our potential and build on our decades of energy production expertise. Today is a good day."
League of Conservation Voters' Deputy Legislative Director Alex Taurel said in a prepared statement, "It's disappointing that the Interior Department is green-lighting Shell's plans when the department's own environmental assessment admits there is a 75 percent chance of a large oil spill in the Arctic if Shell fully develops its leases. Drilling in undeveloped areas like the Arctic Ocean also would mean locking in decades of new carbon pollution at a time when climate science tells us we need to rapidly move to clean energy sources. The risks are simply too high to trust Shell to operate safely in a region as ecologically rich, remote, and unforgiving as the Arctic Ocean."
Earlier this month, Earthjustice submitted approximately 38,000 comments to the agency of behalf of environmental supporters that requested the Interior to reject what they call "Shell's risky plan". According to Earthjustice, the project the Interior Department approved today is bigger, dirtier, and louder than any previous plan, calling for more sound disturbances and harassment of whales and seals, more water and air pollution, and more vessels and helicopters. Earthjustice says this plan also runs the risk of a catastrophic oil spill that could not be cleaned in Arctic waters.
According to Earthjustice, the company's accident-filled efforts to drill in 2012 demonstrate that neither Shell nor any other company is ready to drill in the Arctic Ocean and Shell proved that again just last month when its Discoverer drillship was held in port due to pollution control failures.
"This decision places big oil before people, putting the Arctic's iconic wildlife and the health of our planet on the line," said Erik Grafe, Earthjustice staff attorney. "The agency should not be approving such threatening plans based on a rushed and incomplete environmental and safety review. Ultimately, Arctic Ocean drilling is far too risky and undermines the administration's efforts to address climate change and transition to a clean energy future. These fossil fuels need to remain in the ground."
According to Earthjustice, Interior rushed through its reconsideration of the lease sale by which Shell obtained its leases when it reaffirmed a Bush era oil lease sale in late March. Now it has rushed to approve Shell's drilling plan without adequately considering the potentially significant risks and effects of Shell's operations.
Edited by Mary Kauffman, SitNews
On the Web:
BOEM's Letter of Approval PDF (click here)

BOEM's Environmental Assessment (EA) (click here)

BOEM's Finding of No Significant Impact (click here)

Source of News:
Bureau of Ocean Energy Management - Alaska OCS Region
http://www.boem.gov
http://www.boem.gov/Alaska-Region/

Office of U.S. Sen. Lisa Murkowski
www.murkowski.senate.gov

Office of U.S. Sen. Dan Sullivan
www.sullivan.senate.gov

National Audubon Society
www.audubon.org

League of Conservation Voters
http://www.lcv.org

Earthjustice
http://earthjustice.org
Contact the Editor
SitNews ©2015
Stories In The News
Ketchikan, Alaska

Articles & photographs that appear in SitNews may be protected by copyright and may not be reprinted without written permission from and payment of any required fees to the proper sources.

E-mail your news & photos to editor@sitnews.us

Photographers choosing to submit photographs for publication to SitNews are in doing so granting their permission for publication and for archiving. SitNews does not sell photographs. All requests for purchasing a photograph will be emailed to the photographer.