BILL WALKER, ALASKAN TO THE CORE
By Donna Walker
May 08, 2013
Wednesday

When my husband, Bill Walker, recently announced his intentions to seek the 2014 Republican gubernatorial nomination, I had the honor of giving this introduction for him.
To understand Bill Walker, it helps to have known his parents, Ed and Frances Walker. With the same degree of courage, optimism, grit, work ethic and fearlessness that is so characteristic of Bill, Ed and Frances arrived separately in the Last Frontier in the 1940s. Frances came with the Corps of Engineers to coordinate the transportation services in the AlCan Highway construction. They met at Mt. McKinley and married following Ed's service as an Alaska Scout in the Aleutians in WWll.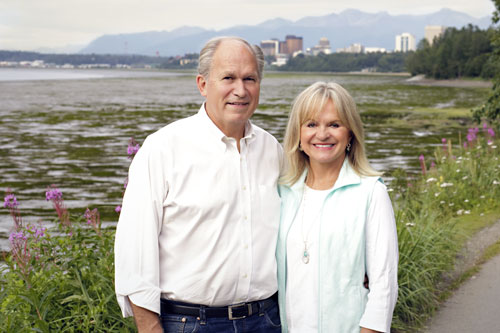 Bill, the fourth and youngest child, was born in Fairbanks while Alaska was still a territory. As a young boy, Bill labored with his family to keep food on the table. They lived in rural Alaska working construction, publishing a weekly newspaper, owning a restaurant and taking every odd job available to any family member. In Delta, they lived in a log cabin without plumbing and ran with the buffalo at times to get to the outhouse in subzero weather. But they splurged the day Alaska became a state with ice cream cones at Delta's local A&W.
In 1961, opportunity knocked in Valdez for the Walker Construction Co. to truly prosper but the materials for their hotel and house projects were on the dock and destroyed in the devastation of 1964 earthquake. The financial loss was enormous but paled in comparison to loss of friends and neighbors. Bill helped the family avoid bankruptcy by securing the post office janitorial contract at the age of twelve, continuing to work with his dad and brother to help relocate and rebuild the town of Valdez. An early Walker family motto that we often quote is, "Ever forward, never backward."
Soon, the oil boom hit Valdez and Bill put himself through college working as a laborer, teamster and carpenter. I came to Alaska after college in 1976 to work on the pipeline construction. Upon meeting Bill, I knew almost immediately that he was a truly remarkable young man. We married in Valdez 36 years ago.
At 27, Bill become Mayor of Valdez, later resigning so that we could attend law school together. We now own an Anchorage law firm practicing primarily oil and gas and municipal law. Anchorage has been our home for 25 years and our four children graduated from West High School before pursuing advanced degrees.
Within this framework of Bill's life, he has passionately maintained a vision of an even greater Alaska, one that maximizes the opportunities presented by its natural resource wealth, not one that grows increasingly complacent and dependent on the oil pipeline of the 1970's.
No one knows better than his family, the driving motivation, tireless pursuit and the "can do, will do, must do" attitude that fuels Bill. We know that he leaves no stone unturned and no avenue avoided in his ceaseless efforts to see that Alaska becomes the global energy leader it absolutely should be and that as a result every Alaskan home and business has low cost energy, every Alaskan has a good job and every future generation has the promise of prosperity and wellbeing.
Bill recently celebrated his birthday and the children and I gave him a soapstone carving that we titled, "Alaskan Warrior." A warrior marches resolutely into conflict with a purpose, a vision of victory and a people or territory for whom he must provide and defend. Alaska needs a warrior like Bill Walker to defend her, one who will not back down to special interests or overreaching federal encroachment or settle for mediocrity or take a "wait and see" approach. Alaska needs a warrior who is a dynamic leader, one with a knowledgeable and authoritative voice, one with a plan to get Alaska on course and in the driver's seat. Alaska needs as its next governor, an Alaskan to the core. Alaska needs Bill Walker.
Donna Walker
Anchorage, AK