Alaska Marine Highway Celebrates 50 Years
May 01, 2013
Wednesday PM

(SitNews) Ketchikan, Alaska - Since its start 50 years ago, the Alaska Marine Highway System has grown to connect an area covering 3,500 miles and 35 port communities, from Alaska to Canada to Washington. Now in its 50th year, the Alaska Marine Highway has grown to 11 vessels and averages 330,000 passengers and 110,000 vehicles a year.
In the Beginning
The story of the Alaska Marine Highway System starts with three men who had a dream to provide dependable marine transportation between Alaska's coastal communities. In 1948, Haines residents Steve Homer, Ray and Gustav Gelotte set up a company named Chilkoot Motorship Lines and purchased the MV Chilkoot, an ex-US Navy landing craft. The MV Chilkoot was 121 feet long with a beam of 33 feet and drew 3.5 feet when loaded. It could carry a maximum of 14 cars but the passenger accommodations were very poor as it remained in its original Navy configuration. After some initial work in Toledo Oregon, removing gun tubs and other Navy gear, Steve and Ray took the ship to Seattle for the preliminary Coast Guard inspection and necessary outfitting. After all preparations were made they cruised to Haines, arriving around August first.
Chilkoot
Captain Lloyd H. (Kinky) Bayers Collection, 1898-1967.
Photo courtesy Alaska State Library - Historical Collections

Upon arriving in Haines, they were greeted by two vehicles ready for transport to Juneau. "The two cars belonged to Ernest Gruening, the governor of Alaska, driving a new black Buick and to Simon Hellenthal, a Juneau attorney who had a grey Chrysler coupe. The governor's car was loaded first making 'CY' Hellenthal's car the first to be unloaded at Tee Harbor, our southern terminus." Homer, Steve "The First Ferry from Haines to Tee Harbor." The Alaska Southeaster Magazine, March 1993.
Their first year provided some challenges, but they were able to haul the first bus north as one of the first charters over the highway to Anchorage. The Board of Road Commissioners, consisting of Governor Ernest Gruening, Henry Roden and Frank Metcalf, supported Chilkoot Motorship Lines and provided funding for three wood ramps to be built at Tee Harbor, Haines and Skagway. The ramps were in service at the beginning of 1949.
After a couple years of service, Chilkoot Motorship Lines faced bankruptcy. Due to snow levels closing the road to Haines between October and May 15 they were not able to operate year-round. They tried to secure contracts with mines in the winter months in order to be profitable; however, these contracts fell through. As news traveled that the service may be discontinued, the Territorial Government came forward and offered to purchase the business. After thoughtful consideration the owners decided to sell Chilkoot Motorship Lines to the territory in June 1951.
The MV Chilkoot soon proved to be too small and was replaced by the MV Chilkat in 1957. The Chilkat was 99 feet long and could carry 59 passengers and 15 vehicles. Its distinct bow ramp meant it could load from the beach as well as a dock. On April 18, 1957 the MV Chilkat began daily service between Juneau, Haines and Skagway.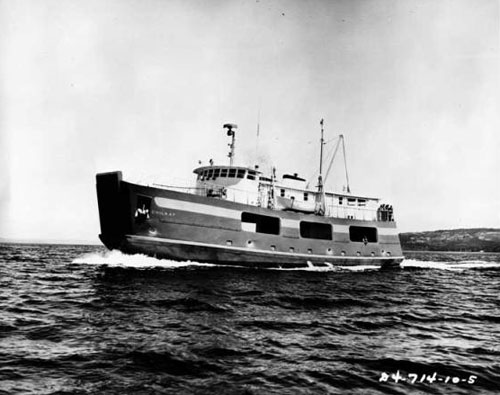 Alaska Marine Highway System: Chilkat the first state-owned ferry.
Photo courtesy Alaska State Library - Historical Collections

On January 3, 1959 Alaska becomes the 49th state, making MV Chilkat the first state-owned ferry. The first Alaska Legislature meeting in 1959 approved the Alaska Ferry Transportation Act. That same year, voters approved bond issues totaling $18 million to expand the ferry fleet. These bonds enabled the state to commission four new vessels and build docks throughout Southeast Alaska and the Kenai Peninsula. Then, in 1963 the Division of Marine Transportation was formally established, founding the Alaska Marine Highway System.
The Beginning: 1963
Not only was the Alaska Marine Highway founded in 1963, three ships were added to the fleet and five communities gained service. The Chilkat was joined by the Malaspina, Taku and Matanuska and ferry service extended to Ketchikan, Petersburg, Sitka, Wrangell, and Prince Rupert, British Columbia. The mission was simple: provide transportation of people, goods and vehicles between Alaska communities, Canada and the "Lower 48."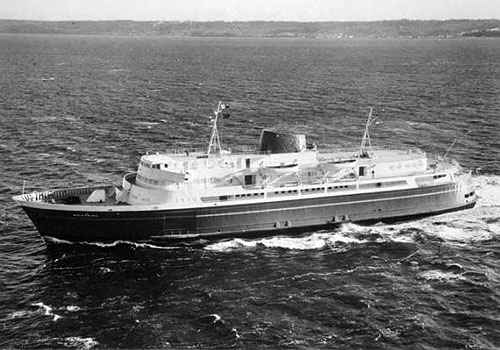 The Alaska Marine Highway's ferry Malaspina on her maiden voyage.
Ernest H. Gruening Papers, 1914-[1959-1969] 1974
Photo courtesy University of Alaska - Historical Collections

On January 23, MV Malaspina arrived in Ketchikan causing a traffic jam as residents clamored to see their first ferry. "My memory is of standing on the Ketchikan dock waiting for the first ferry to arrive in Ketchikan in January 1963; and it did. It seemed so huge to all of us standing there. It was a somewhat wet time but completely thrilling. The pride we felt was overwhelming. And as you can tell, it is a cherished memory." Judi Slajer.
"One day in 1963 I was looking out of the window from the rented house on the corner of Millar and Lund streets and saw the Malaspina in Tongass Narrows. Something happened at that moment – THE FEELING OF ISOLATION WENT AWAY! – as I watched the ship coming up the channel. What a beautiful uplifting sight that was. We could take our car, or walk onboard, and GO SOMEWHERE!!!! Our highway had arrived!" Betty J. Marksheffel.
As the Malaspina headed north the same excitement rose in Wrangell, Petersburg and Sitka. "I was one of the school children holding a huge poster and cheering along the side of the road when the ferry arrived in the Narrows to Petersburg for the first time." Tekla.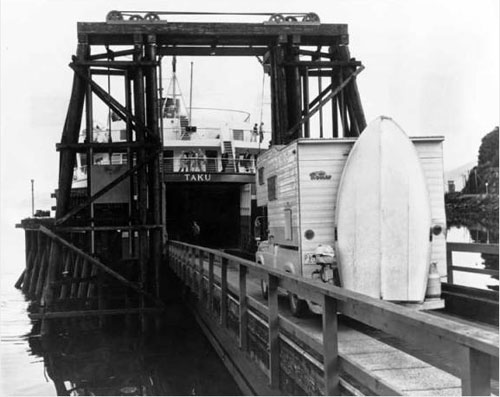 Taku ferry at Prince Rupert, B.C.
Photo courtesy Alaska State Library - Historical Collections

In April 1963, M/V Taku is brought online with primary routes in Southeast, followed by MV Matanuska in June with a homeport of Haines. Although all three vessels were originally built with the same design; the MV Malaspina and MV Matanuska were later lengthened to their current specifications.
This increased service gave Alaskans access to goods and services of neighboring communities and the Canadian connection provided a link to the railroad and highway. In its first year the fleet successfully transported 16,000 vehicles and 83,000 passengers.
Expanding North: 1964-1966
By 1964 the focus turned to providing service to Southwest Alaska. The fourth new ferry MV Tustumena "Trusty Tusty" came online with a home port of Kodiak. It was built with an elevator capable of unloading vehicles without a ramp, regardless of tide levels, and is used in communities where a dedicated ramp loading directly into the car deck is not available.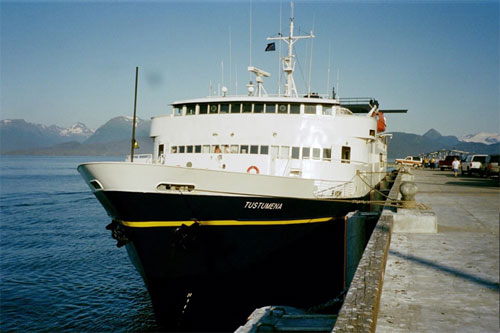 M/V Tustumena
Photo courtesy NOAA

The Tustumena is the smallest AMHS vessel with cabins and is accredited as an ocean-going vessel, a classification it only shares with the MV Kennicott.
Cordova, Homer, Seldovia, Valdez, and Seward were added to the system and serviced by the Tustumena, linking Southwest Alaska. The addition of these ports meant AMHS had a total of 5 ferries and 16 ports of call in only its second year of service.
On March 27, 1964 an earthquake of magnitude 9.2 hit Prince William Sound, creating a tsunami, the second largest ever recorded. In Valdez Inlet the maximum height was recorded at 67 meters. "This great earthquake and ensuing tsunami took 128 lives (tsunami 113, earthquake 15), and caused about $311 million in property loss. Earthquake effects were heavy in many towns, including Anchorage, Chitina, Glennallen, Homer, Hope, Kasilof, Kenai, Kodiak, Moose Pass, Portage, Seldovia, Seward, Sterling, Valdez, Wasilla, and Whittier." There were thousands of aftershocks in the following weeks, and the effects of the quake were felt all over the world.
Over the years, as service extended to additional communities, Alaskans gained access to not only their coastal neighbors, but to other parts of North America – and at a price that was often more reasonable than other forms of transportation. In 1964, the first year of service for both Southeast and Southwest Alaska, more than 100,000 passengers embarked, along with nearly 22,000 vehicles.
Expanding South: 1967-1968
By 1967, the state of Alaska was looking to expand service down to the "Lower 48." The southern terminus of the original route was Prince Rupert and the state was not interested in expanding further south since the Canadian ferries served this purpose.
"Up until the late summer of 1967, the British Columbia ferry system had operated ferries from Seattle to Prince Rupert, feeding traffic for the Alaska ferries up the inside passage," Stan Cohen wrote in his 1994 book Highway on the Sea. "But in August, the M/V Queen of Prince Rupert ran aground, leaving only one active ferry between the two ports. Shortly afterwards, a rock slide blocked the Alaska Highway, stranding passengers along the route."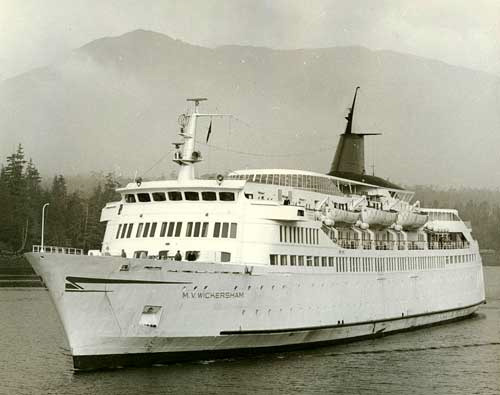 Alaska State Ferry Wickersham in Tongass Narrows
Photographer: Morgan's Photos
Donor: Ketchikan Daily News, Photograph Courtesy Ketchikan Museums

In 1968 Port Lions, Tatitlek and Whittier were added to the system and on May 21, M/V Chilkat began a Valdez to Whittier run. This created a ferry-rail link with the Alaska Railroad in order to shuttle vehicles between Portage and Whittier, allowing access to the highway system.
In 1968, the state purchased a new ocean-going vessel for just under $7 million to run between Seattle, Washington and Southeast Alaska. It was originally built by A/S Langesund Mekaniske Verksted in Norway and was called the Stena Britannica. Once purchased by the State of Alaska, the ship was rechristened the M/V Wickersham, after Alaska judge and political leader James Wickersham.
The M/V Wickersham was 363 feet long and had a beam of 59 feet. Its service speed was 22 knots and would carry 1,300 passengers and 170 vehicles. Her large size and draft which served her well in the turbulent waters of Dixon Entrance were too great to slip through passages such as Peril Strait en route to Sitka, which forced her to approach Sitka from the outer coast.
However, the greatest challenge to the State of Alaska was that the M/V Wickersham was a foreign registered ship. U.S. cabotage laws (commonly referred to as the Jones Act) prohibited the vessel from carrying passengers or goods between US ports. This meant that it had to stop in Canada before continuing the journey between Seattle and Alaska, which considerably increased the cost and duration of the route. The state had hoped to secure a waiver to this law but was unsuccessful until it promised to build a new vessel (MV Columbia).
By 1968, traffic levels exceeded 130,000 passenger and 39,000 vehicles.
Vessel Expansion: 1969 - 1974
In 1969, MV Tustumena was expanded by 56 feet to better handle rough waters and to increase the number of staterooms and vehicle capacity. The expansion included bow thrusters, larger electrical generators, and an enclosed sundeck.
This same year, the M/V E.L. Bartlett, was added to the fleet and reached Prince William Sound on July 1. During its years of service, its primary ports were Valdez, Whittier, Tatitlek, and Cordova. It was named after Senator Edward Lewis "Bob" Bartlett who served as Alaska's Territorial Delegate to Congress from 1945-1959. The M/V E.L. Bartlett was 177'1" long and had a beam of 53'. Its service speed was 12 knots and could carry 236 passengers and 29 vehicles.
In May, 1971, MV Malaspina responded to a distress call of the cruise ship Meteor. The Meteor was six hours from Vancouver when a fire began in the crew's forward compartment. The M/V Malaspina was able to rescue 66 passengers and four injured crewmembers.
In 1972, the M/V Malaspina was lengthened by 56 feet to make her overall length 408 feet, increasing passenger and vehicle capacity.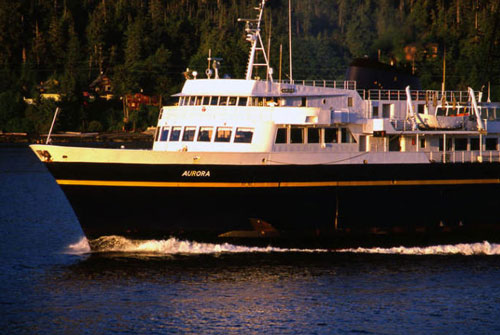 M/V Aurora, Tongass Narrows (Ketchikan, Alaska) - 1986
Nancy Simmerman photographs, 1959-1999. UAA-HMC-1113
Photo courtesy Archives and Special Collections, Consortium Library, University of Alaska Anchorage.

Due to complications of operating the MV Wickersham, she was put up for sale in 1973 and sold to Rederi AB Sally (Sally Line) in 1974 who renamed her Viking 6. After many years of service and multiple owners MV Wickersham was scrapped in 2001.
In 1967, service was extended to Seattle, granting Alaskans easier access to the contiguous United States and encouraged others to visit the Last Frontier.
1976 - 1979
The communities of Angoon, False Pass, King Cove, Pelican and Sand Point are added to the AMHS system during 1976-79.
In 1977, the M/V Aurora is commissioned with a homeport of Hoonah. And in 1978 Tenakee is added to the AMHS system.
The M/V Tustumena initiated service to the Aleutians along the historic Aleutian Mail Route, with a run from Kodiak to Dutch Harbor.
1980's
The Aleutians, a chain of islands only accessible by sea or air, gained ferry service. In 1983-84 Chignik, Cold Bay and Dutch Harbor were added to the AMHS system, a distance comparable to driving from Indianapolis to Pittsburgh.
Alaska's tourism industry began expanding in the early '80s, and the ferry system's popularity grew with it. In 1982, summer cabins on ferries sold out in just two days.
In 1988 M/V Chilkat is sold.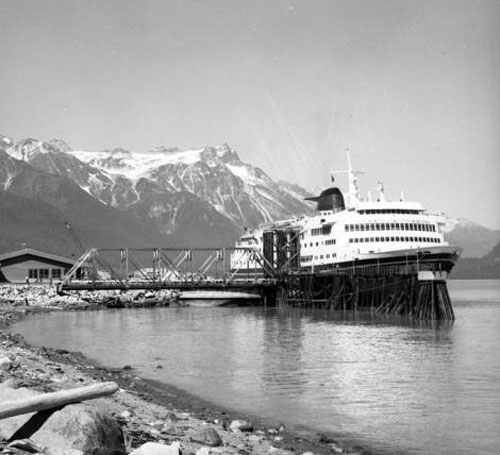 Ferry Columbia at dock at Haines
AMRC. Steve McCutcheon Collection
Photo courtesy Anchorage Museum at Rasmuson Center

On September 29, 1989, the M/V Columbia makes its last sailing from Seattle's Pier 48 because the southern terminus was moved to Bellingham, Washington. The M/V Matanuska makes her first sailing from Bellingham on October 4, 1989. The M/V Matanuska carried the body of the founder of the territorial ferry system, Steve Homer, to his resting place in Haines.
On October 6, 1989, the M/V Columbia makes her first scheduled sailing out of Bellingham.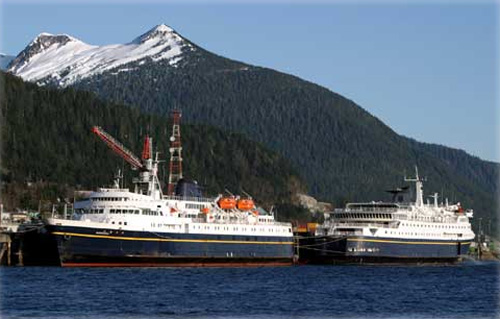 The Matanuska and the Columbia - Ketchikan, Alaska
Photograph by Carl Thompson - March 2004

1993-2003:
Akutan is added to the AMHS system in 1993 and in 1996 Chenega Bay is added. In 1998 M/V Kennicott is commissioned with a homeport of Valdez.
The Alaska Marine Highway gained even more recognition in 2002, when it was named a National Scenic Byway. Just three years later, in 2005, it was recognized as an All-American Road, the highest designation awarded by the National Scenic Byway Program.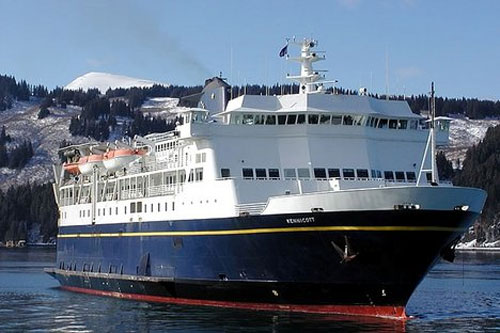 M/V Kennicott
Photo courtesy AMHS

In 2003 the M/V Bartlett is decommissioned and sold to All Alaskan Seafoods.
The M/V Fairweather, a fast ferry catamaran in the Alaska Marine Highway System, was built by Derecktor Shipyards in Bridgeport, Connecticut in 2003 and 2004, and began service on June 8 of the latter year. It was powered by four diesel engines and water jets for a service speed of 36.5 knots which is only matched in the ferry system by its younger sister ship, the M/V Chenega.
The Fairweather's highly anticipated entry into the ferry system, however, was plagued with problems. First a log was sucked into a water jet disabling one of four waterjets until the log was removed by divers during the evening maintenance period. Several months later, in December 2004, the Fairweather was then hit by a rogue wave while in route to Juneau from Haines in Lynn Canal during a winter stor.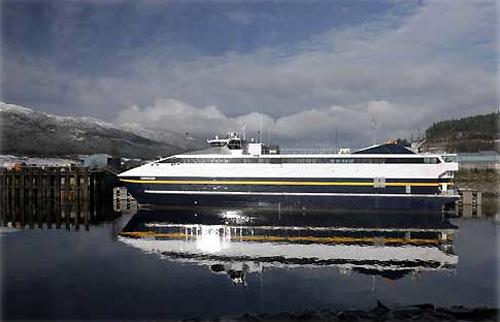 M/V Fairweather in winter lay-up in Ketchikan.
Photograph by Carl Thompson - February 13, 2005

The Fairweather was originally planned to exclusively create a Sitka-Juneau high speed ferry link, with the ferry homeported in Sitka. However, the state changed its plans and decided to homeport the ferry in Juneau, creating an uproar in Sitka. Since 2006, the Fairweather has returned to serving Haines, Skagway, and Sitka from its port in Juneau.
2004 - 2013
In 2004 the M/V Lituya is commissioned with a homeport of Metlakatla. The M/V Lituya is the first shuttle ferry dedicated to a single route.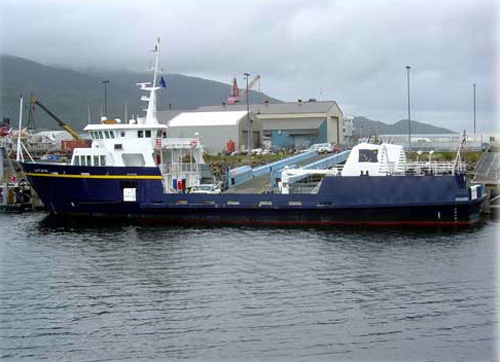 M/V Lituya at the Ketchikan Ferry Terminal
Photo by Dan Hart ©2004

In January 2009, high winds caused the Lituya to part its 3 wires and single mooring line at the Alaska Marine Highway System terminal in Metlakatla. The vessel was blown approximately 1.2km to the North and grounded on Scrub Island. There were no passengers or crew onboard the vessel at the time of the grounding.
In 2004 the M/V Fairweather begins service with a homeport of Juneau.
The Alaska Marine Highway System headquarters moves from Juneau to Ketchikan in 2004 .
In 2005 the Alaska Marine Highway is named an All-American Road by the Federal Highway Administration.
The M/V Chenega, a fast ferry catamaran and the newest vessel in the Alaska Marine Highway System, was built by Derecktor Shipyards in Bridgeport, Connecticut in 2004 and 2005 and came into service in the latter year. It is powered by four diesel engines and water jets for a service speed of 32 knots which is only matched in the Alaska Marine Highway by its older sister ship, the M/V Fairweather. The Chenega's amenities include a small movie lounge, rear observation deck/solarium, and cafeteria (no kitchen, prepared food only). The M/V Chenega was commissioned with a homeport of Cordova in 2005. The Chenega ran into controversy from virtually the day it came into service.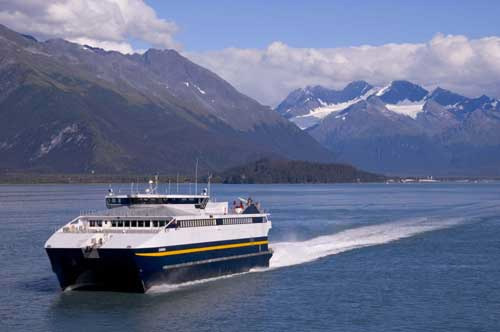 M/V Chenega
Photo credit: Peter Metcalfe/AMHS

A Statute establishing a permanent 11-member Alaska Marine Transportation Advisory Board is created in 2009.
2010 November 23, 2010, Gustavus is added to the AMHS system.
On June 28, 2006, the Alaska Department of Transportation and Public Facilities issued a statement of services for a shuttle ferry class of vessel described as "Southeast Shuttle Ferry". This began the process toward building the Alaska Class Ferry (ACF), which would be the first AMHS stern/bow roll on-roll off (RORO) vessel since the M/V E.L. Bartlett.
The Alaska Marine Highway website adds a new system map, allowing users to track ferries in real-time in 2012 .
2012 April 27: Ouzinkie is added to the AMHS system on April 27, 2012. and Old Harbor is added on June 17th.
As Alaska Marine Highway is celebrating its 50th year, plans are underway to build two smaller Alaska Class Ferries.
On December 4, 2012, Alaska Governor Sean Parnell announced in Ketchikan that the Alaska Marine Highway System will pursue plans to build two smaller, less costly Alaska Class Ferries, rather than one large Alaska Class Ferry. The governor announced the new direction after it became apparent during the design phase that building a 350-foot ferry on budget, in Alaska, could not be accomplished.
Today, folks in Ketchikan were able to celebrate the 50th anniversary of the Alaska Marine Highway aboard the MV Malaspina. As part of the Golden Voyage, the Malaspina was docked at Berth 3 in downtown Ketchikan from 2:00pm until 6:00pm for a salmon-inspired event and danced to music by the Ratfish Wranglers.
The sold out event circumnavigating Revillagigedo Island and cruising through Misty Fjords National Monument takes place on Thursday, May 2nd.
For more 50th anniversity events in Southeast Alaska, click here.
Edited by Mary Kauffman, SitNews
Related:
First State Ferry Arrived 50 Years Ago By DAVE KIFFER - Fifty years ago today, transportation in Southeast Alaska changed dramatically.

The Alaska Marine Highway System ferry Malaspina arrived in Ketchikan at 9 am inaugurating ferry service to the region. - More...
SitNews - 2013

THE GRAND SHIPS OF THE ALASKA MARINE HIGHWAY SYSTEM By DAVE KIFFER - By all accounts, it was one of the largest traffic jams in Ketchikan's history.

Hundreds of cars plugged Tongass Avenue as more than 3,000 residents tried to reach the Ketchikan Marine Highway System Terminal in the Charcoal Point area north of Ketchikan's West End, according to the Ketchikan Daily News. - More...
SitNews - 2006
Sources of News:
Various

& Alaska Marine Highway System
www.dot.state.ak.us
E-mail your news & photos to editor@sitnews.us


Publish A Letter in SitNews
Contact the Editor
SitNews ©2013
Stories In The News
Ketchikan, Alaska

Articles & photographs that appear in SitNews may be protected by copyright and may not be reprinted without written permission from and payment of any required fees to the proper sources.