Alaska Science
Magpies a more common sight throughout Alaska
By Ned Rozell
May 23, 2012
Wednesday

(SitNews) - A while back, Ron Koczaja was walking a riverbank in Kasigluk with a village elder when a large, striking bird perched on a power line.
"What is that bird?" the woman asked.
"A magpie," said Koczaja, a teacher in the village. "What's it called in Yupik?"
"I don't know," she said. "Them birds never used to be here. There is no word."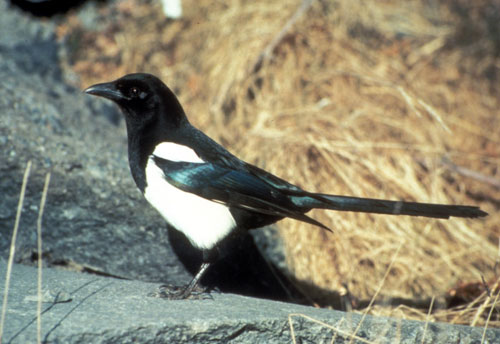 A black-billed magpie in the Kodiak National Wildlife Refuge.
Photo by Dave Menke.

Koczaja, a math teacher at Ryan Middle School in Fairbanks, remembered this exchange from his first assignment in the Bush, about 14 years ago. He found it interesting that, in the thousands of years people had spoken Yupik in Southwest Alaska, their language had no word for magpie.
The lack of a term for the black-billed magpie may be because the bird was not in Southwest Alaska until recently. The long-tailed relative of ravens and jays seems to be extending its range throughout Alaska.
Since 2007, biologists at the Alaska Bird Observatory have tracked sightings of magpies in the far north. Reports of the black-and-white bird with the raven-like head, iridescent plumage and sweeping tail have come from as far north as Fort Yukon and from way down the Yukon River, where Nulato residents have seen them feeding on a carcass pile.
"Based on what people have told us, they're expanding their range," said Sue Guers of the Alaska Bird Observatory. "Are people just noticing them more, or is climate helping them out, making it warmer?"
Unlike ravens and jays, most Alaska magpies migrate out of the cold Interior for the winter, often to Southeast Alaska. But people in Fairbanks have been seeing at least a few magpies in recent Christmas Bird Counts, meaning some are wintering in the far north.
"(In the past) we didn't often see them north of the Alaska Range in wintertime." Guers said. "Now we do."
The magpie sightings on the Alaska Bird Observatory's website show a pattern that traces the road system and follows the path of rivers like the Yukon and Kuskokwim. Magpies are like their raven cousins in that they will eat almost anything. The birds tend to congregate around people and the food we throw away.
"They're Dumpster divers for sure. Ivory Jack's is a popular place for mated pairs," Guers said, referring to a bar and restaurant north of Fairbanks where she has seen magpies. "They pretty much know people equal food."
The range map for the birds drawn by researchers at the Cornell Lab of Ornithology shows the birds historically did not venture north of the Alaska Range. It might be time to redraw the boundary.
"Are they expanding throughout Alaska? It kind of looks like they are," Guers said. "They don't seem as common as they do in California or the Lower 48 yet. But give them time."
The Geophysical Institute of the University of Alaska Fairbanks, in cooperation with the UAF research community, provides this column as a public service.
Ned Rozell [nrozell@gi.alaska.edu] is a science writer at the institute.
E-mail your news & photos to editor@sitnews.us


Publish A Letter in SitNews
Contact the Editor
SitNews ©2012
Stories In The News
Ketchikan, Alaska

Articles & photographs that appear in SitNews may be protected by copyright and may not be reprinted without written permission from and payment of any required fees to the proper sources.