CONTINUING A COAST GUARD TRADITION IN KETCHIKAN
By Jerry Cegelske
May 05, 2011
Thursday AM

The U. S. Coast Guard Electronics Support Detachment, Ketchikan, has established a tradition which everyone in Ketchikan should know about.
For at least the last five years, they have worked cleaning up different sections of Ketchikan that have been dump sites for us locals. They have worked on Revilla Road, collecting over 7500 pounds in 2008, 7500 pounds on S. Tongass in 2009 and 8500 pounds in 2010. This year they worked on N. Tongass, S. Point Higgins Road, and Whipple Spur, collecting over 7400 pounds of trash and litter. They used their own vehicles and fuel to get to the work sites and to transport the trash to the landfill.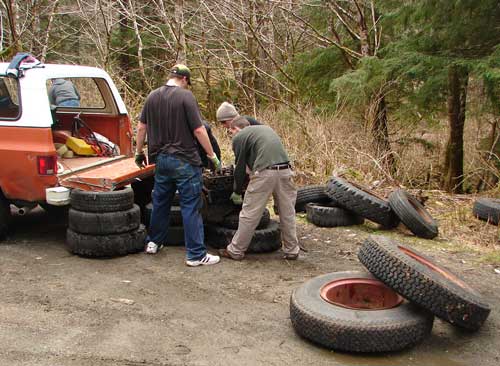 The Whipple Spur dump site-2011
Loading an engine, tires and trash dumped at Whipple Spur-2011

I would like to express my appreciation and the appreciation of the citizens of Ketchikan to:
ETC Joel Rodda, ET2 Adam Berry, IT2 Taylor Norton, IT2 Paul Heiden, ET3 Joseph Block, ET3 Erik Bonde, ET3 Jory Beebe, ET3 Gavin Dunaway, IT3 Roger Smithling, IT3 Brian Montero, as well as their ESD Ketchikan Supervisor CWO Michael Wills for their work in cleaning Ketchikan this year. They have put in a lot of time and effort into making Ketchikan a better place to live and are valued members of our community.
I also extend our appreciation to those individuals who previously worked on projects cleaning Ketchikan and have transferred from the ESD, Ketchikan the past few years. Working with them has created lasting friendships with some great people who deserve our support, as they have supported and defended us. They are missed.
Jerry Cegelske
KGB Code Enforcement Officer
Ketchikan, AK
Cleaning S. Tongass dump site 2010
They used a rope to bring up large items dumped over the embankment, 2010.
Another load of trash collected from a dump site, 2010.