SOME APPRECIATIVE SNOWMACHINERS
By Jerry Cegelske
May 05, 2011
Thursday AM

On March 31, I drove out on Revilla Road and found an electric range someone had dumped at 6.5 Mile. I noted it and was wondering how to get it removed.
Later that day, I was in the office and was able to meet with Lewis Amundson and Dan Nygard who requested help in getting rid of the trash that they anticipated to collect that afternoon. Lewis stated he was a snow machine rider and although he was not responsible for the litter along Revilla Road, he wanted to clean it up as he was born here, Ketchikan is his home, and he does not like people littering and making it look less than the natural beauty allows.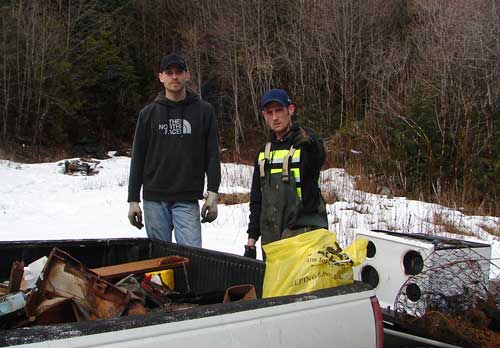 Dan Nygard and Lewis Amundson working at Mile 5.5 Revilla Road.

I expressed my appreciation for their work and mentioned the electric range at the intersection of the road to Lake Harriet Hunt.
Later I contacted Dan and Lewis as they were working on a rock pit at about mile 5.5 Revilla road and gave them some bags to place the smaller trash in. It was nice to note that they had the range in the trailer on the back of their pickup. At that time Lewis stated that he probably knew some of the people that had dumped some of the litter on the road.
They next day they were back in the office requesting additional ALPAR trash bags as they planned to continue working on Revilla Road.
Lewis and Dan, please accept my "Thank you" and appreciation for the work you guys did on your own.
You accepted the responsibility for the way your "home" looks and took action to make it better for all of us. Others now know of the work you have done and are also appreciative of your efforts.
"Thanks" also to Lenny Neeley for assisting in disposing of the litter that Lewis and Dan collected at the landfill.
Jerry Cegelske
KGB Code Enforcement Officer
Ketchikan, AK