Scientist mixes fish guts and sawdust to create energy
By Nancy Tarnai
May 02, 2011
Monday

(SitNews) When one of Alaska's largest seafood processors was fined $1.9 million for discharging fish waste into the ocean last month, Universtiy of Alaska Fairbanks assistant professor Andy Soria watched the media coverage closely and shook his head.
His experiments could benefit fish processors by turning salmon waste into fuel.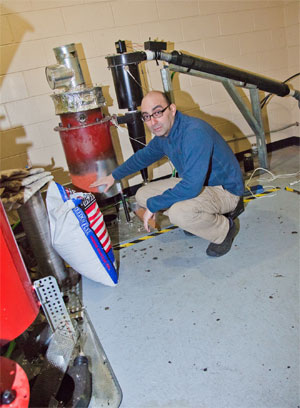 Andy Soria stands shows some of the components of his research on using fish waste as fuel.
UAF photo by Todd Paris
"In Alaska alone, there are 100,000 metric tons of salmon wastes dispersed into the ocean each year," Soria said. The waste is so massive that it can't decompose into fish food. "There are underground mountains of fish waste."
Soria has been experimenting with mixing fish waste and the sawdust of coastal alder or black spruce to create pellets. The mixture of fish and sawdust is compressed and placed inside a gasifier to produce a natural gas equivalent.
The pellets can accommodate up to 25 percent wet fish slurry and still retain heating value. The ideal proportion of salmon fish slurry - a mixture of guts, heads, tails and viscera with a moisture content of 70 percent - is 20 percent of the total pellet.
"In practice, reducing 20 percent, or 20,000 metric tons, of wastes that are dumped into the ocean is a very positive thing," Soria said.
The pellets smell like a fresh fishy river, Soria said, not like rotting fish. "It looks like wood and smells like fish."
The results have been very positive, Soria said. "We can use an industrial waste product, a natural resource for Alaska, as high-quality feed stock and provide heat to the cannery. They can reap the benefits of excess waste and offset operating costs by displacing the diesel fuel needed to run the cannery operations."
Soria's work, performed in the Renewable-Based Hydrocarbons Lab at the Palmer Center for Sustainable Living, has been done on a small scale. He knows that canneries would have to make a capital investment to set up such a system, but he deems that a better answer than paying fines.
"This is the first piece," he said. "This project proves fish waste can make energy."
He would like to continue studying the ash composition and emissions profile.
"There is still additional work that needs to occur," Soria said. With a major source of his funding, the USDA Agricultural Research Service, slated for the federal budget chopping block this October, Soria isn't sure about the future of the research.
"The long-term goal is to design reactor and reaction conditions that will optimize the production of combustible gas from these Alaska-specific waste streams and be able to run generators and provide process heat," he said.
Note:
UniSea, Inc, a Seattle-based seafood processing company, was fined $1.9 million to settle state of Alaska and Federal environmental claims, according to a March 2011 news release from Alaska's United States Department of Justice Attorney Karen Loeffler. According to UniSea's website, they are one of the largest seafood producers in the world, with primary processing facilities in Dutch Harbor.
On the Web:
Juan Andres Soria
Assistant Professor of Wood Chemistry
http://www.uaf.edu/snras/departments/forestry/faculty/soria/
Source of News & Photograph:
University of Alaska Fairbanks Natural Resources School
http://www.uaf.edu/snras/
E-mail your news & photos to editor@sitnews.us


Publish A Letter in SitNews Read Letters/Opinions
Contact the Editor
SitNews ©2011
Stories In The News
Ketchikan, Alaska