Alaska Science
Climber-turned-scientist ponders Alaska Range formation
By NED ROZELL
May 28, 2010
Friday

About 15 years ago, a distinguished geology professor named David Hopkins noticed that one of his brightest students wasn't captivated by the course Hopkins was teaching. After class, he called the young man to his desk.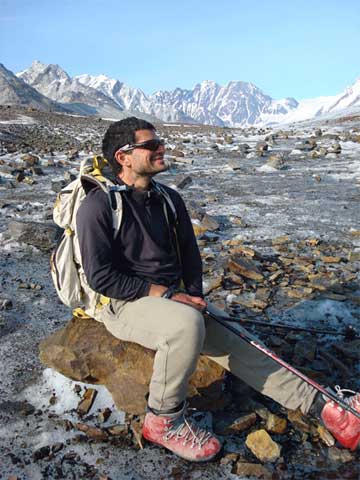 Climber and geologist Jeff Benowitz pictured in the Alaska Range.
Photo courtesy Jeff Benowitz.
"Jeff," he said, "If you're not into this, don't waste your time with it. Do what you're interested in."
"Well, I'm interested in climbing," said Jeff Benowitz.
And, for a decade, climbing is what Benowitz did. He pioneered new routes in the Alaska Range. He spent summers high in the mountains, sometimes bagging peaks from Denali base camp on the Kahiltna Glacier, subsisting on the excess food of other climbers.
Throughout that climbing-rat experience, Benowitz never stopped looking at the mountains with a geologist's eyes. He baffled his climbing partners by stuffing into his pack rocks the weight of bowling balls. Sometimes, when snow and wind pinned him inside his tent, he put aside his Russian novels and pondered why the Alaska Range surrounding him was such a peculiar arc of peaks and gaps.
Benowitz, now a graduate student in the University of Alaska Fairbanks' Geology and Geophysics Department, will soon combine his mountaineering and science interests high in the Alaska Range. Beginning in June, he will work with a team of scientists to investigate how Alaska's most iconic mountain range formed.
Benowitz and researchers from UAF, Syracuse University and the University of California, Davis will soon camp beneath the shoulder of 12,339-foot Mount Deborah, collecting rocks that may help solve the mystery of when, why and how the Alaska Range rose, as part of a National Science Foundation-funded project.
"The big picture is how do mountain ranges grow?" said Paul Layer, Benowitz's doctoral degree advisor, and professor in UAF's department of Geology and Geophysics Department as well as the Geophysical Institute, and Layer is also a participant in the fieldwork.
"The Alaska Range is a bit weird," Layer said. "Denali's there, but then there's not much until Nenana Mountain. You look out the window, you see high peaks, low peaks, and no peaks - there are passes out there. It's not uniform. The question is, 'Why?' What is the Alaska Range doing?"
The researchers will work near the epicenter of the magnitude 7.9 Denali Fault earthquake of 2002 before drifting farther west later in the month. During workdays that will sometimes last as long as the sun hangs in the northern sky, the group will collect rocks. Back in labs at UAF and Syracuse, researchers will cut, crush and melt some of the rock samples with lasers to tease out when they emerged from beneath Earth's crust.
Paul Fitzgerald of Syracuse (who is part of this year's team) earlier found that Mount McKinley started to rise about 6 million years ago, but Benowitz and others suspect the eastern Alaska Range may be three times as old, despite having sharp peaks that many people associate with young mountains.
Helping geologist Jeff Benowitz, Andy Sterns of Fairbanks carries a pack full of rock samples near Nenana Glacier in the Alaska Range.
Photo by Jeff Benowitz.

"Denali is the most unusual piece of topography in Alaska," Benowitz says. "It's like looking at an albino moose to study the coloration of moose in Alaska."
This study is the culmination of a dream for the Fairbanks climber-turned-scientist, who earned his master's degree in creative writing and admits he was more interested in climbing jagged, white peaks than finishing his undergraduate geology assignments.
"I wasn't a great student," he says. "When I approached (Paul Layer, asking him to be my advisor), he took a huge leap of faith to take me on."
"When he was an undergraduate, he'd say 'I'm going to climb Denali, do you want me to bring you back some rocks?'" said Layer, who adds that rocks Benowitz collected from the eastern Alaska Range led researchers in the field to rethink their opinions of the Alaska Range formation. "Everybody in the mountains can see things that are important, but Jeff from a climber's perspective asked questions of how the mountains got there. That's pretty cool."
This column is provided as a public service by the Geophysical Institute, University of Alaska Fairbanks, in cooperation
with the UAF research community.
Ned Rozell [nrozell@gi.alaska.edu] is a science writer at the institute.
E-mail your news & photos to editor@sitnews.us


Publish A Letter in SitNews Read Letters/Opinions
Contact the Editor
SitNews ©2010
Stories In The News
Ketchikan, Alaska