Local Support Praised for Youth Community Center and other KYI Programs
May 20, 2010
Thursday

Ketchikan, Alaska - Support from the founding sponsors in the project to develop the old Water Warehouse at 632 Park Avenue into a Youth Community Center is being praised by Ketchikan Youth Initiatives (KYI). The Crossett Fund provided funding for the pre-development design phase followed by significant donations from Credit Union 1, the Ketchikan General Hospital and First Bank. In addition to donations from corporations, foundations and individuals, according to KYI VISTA Volunteer, Ford Wheaton, "we have logged in over 275 volunteer hours since work began In January."
"The City of Ketchikan made a significant contribution to the future of our youth when they transferred this historic property , appraised at a value of $175,000, to the stewardship of KYI for development as a youth community center," stated Bobbie McCreary, KYI Administrator, "It is extremely rewarding to have this support from the community and local firms like Tongass Federal Credit Union who provided us the opportunity to showcase our plans for this exciting project."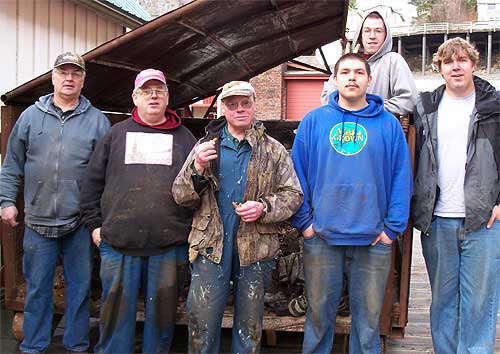 Volunteers from the Presbyterian Church, Residential Youth Care and KYI AmeriCorps
VISTA Ford Wheaton, coordinator the the volunteer program, pose in front of the
debris box that was filled with garbage from under the building.

Plans for this youth-run Youth Center include a coffee shop and area for events and meetings on the street level. The ground floor will have two rental offices, is dedicated to shared business services and will serve as a hub for launching and mentoring youth businesses. Stop by the site to view the plans that are posted in the front window and check out the progress on the foundation rebuild.
While working on this development project, KYI programs reach out to teens and young adults ages 14 through 24 through other venues. Dave Kitsmiller and Dick Hamlin provide space to host the "Teens at Dave's Red Anchor" after-school program on Tuesdays and Thursdays. The Methodist Church hosts a Teen Mothers Group with two 20's moms as group leaders (Wednesday from 4 to 5 pm). An Alley Art project is taking hold in Betty King Alley now that the weather permits this artistic endeavor (Saturday at noon.)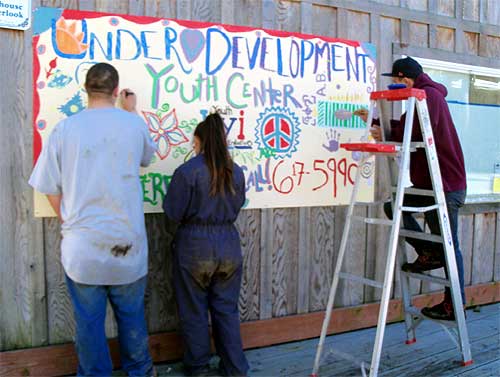 Volunteers put the final touches on a sign announcing the development project.

KYI's mission is to listen to and empower youth and young adults and guide youth-directed and adult-mentored endeavors. Following this mission, the KYI Board recently elected the following youth to serve as Youth President-Danny Williams, Youth Vice-President-Joron Whitton, and Youth Secretary-Rique Hill. Each officer is supported by an Adult Advisor. Ty Rettke, a young adult, serves as Treasurer. The Board consists of up to 15 youth, young adults and older adults, at least 4 of whom are under 18 and at least 7 of whom are age 18 and above.
Ketchikan Youth Initiatives was formed as an Alaskan non profit corporation five years ago. With support from the Revilla Island Prevention Coalition, Cellular One and the community, their first project resulted in a paintball field located on Revilla Road, which has been continually improved with the help of the community support and a grant from the Rasmuson Foundation. The Ketchikan Hot Shots young leaders run the field and work with groups of crew members to generate revenue that supports KYI programs and minimizes the cost for local youth to play at the field. KYI runs an active volunteer program-youth and adult volunteers are welcomed-to support different programs and projects, to serve on the governing board and committees, to mentor others while making Ketchikan a better place for young people age 14 to 24.
On the Web:
Empower Ketchikan
www.empowerketchikan.com

Contact Email:
kyibobbie@gmail.com.

Source of News & Photographs:
Ketchikan Youth Initiatives

E-mail your news & photos to editor@sitnews.us


Publish A Letter in SitNews Read Letters/Opinions
Contact the Editor
SitNews ©2010
Stories In The News
Ketchikan, Alaska