Governor signs bill making the Alaska Malamute Alaska's state dog
Polaris K-12 School students and teachers applaud the experience and results
May 14, 2010
Friday

Anchorage, Alaska - Over four hundred students, teachers and parents joined Governor Sean Parnell and Representative Berta Gardner (D- Anchorage) Wednesday as the governor signed House Bill 14 into law, making the Alaskan Malamute the official state dog. The signing was the culmination of three years work by students at Polaris K-12 School in Anchorage.
Three years ago kindergartener Paige Hill brought the idea to school. After some preliminary research, two first grade classes decided the Alaskan Malamute merited the designation and asked Rep. Gardner to carry the bill on their behalf. By the time the bill was introduced in 2009, the project had grown into an all-school project.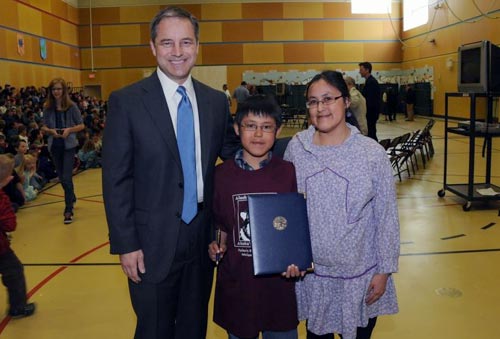 Gov. Sean Parnell, Paige Hill and Grandmother Shirley
Photo courtesy Office of the Governor

"It was a good experience," said Hill, who is now in the third grade. "It wasn't easy, but it was fun. I am glad the Malamute is the state dog and my grandma Shirley is very proud of me. It is very exciting to see the governor sign the bill."
The students researched the Alaskan Malamute and the legislative process, drafted supporting documents for the bill and built public support for their cause. "I'm honored to have been asked to be a part of this effort and am really proud of these students," said Gardner. "I know they learned a lot, and I hope it inspires them to keep participating in the public process." "The students of Polaris have worked long and hard to see this historic lesson in civics become a reality; how fortunate for all of us to be participants in this event," said Denise Greene-Wilkinson, principal of Polaris K-12 School. "This project was learning at its very best. I'm both proud and impressed with the amazing efforts of all of our students," said Jamie Rodriguez, a teacher at Polaris K-12 School. "If they are the future, we're in good hands."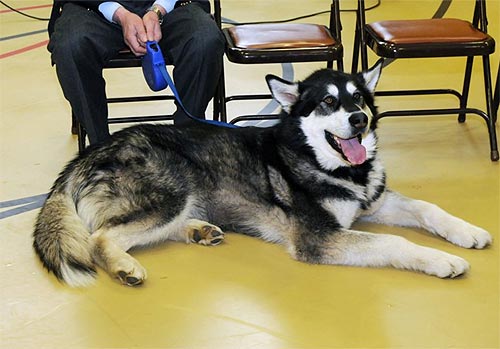 Governor Sean Parnell signed HB 14 Wednesday
making the Alaskan Malamute the official state dog.
Photo courtesy Office of the Gov.
Background: Alaskan Malamutes history in Alaska
The Alaskan Malamute has played an important role in Alaska's history for at least four thousand years. Considered one of the twelve ancient breeds, the Alaskan Malamute evolved from the ancient dogs that accompanied prehistoric man in his migrations from Asia, reaching back to the earliest days of prehistory Alaska with the Mahlemut people, now known as Inuits, in Northwestern Alaska. They lived and worked closely with their dogs, depending on them as partners in hunting large game, hauling heavy loads, and even helping to watch children. Eighteenth and nineteenth century European explorers to Alaska were impressed with the breed and by the time of the gold rush, Alaskan Malamutes, with their ability to haul equipment and people, were in high demand. They were so highly valued that a prospector would pay $500 dollars for one good dog and $1500 for a small team. Long after the Gold Rush, Alaskan Malamutes continued to be valuable freight dogs. They were easy to care for and could pull heavy loads to areas that were otherwise inaccessible. During the 1925 Serum Run to Nome, about 150 sled dogs, including Alaskan Malamutes, relayed diphtheria antitoxin 674 miles by dog sled in a record-breaking five and a half days saving the small city of Nome and the surrounding communities from an incipient epidemic.
Source of News:
Office of Representative Berta Gardner
http://gardner.akdemocrats.org
Source of Photographs:
Office of Gov. Sean Parnell
www.gov.state.ak.us

E-mail your news & photos to editor@sitnews.us


Publish A Letter in SitNews Read Letters/Opinions
Contact the Editor
SitNews ©2010
Stories In The News
Ketchikan, Alaska