Ketchikan Community Concert Band Presents Annual Spring Concert

Friday, May 21, 7:00 p.m. in the Kayhi Auditorium
May 14, 2010
Friday

Ketchikan, Alaska - The Ketchikan Community Concert Band (KCCB), conducted by Roy McPherson will perform their annual Spring Concert on Friday, May 21st, at 7:00 p.m. in the Ketchikan High School Auditorium. KCCB oboist, Kathleen Light and local siblings, Jamie and Jeffery Karlson will be featured soloists that night.

Alaska's Flag will be the opener, followed by Clifton Williams' "Symphonic Suite" the winner of the distinguished "Ostward Award" for outstanding band composition in 1957.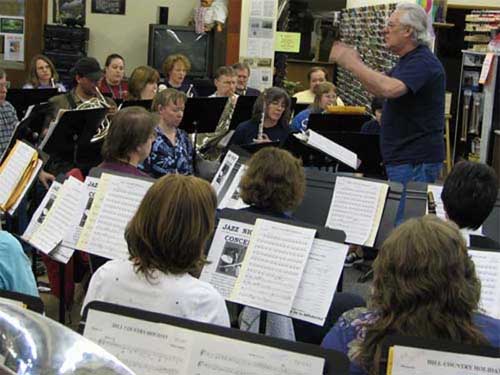 The Ketchikan Community Concert Band (KCCB), conducted by Roy McPherson during a past practice session.
Photograph courtesy McPherson's Music

Jamie Karlson will then be the featured flute soloist, on "Concertino". This beautiful and technically difficult piece was composed in 1910 by Paris born composer, Cecile Chaminade. Jamie was born in Ketchikan and started playing the flute at the age of 10. She also is a tenor saxophonist, and has recently taken up the trombone at the University of Idaho's Lionel Hampton School of Music, where she is completing her junior year, and pursuing a degree in Instrumental Music Education. She was very involved in music and the arts while growing up here, and was chosen for the SE Alaska Honor Band and State Honor Band, and she is a recipient of the Sam Pitcher Memorial Scholarship and the Jerry Galley Memorial Scholarship for high school seniors planning to continue their education in the music/arts field.

The unique "Brazil: Ceremony, Song and Samba" is based upon authentic Afro-Brazilian percussion rhythms, including the "Maracatu" rhythm that can be traced to the Congo, and the bossa nova, a more familiar style.

"Kindred Spirits" is a mournful and reflective piece by Brian Balmadges, a very active composer, conductor, producer and performer, and a favorite composer of the band.

Michael Valenti's "Carolina Seasons" beautifully depicts all four seasons, and his unique use of melody, harmony and rhythm results in a brilliant and sparkling musical setting.

A light march, "Pas Redouble" was originally written by Camille Saint-Saens for four-hand piano. This transcription was completed by Arthur Frackenpohl in 1972.

Jeffery Karlson (trumpet) and Kathleen Light (oboe) will be featured soloists on "Quiet City" by Aaron Copland and arranged by Donald Hunsberger. Aaron Copland is a very well-known composer who
was at the peak of his compositional output during the 1940's. His three ballet scores, "Billy The Kid", "Rodeo" and "Appalachian Spring" demonstrate his natural inclination toward clarity of form, texture and thematic development. "Quiet City" is a play by Irwin Shaw for which Copland composed the music, and re-orchestrated it into a tone poem for the solo trumpet, solo English horn and strings. Kathleen Light plays a significant role as oboist in KCCB and she is also a member of the Windjammers Jazz Ensemble on alto saxophone. She serves in a vital leadership role in the arts as Executive Director of the Ketchikan Area Arts and Humanities Council. Jeffery Karlson was born and raised in Ketchikan, and started playing the trumpet at the age of ten. He is currently in his third year at Lynn University's Conservatory of Music, studying trumpet with Marc Reese. He has recently performed with the Palm Beach Symphony Orchestra, and will be touring this summer with a professional brass quintet made up of Interlochen Alumni. Jeffery attended Ketchikan schools and was very involved in music and the arts here. He performed with the SE Alaska Honor Band, the Alaska State Honor Band and played lead in the All-Alaska Jazz Band. He is a recipient of the Sam Pitcher Memorial Scholarship, which helped him to attend the Interlochen (Michigan) Arts Camp. Jeffery was accepted to the Interlochen Arts Academy for his junior and senior years of high school and graduated with honors.

Sergei Prokofiev composed "Peter and the Wolf" in 1936 at the age of 46. This piece is one of the most ambitious pieces ever written for children. Prokofiev assigned each character in his story an instrument and a theme, ingeniously employing the novelty and sense of humor he so highly prized. Narrator, Mr. Jim Alguire, is a bass clarinetist in the band, a Board member of KCCB, and plays baritone saxophone in the Discovery Jazz Ensemble.

Inspired by a visit to Arlington National Cemetary, and dedicated to the memory of fallen soldiers, "Where Valor Proudly Sleeps" employs two contrasting themes - an original hymn with mixed trumpet fanfares and muffled drums - and a marching tune entitled, "Virginia's Bloody Soil". Cannon shots are heard and the ending closes with "Taps".

"Urban Dances" by Erik Morales is based on today's popular music, using rhythm as the primary developmental focus. Mr. Morales cleverly weaves the percussion parts with musical colors from the rest of the band building toward an exciting conclusion.

Tickets are FREE to students 18 and under, and others are $10.00 each, and available at McPherson Music, the Arts Council, Parnassus and from Band members.
On another note, Summer Band for Youth 6th grade thru 12th grade is being offered from
June 7 to July 30th at McPherson Music. Jazz, Rock and Blues will be the focus in a Jazz Ensemble setting. 225-3650. A tuition fee is required.
E-mail your news & photos to editor@sitnews.us


Publish A Letter in SitNews Read Letters/Opinions
Contact the Editor
SitNews ©2010
Stories In The News
Ketchikan, Alaska