ALASKA SCIENCE
Small village may model future Alaska
By NED ROZELL
May 04, 2010
Tuesday AM

Koliganek, Alaska - This village in southwest Alaska, so small it doesn't have its own zip code, is of great interest to Kenji Yoshikawa. It once had permafrost, but he's not finding it now.
"This is a model town," he says to 14 students in the school who have gathered for the University of Alaska Fairbanks scientist's presentation. "How Koliganek changes in the future might be like how other parts of Alaska change."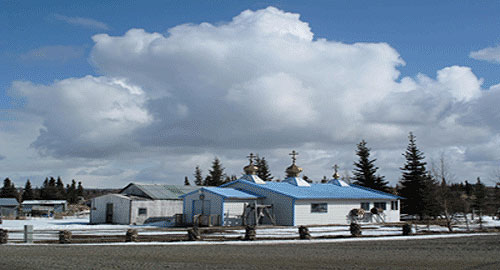 A Russian Orthodox church in the village of Koliganek.
Photo by Ned Rozell

Yoshikawa, a scientist and adventurer who has walked on every continent, is on a chartered Cessna trip around southern Alaska monitoring ground temperatures and speaking to students. Some students know him better as his alter ego "Tunnel Man," who stars in a video he shows to Koliganek students.
While watching the movie, students shoot glances between the caped superhero on the screen and the broad-shouldered Japanese man with the shaved head who is visiting them. When the video finishes, Yoshikawa projects on the whiteboard an engineer's report from mid-1990s construction in the village.
"In 1990s, they drill a lot (looking for permafrost - a relic of a colder climate long ago defined as soil or anything else that remains frozen through the heat of at least two summers)," he says. "They found permafrost."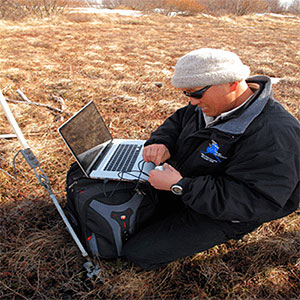 UAF permafrost researcher Kenji Yoshikawa downloads temperature data from his permafrost observatory in Koliganek.
Photo by Ned Rozell.
On this late April day, Yoshikawa has downloaded data from a "permafrost observatory" he installed here behind the school one year ago. He has found temperatures above freezing beneath the ground surface, indicating that the permafrost that existed in the village in the recent past now seems to be gone.
"In 20 years, huge change," he says.
His presentation prompts a question from a Koliganek English teacher.
"That's why my door doesn't close?" Rick Rae says.
"Looks like you have something going on here," Yoshikawa says. "But things change slowly."
Koliganek, located on the Nushagak River, is about the same latitude as Homer, but with a colder, farther-from-the-ocean climate. The village is right on the southern edge of where permafrost exists in Alaska. Koliganek may be one of the first places in Alaska where permafrost is degrading in a wide swath due to something other than people stripping away natural insulation or otherwise warming the ground. If so, the village is an example of what might happen in other places in Alaska if air temperatures warm.
"Report from here is extremely important," Yoshikawa tells the students. "In the next years, you might notice plants changing."
On the walk between town and the airstrip, Yoshikawa paused at a house, built to ground level with no air circulation beneath. The front steps had jackknifed toward the door. Yoshikawa took a photo of the steps as a man watched through his picture window.
Yoshikawa made the discovery of the missing permafrost in Koliganek as part of his mission to visit as many villages as possible in Alaska. To date, he has installed ground-monitoring stations in about 170 Alaska communities. On the day he visited Koliganek, he would see seven villages before nightfall.
As he lifted off from the airstrip for the 15-mile flight to New Stuyahok, where he would drill another permafrost observatory, Yoshikawa looked down on Koliganek. When the pilot banked the plane southward and spring-brown tundra filled the passenger windows, Yoshikawa wondered to himself if - when he returns in a year or two - he might see a few more shrubs or other changes to this place, one that has made a silent and so-far subtle transformation from frozen to thawed.
This column is provided as a public service by the Geophysical Institute,
University of Alaska Fairbanks, in cooperation with the UAF research community.
Ned Rozell [nrozell@gi.alaska.edu] is a science writer at the institute.
E-mail your news & photos to editor@sitnews.us


Publish A Letter in SitNews Read Letters/Opinions
Contact the Editor
SitNews ©2010
Stories In The News
Ketchikan, Alaska