Ketchikan Community Concert Band: A Celebration
of Alaska's Fifty Years Of Statehood

Friday, May 22, 2009
May 21, 2009
Thursday

Ketchikan, Alaska - The Ketchikan Community Concert Band will highlight Alaska's 50 years of statehood by opening the concert on Friday with "Alaska's Flag." Other Alaska-themed songs include "The Forty-Ninth Star Concert March" and "Great Land," which was written by local composer, Allen Larsen, and dedicated to his friend, Shawn Sande. This piece was first performed at Larsen's alma mater, Tulane University, and later at the Southeast Alaska Music Festival by the Ketchikan High School Wind Ensemble.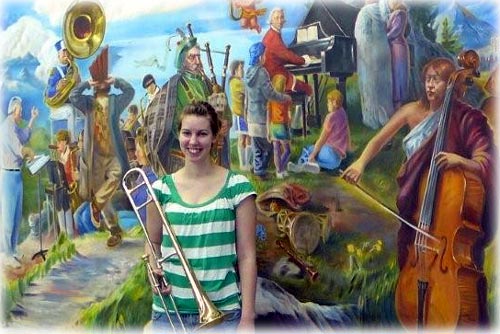 Jolene Pflaum will be the featured trombone soloist in Nikolai Rimsky-Korsakov's "Concerto for Trombone and Band".
Photograph courtesy McPherson's Music

Other compositions reminiscent of the Alaskan life-style include "The Sea Treaders" by W. Francis McBeth, and "Tales of Sea and Sail" by Larry Neeck. "The Sea Treaders" was commissioned in 1995 by the US Naval Academy Band for their 150th Anniversary and "Tales of Sea and Sail" is based on sea chanteys from the 1800's such as "Shenandoah" and "Blow The Man Down."
As a tribute to the United States Coast Guard, the band will perform "Semper Paratus," the official Coast Guard march, written by Captain Francis Saltus Van Boskerck in Unalaska in1927.

Jolene Pflaum will be the featured trombone soloist in Nikolai Rimsky-Korsakov's "Concerto for Trombone and Band," written in three movements. This was a forgotten manuscript discovered in Russia in 1951, and is now one of the most popular works for trombone. A senior at Ketchikan High School, Pflaum is a very accomplished musician, and has been very involved in the Ketchikan music scene for many years. She has played in the Southeast Alaska and State Honor Bands, and is planning to attend the University of Idaho to pursue veterinary medicine. She will also be playing the tuba in the other pieces performed by the band.

"The Girl with the Flaxen Hair" by Claude Debussy is a beautiful arrangement done by Philip Sparke. "Sure On This Shining Night", a Samuel Barber composition is arranged in a very expressive and lyrical style by Richard Saucedo. Both of these pieces by classical music composers, are arranged for concert band in an orchestral style, highlighting the sonorous sounds of the modern concert band.

Favorites such as "Love Me Tender," "Don't Be Cruel," and "Heartbreak Hotel" will be featured in the medley, "A Tribute to Elvis" arranged by James Christensen.

The classic patriotic "America, the Beautiful" by Samuel Ward and artfully arranged by Carmen Dragon, will be the concert's finale piece.

Support your local community band and honor the great State of Alaska by attending the concert at 7:00 p.m. on Friday, May 22nd at the Ketchikan High School Auditorium. Tickets are $ 10.00 for adults and youth under 18 are free. Contact McPherson Music at 225-3650 for more information.
E-mail your news & photos to editor@sitnews.us


Publish A Letter in SitNews Read Letters/Opinions
Contact the Editor
SitNews ©2009
Stories In The News
Ketchikan, Alaska