Youth Artists are the STARS

Youth Art Auction Coming June 6th
May 11, 2009
Monday

Ketchikan, Alaska - Another opportunity presents itself to contribute, enjoy and acquire art works created by Ketchikan's teens and 20's youth artists. On Saturday, June 6th at 5:30 pm, the Plaza Mall will host a YOUTH ART AUCTION sponsored by Ketchikan Youth Initiatives (KYI). A week prior, art works will be displayed in mall windows. On the day of the auction the art will be available for viewing throughout the mall. The theme is Alaska, honoring our 50th Year Anniversary; however, all youth art works will be accepted. All young artists are urged to get their art works in the show and to register now. (Call 225-2250 to register.)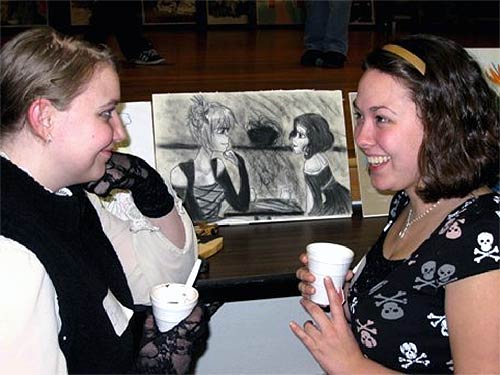 KYI EXPO/ART AUCTION 12/18/08 Ted Ferry Center
Brittany DeCourcey and Victoria Clary pose in front of
DeCourcey's art work at the December 2008 KYI Activity EXPO
Photo by Nancy Coggins

This event builds on the successful auction held by Ketchikan Youth Initiatives (KYI) on December 18th as part of the 2nd Annual KYI Activity EXPO and Potluck said Project Coordinator Bobbie McCreary. The concept of staging an art auction started with a desire to find a good home for the mural boards installed on the Bernard Passman building. For over five years members of the community had collaborated, under the guidance of local artists and coordinated by Bobbie McCreary, to brighten the boarded or vacant windows of downtown stores over the winter months. Project Ketchikan, as this endeavor was called, focused particularly on showcasing the skills of youth and young adult artists.
When the downtown business owners chose to discontinue boarding windows, the eight murals created by Revilla High students under the artistic direction of Mary Ida Henriksen for the Bernard Passman Building, were available for new ownership and thus was born the idea of an Art Auction featuring works of youth artists.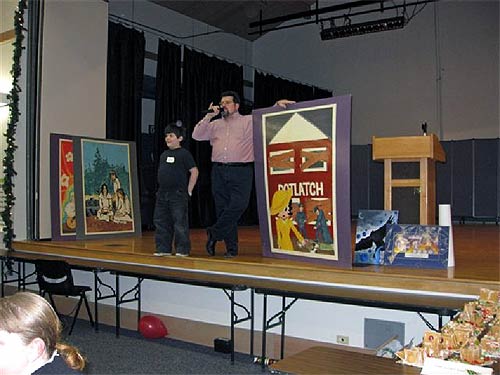 KYI EXPO/ART AUCTION 12/18/08 Ted Ferry Center
Consummate youth supporter, Miguel Torres and his son conduct the live auction of mural boards and other original art works contributed by over 10 young artists from ages 6 to 19. Other students helped display the art to the audience and spot the bidders to make sure no one was overlooked. The auction earned over $1600 for Ketchikan Youth Initiatives. Artists were able to earn 25% of the sale value of their art work.
Photo courtesy KYI

Project coordinator Bobbie McCreary said the inspiring support of Ketchikan's community members who showed up to bid on the young artists' work was very encouraging to these artists. Following this event a core group of junior high and high school students and young adults met several times to connect around their common art interests. They created four different art postcards that have been marketed to local tourism businesses (and which art works will be part of the auction.) McCreary said they also have taken the first steps of forming an Art Club that will gladly receive donations of art supplies (all types) to help out the young artists. These artists also welcome the participation of adult artist mentors and anyone who wants to help make the art auction event on June 6th a smashing success said McCreary.
KYI was founded in 2005 and has been actively supporting youth involvement and leadership through programs like the development of the Hot Shots paintball park, support for the Borough's development of a covered skatepark, inception of a Youth to Work job readiness program, and coming soon, redevelopment of the Old Water Warehouse into a Youth Community Center. KYI's mission is: "We listen to and empower youth and young adults and guide youth-directed and adult-mentored initiatives".
E-mail your news & photos to editor@sitnews.us


Publish A Letter in SitNews Read Letters/Opinions
Contact the Editor
SitNews ©2009
Stories In The News
Ketchikan, Alaska