Grand opening of Women's Diagnostic Imaging Suite

May 07, 2007
Monday PM

Ketchikan, Alaska - It took a year to raise the funds and a year to design and build the suite, but on Friday the Ketchikan General Hospital's (KGH) Women's Diagnostic Imaging Suite will be ready to open. Equipped with state of the art diagnostic machines to support breast imaging, bone density and a wide range of ultrasound diagnostic procedures, the Women's Diagnostic Imaging Suite (WDIS) was also designed to create a comfortable, private and professional setting.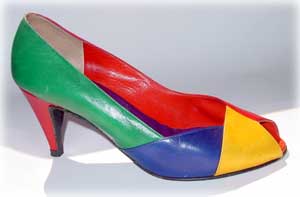 1980's Italian peep-toe pump by Bruno Magli, part of the vintage clothing displays in the new KGH Women's Diagnostic Imaging Suite
To introduce and open the new area, KGH Foundation will be hosting an open house, tours and ribbon cutting on Friday, May 11th, from 5 to 7pm, with a program beginning at 5:30pm in the hospital lobby. The program will feature keynote speaker Delores Churchill, renown Ketchikan artist who was formerly a 23-year employee of the Sisters of St. Joseph of Peace. "We are so excited about the opening", says Angela Salazar, Co-Chair of the fundraising campaign and member of the KGH Foundation Board of Directors. "This was our first campaign and we are so grateful to the community, employees and physicians who also recognized the need and helped make this need become a reality."
In total, over 175 individuals, businesses and organizations contributed to the WDIS campaign. "The project was truly a collaborative effort and without all involved we would not have been able to afford or achieve this result", states Norm Herron, MD, KGH Foundation President. "We were blessed to have so many contributors step up to the plate early on to help us launch the campaign, including several private parties, businesses such as First Bank, Premera Blue Cross Blue Shield of Alaska, AT&T Alascom and Skinner Sales & Service. We even received half of the funding for the new ultrasound machine from Denali Commission grant award." Other charitable grants were received from the Waterfall Foundation and Breast Cancer Detection of Alaska, First City Council on Cancer and Run for Women, First City Rotary and the KGH Auxiliary. As Salazar so often says, "It just shows what our community can do. We step up and make sure that our family, friends and selves can have quality healthcare at home."
The WDIS project included replacement of older ultrasound and bone density machines with state of the art equipment capable of producing and transmitting digital images and able to reduce procedure time significantly. In addition, new computer aided detection equipment was purchased which works in conjunction with mammography resulting in faster and more comprehensive local detection of potential abnormalities and anomalies of tissues and masses in the breast.
To achieve a unique and woman-centered setting, art and displays have been gathered to enhance and add color to the environment. Three display cases will hold vintage garments: a Filipino traditional dress; 1920's beaded flapper gown; and an extensive collection of colorful vintage shoes ranging from the 1920's to the 1980's. Artworks include the Evon Zerbetz series "Womankind", a series of Annie Liebowitz photos of women, and a beaded bag by Anna Annicelli. Funding for the art and displays was raised, for the most part, by the second annual "LumpiaMania" fundraiser sponsored by KGH Imaging Department employees.
"Though we are so excited about the opening, we know we have plenty of work ahead and many projects and needs to find funding for", says Carolyn Wilsie, KGH Foundation Board Members and President of the KGH Auxiliary. In order to jump-start the Foundation's efforts, the Board established the opportunity for early contributors of $3,500 or more to become part of a Founders Circle. Of the 250 plus contributors today, thirty are members of this Circle. Entry into The Founders Circle will close on Dec. 31, 2007, but recognition will remain forever.
Source of News & Photograph:
Ketchikan General Hospital
http://www.peacehealth.org/southeastalaska
E-mail your news & photos to editor@sitnews.us


Publish A Letter on SitNews Read Letters/Opinions
Contact the Editor
SitNews ©2007
Stories In The News
Ketchikan, Alaska