TAILGATE PARTY - KETCHIKAN STYLE!
By Marie L. Monyak
May 27, 2006
Saturday

Ketchikan, Alaska - It isn't every day that professional ball players show up in Ketchikan but early Friday morning that's exactly what happened. As the Holland America cruise ship Westerdam pulled into port at 7:00 AM, local fans lined the dock waiting to see members of the Seattle Seahawks.

Waiting on the cruise ship dock since 6:00 AM to meet and greet and hopefully get an autograph of several of the Seahawk's football players reported to be on board were the spirited members of the recently formed Sea Hawkers Booster Club clad in their Seahawk's shirts and hats. They were joined by Kayhi Kings' Head Football Coach Blaine Ashcraft and players Sam McDonald, Ty Gass, Karl Benson, Ryan Borup, Keisuke Ikeshima, Bryce Timm and alumnus member Paul McDonald.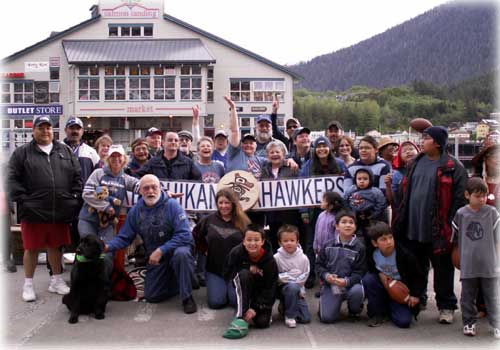 Sea Hawkers Booster Club and fans.
Photograph by Marie L. Monyak

Also present and in full regalia, the KIC Inter-Tribal Dancers began performing in anticipation of the arrival of the expected celebrities. Rounding out the gathering were many die-hard Seahawk fans both young and old, wearing the Seahawk's logo in the familiar pacific blue, navy blue, neon green and white.
Marcia Collins, President of the Ketchikan Sea Hawkers Booster Club explained, "We've recently formed our local chapter and we're so new we aren't even listed on the official Seahawks web site yet." Collins organized the early morning gathering and explained that although she's a local resident she was born and raised in Oregon and has been a self proclaimed Seahawk fan for over 30 years. Jokingly, Collins added, "because we don't have a professional team in Ketchikan!"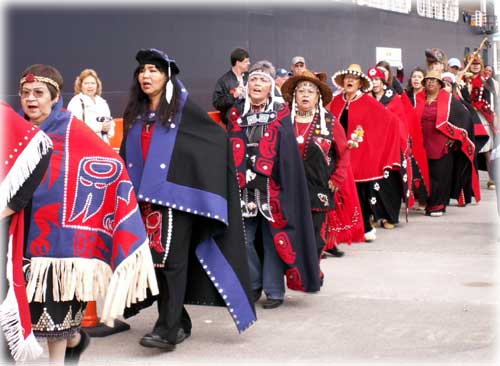 KIC Inter-Tribal Dancers
Photograph by Marie L. Monyak

Business owner and Ketchikan City Councilman K.J. Harris joked, "I'm here because Marcia [Collins] told me I had to be here at 6:30!" Anyone who knows Harris is well aware that he's a vocal Seahawks fan and would never miss an opportunity to meet members of his favorite team.. Selling Sea Hawker t-shirts and providing the donuts for the club members, K.J. said, much more seriously, "I'm a huge Seahawks fan and it's great to see people outside of the bar." Referring to his bar, K.J.'s Raven's Roost, Harris is known for throwing great parties whenever the Seahawks are playing, parties that draw many fans to cheer their team.

Westerdam passengers Cathy and Bill Johnson from Renton, Washington said, "These are the nicest, friendliest, most wonderful guys, they've been all over the ship talking to people. This is our first cruise and we took it because it was advertised as a public relations trip for the Seahawks and of course we're big fans."

Dave Stevens, another member of the local Sea Hawkers pointed out his official Seahawks hat and explained that it was 30 years old, "I got this hat in 1976, back during the Seahawks inception into the NFL." Other local fans brought teddy bears, footballs and t-shirts in hopes of getting autographs and they weren't disappointed as suddenly the ball players appeared on the gangway.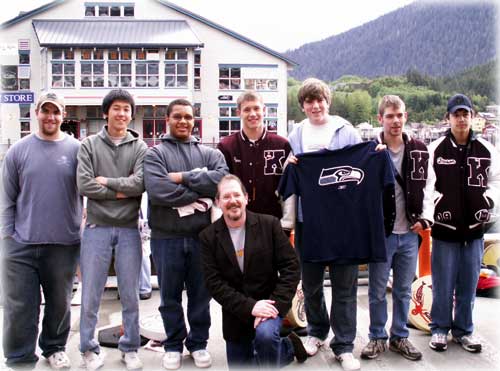 Head Coach and Kayhi Kings' football players.
Photograph by Marie L. Monyak

To the excitement and cheering of the crowd, Seahawk players Ken Hamlin, Seneca Wallace, Etric Pruitt and retired player Paul Johns bounded down the ramp to sign autographs and shake hands with their grateful fans. It had been reported that MVP Shaun Alexander would be present with his teammates but his obvious absence was accepted by the fans with some disappointment.

After a short visit, the players, along with their family and friends were whisked away to take the obligatory bus tour of Ketchikan. As the football stars departed on their tour the local fans and dancers slowly left the dock claiming bragging rights by showing off the autographs they had acquired.

Ketchikan may be small by Seattle standards but the spirit and the heart of the local fans exhibited Friday morning was as big as all of Alaska!



Photo Gallery of the Seahawks' visit to Ketchikan:
Ketchikan Indian Community - Photographs provided by Tracy Clapp
http://www.kictribe.org/Newsletters%20and%20Events/news.htm
On the Web:
Seahawks
http://www.seahawks.com/

Marie L. Monyak is a freelance writer living in Ketchikan, Alaska.
A freelance writer is an uncommitted independent writer
from whom a publisher, such as SitNews, can order articles for a fee.
For information about Monyak's freelance writing services and costs contact Marie at mlmx1[at]hotmail.com
Send your story ideas for SitNews to editor@sitnews us

Publish A Letter on SitNews Read Letters/Opinions
Contact the Editor
SitNews
Stories In The News
Ketchikan, Alaska