JAZZ NIGHT A CELEBRATION
By Valerie Hendel
May 19, 2006
Friday

Ketchikan, Alaska - Ever wonder why we use the same words to describe food and jazz? On Tuesday, May 16th, The Jerry Galley Memorial Scholarship Concert was performed at Kayhi. The scholarship fund, established in Spring 2000, raises money to help Kayhi seniors pursue the arts in college. Roy McPherson, Director and one of the Coordinators for Jazz Night, introduced the evening as one of "celebration." Chris Peabody, friend of the late Jerry Galley, described Jerry as "a man of action" and ushered in an evening of lively instrumentals.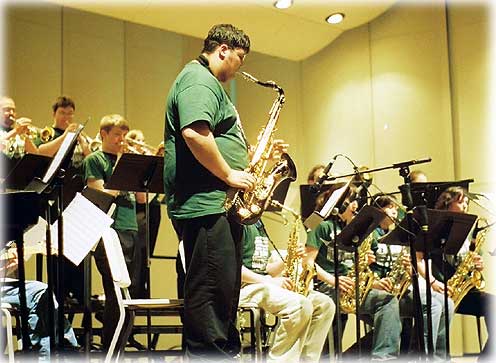 "Flashy Hands" Sayers McAlpin of Soundwaves Jazz Club
Photograph by Valerie Hendel

Dale Curtis, in his third year of involvement with Jazz Night, directed the Kayhi Jazz Ensemble who started out the evening hoppin' with "Jumpstart." Silky and sweet was "All Blues" arranged by Miles Davis. The Band played a fabulous and diverse selection that included "Aristocrat," "Bossa for Ralph Baby," and "Kansas City."
The Soundwaves Jazz Club took the stage with a rich and complex selection including "Here, There, and Everywhere." "Jiver's License" had this little rock jumping and "Digger's Bossa Nova" was a sophisticated and fun piece that took full advantage of the percussion.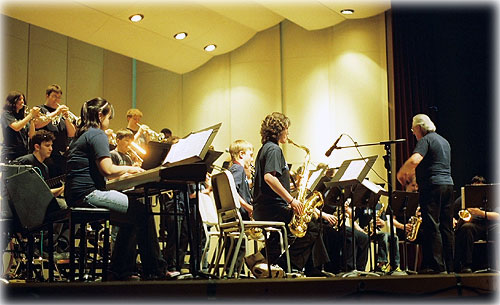 Windjammers Jazz Club directed by Roy McPherson
Photograph by Valerie Hendel

Tight instrumentals by the WindJammers Jazz Club and an unusual arrangement of three drummers wow'd the audience. Their performance of a complicated "Hunting Wabbits" included, dare I say, dramatization by Weston Corporon, as the Wabbit and Ron Brandow, as Elmer Fudd. The Wabbit won and the evening ended with an explosion or rather "Explosion" arrangement by Matt Catingub. The audience salivated at drum solos by Kim Kleinschmidt, Austin Hays, and Patrick Troll. The arrangement ended on a high note with a soaring trumpet section.
A tasty selection, tight instrumentals, and many impressive solo performances marked the evening as one not to miss. Jazz Night was a yummy celebration!
Upcoming Events:
Fundraiser for Matthew Perry. May 23, 2006 at Kayhi Commons from 5:30-8 p.m.

Spaghetti feed and silent auction to raise money for Matthew Perry's European tour with the Sound of America Honor Band.

Friday, May 26th, 2006 - The Rubber Band "Farewell Concert" at Kayhi, 7:00 - 9 p.m.

Valerie Hendel is a freelance writer living in Ketchikan, Alaska.
A freelance writer is an uncommitted independent writer
from whom a publisher, such as SitNews, can order articles for a fee.
All rights reserved. ©2006


Publish A Letter on SitNews Read Letters/Opinions
Contact the Editor
SitNews
Stories In The News
Ketchikan, Alaska