Spring Wine Tasting Event Helps Raise Funds For Scholarships
By Marie L. Monyak
May 19, 2006
Friday

Ketchikan, Alaska - Recently the Ketchikan CHARR (Cabaret, Hotel, Restaurant and Retailers Association) held their annual Spring Wine Tasting Event at the Ketchikan Visitors Bureau located downtown on the cruise ship dock. The steady flow of people attending the festive event indicated that it would be another successful fundraising program for CHARR.

Wes Loe, President of CHARR and Donna Luther, Vice President along with Carrie McLaughlin, Director of Special Projects were all on hand to greet the guests as were many other CHARR members who were volunteering their time. KRBD Public Radio staff was also present and contributed to the festivities by announcing door prize winners throughout the evening and assisting in various ways.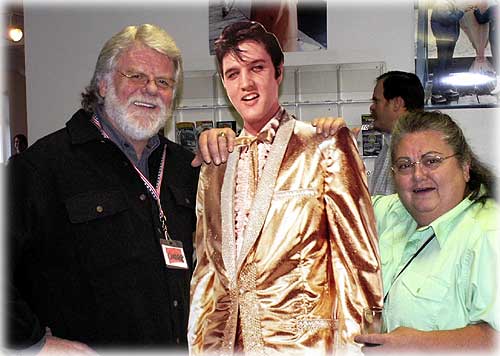 CHARR President Wes Loe, Elvis and CHARR Vice President Donna Luther.
Photograph by Marie L. Monyak

According to Luther, the Annual Spring Wine Tasting is one of three yearly fundraisers which CHARR holds to raise the monies necessary to support the CHARR Scholarship Program and KRBD Public Radio and the donations collected from this recent event will be split evenly between the two.

Luther was proud to announce, "For school year 2005-2006, CHARR awarded $13,000 in scholarships to local students." She also added, "CHARR sponsors 3 yearly fundraisers which contribute to the scholarship fund; the Spring Wine Tasting, the Summer Beer Festival and the Annual King Salmon Derby."

According to the CHARR website, the Scholarship Program exists to provide educational equity and opportunities for students who attend an accredited school within the state of Alaska by providing financial assistance toward the cost of tuition and textbooks.

Those who attended the Wine Tasting may have been contributing to scholarships but it was the last thing on their minds as they saw the dazzling display of wines provided by Alaska Distributors, Odom Company, K & L Distributors, and Specialty Imports.

Each liquor distributor had their own station where they provided guests with a variety of their best wines. Robert Nedzwecky manned the table for K & L Distributors and volunteered a luscious Australian wine from Cumulus, a dark plum and berry wine that goes by the name Climbing Merlot 2004. Nedzwecky admits that he's a bit partial as he offered his opinion, "Phillip Shaw is part owner of Cumulus and he's the greatest Australian wine maker ever!"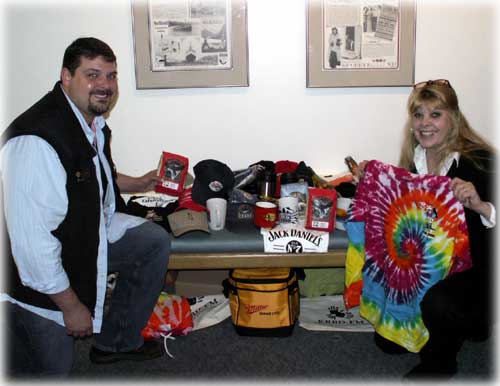 CHARR members Aaron Shull of Luna's Cafe and Carrie McLaughlin of First City Saloon with the many door prizes awarded throughout the evening.
Photograph by Marie L. Monyak

Over at the Odom display Debbie Kaes and Dan Rawley were busy pouring wine and answering questions. Unlike Nedzwecky, Rawley leaned towards the lighter wines and selected a California Chardonnay from Chateau St Jean. Rawley offered, "This Chardonnay has a fruity flavor and is very creamy." A great accompaniment to, you guessed it, wild Alaskan salmon. And as an accompaniment to their display, Odom had a life size Elvis to promote their line of Elvis Wines.

Keith Crocker of Specialty Imports offered a story along with his best pick from their display. Offering a bottle of Malbec, an Argentinean full-bodied red wine from Trumpeter Vineyards, Crocker related, "When I was in Argentina I fell in love with this wine. I also fell in love with the 700 gram T-Bone steaks that go for only $5 and this wine goes great with them!"

With wines from vineyards in Washington, California and as far away as New Zealand and Argentina, Nathan Haines of Alaska Distributors suggested a 2004 Edna Valley Pinot Noir.
According to Haines, "Edna Valley is in San Luis Obispo, California and I personally like this one, it's a very soft, smokey Pinot Noir.

To accompany the wide variety of wonderful wines an amazing array of appetizers was provided by Annabelle's, The Landing/Jeremiah's, First City Saloon, Bar Harbor Restaurant, Dockside Diner, The Narrows Restaurant, Steamers Restaurant and Cape Fox Lodge.

While nibbling on hors d oeuvres, sampling wines, socializing and visiting with friends, the guests were treated to numerous door prize drawings with gifts provided by various CHARR members and KRBD radio.
Luther wanted to remind everyone of the upcoming 59th Annual King Salmon Derby beginning on Saturday, May 27th and the Summer Beer Festival to be held at the Lumberjack Arena on August 5th. Both events benefit CHARR's Scholarship Program.
On the Web:
Marie L. Monyak is a freelance writer living in Ketchikan, Alaska.
A freelance writer is an uncommitted independent writer
from whom a publisher, such as SitNews, can order articles for a fee.
All rights reserved. ©2006

Publish A Letter on SitNews
Read Letters/Opinions
Contact the Editor
SitNews
Stories In The News
Ketchikan, Alaska