Pesticide traces found in Alaska wilderness
By Ned Rozell
May 12, 2006
Friday

Burial Lake, named after a nearby Eskimo burial ground, is a half-mile-long body of water north of the Brooks Range. The lake is far from any village, and even farther from the nearest fruit orchard, so why did snow from near Burial Lake have traces of a commercial pesticide?
Because pollutants travel staggering distances through the air, said Kim Hageman, a chemist with Oregon State University. She is one of the authors of a paper about pesticides found in western national parks, including Noatak National Preserve in northwestern Alaska. She looked at contaminants in melted snow samples from different parks and found an unusual spike of a banned pesticide compound in snow collected near Burial Lake.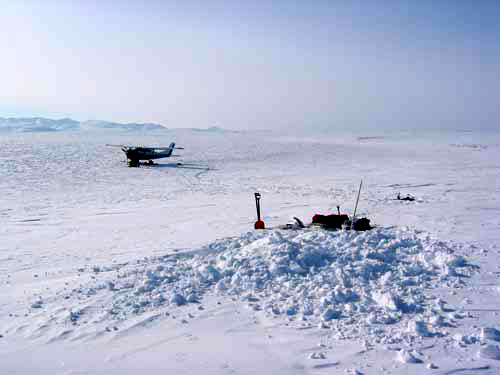 The snow near Burial Lake, in the foothills northwest of the Brooks Range in Noatak National Preserve, contained traces of a pesticide that were higher than samples from other western national parks.
Photo by Don Campbell, USGS Denver.

The compound found in the Noatak Preserve is an isomer of hexachlorocyclohexane known as "alpha-HCH." Chemists developed its parent pesticide in the 1940s to kill insects attracted to fruit, vegetable, and tree crops. People also used it to kill mites on animals and even head lice on humans.
The compound turned up in a snow sample USGS scientist Don Campbell collected in 2003 from a north-facing slope at Burial Lake. While the level of the pesticide is so small that you could melt a pot of snow from the area and drink it without harm, the sample at Burial Lake showed the highest concentration of the compound compared to samples from parks much closer to urban and agricultural areas, including Sequoia National Park in California and Mount Rainier National Park in Washington.
Hageman said it's likely no person spread an insecticide in the wilderness near Burial Lake, and that the presence of the compound there was interesting but not unheard of.
"Certain contaminants end up accumulating in the coldest regions of Earth," she said.
Though people probably haven't used that particular pesticide for decades, it doesn't break down quickly in soil, and its tendency to change from liquid to gas in different weather conditions helps it leapfrog across the globe, Hageman said. The chemical found in the 2003 snow sample from Noatak National Preserve might have been the remnant of pesticides applied just about anywhere in the world.
"In the 1950s, it could have been used in Indiana, China, Europe, or anywhere," Hageman said. "It could have evaporated from the soil in summer 2002 and moved on."
After evaporating, the compound as a gas may have followed weather patterns north across the Brooks Range, where falling snow pulled it from the sky and into the snowpack near Burial Lake.
Scientists found higher concentrations of other persistent pesticides in snow collected from Lower 48 parks like Glacier National Park, but concentrations there are also low.
"Even there, (the pesticides) are more than 1,000 times below E.P.A.'s drinking water standards," Hageman said.
The study of snow samples from western national parks is part of the Western Airborne Contaminants Assessment Project, in which scientists are analizing snow, lake water, lake sediments, fish, moose (in Alaska), vegetation, lichen, and conifer needles for contamination. Along with Hageman and her colleagues at Oregon State University, other scientists include those from the University of Washington, the National Park Service, the U.S. Geological Survey, the U.S. Forest Service, and the Environmental Protection Agency. Hageman's boss, Staci Simonich, has worked in Alaska before, once finding traces of pesticides in the bark of trees in Denali National Park.
Having just published information from 2003 snow samples, Hageman is now looking at snow samples from the same areas in 2004 and 2005. She'll examine more samples from Denali National Park, Gates of the Arctic National Park and Preserve, and a few more from Burial Lake and other sites in Noatak National Preserve.
"(Burial Lake) was an interesting finding, and something we want to look into more," she said. "With two more years of snow data to look at, we can see if it's a fluke or something common."
This column is provided as a public service by the Geophysical Institute,
University of Alaska Fairbanks, in cooperation with the UAF research community.
Ned Rozell [nrozell@gi.alaska.edu]is a science writer at the institute.


Publish A Letter on SitNews Read Letters/Opinions
Contact the Editor
SitNews
Stories In The News
Ketchikan, Alaska