University Graduation Marks Sacrifices, Successes
By Marie L. Monyak
May 11, 2006
Thursday

Ketchikan, Alaska - The University of Alaska Southeast, Ketchikan Campus, held their commencement exercise this past Saturday at the Ted Ferry Civic Center. The hall was filled to capacity with proud parents, family members and well wishers happy to show their support of the graduates.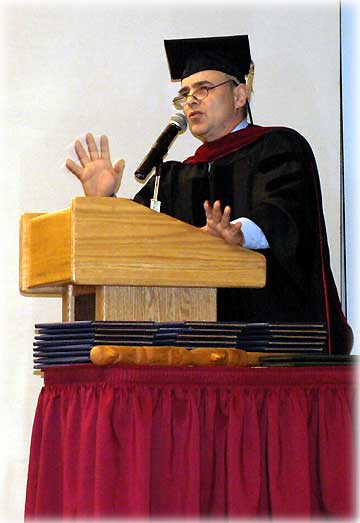 Keynote Speaker, Jason Ohler, President's
Professor of Education Technology.
Photograph by Marie L. Monyak ©2006



The beginning strains of Pomp and Circumstance signaled the start of the processional of cap and gown clad graduates to the stage. With invited guest speakers seated on one side of the stage and graduates on the other, Director of Ceremonies and Interim Campus Director Cathy LeCompte welcomed the guests and spoke briefly before introducing University of Alaska Southeast Chancellor John Pugh who offered words of wisdom and experience to the anxious students.

Special guest, University of Alaska President Mark Hamilton offered a brief congratulatory speech followed by the keynote speaker, University of Alaska President's Professor of Education Technology Jason Ohler. LeCompte aptly described Ohler as a storyteller and he didn't disappoint. As a professor of technology Ohler spoke with enthusiasm about what the future can bring. He began by saying, "I carry my cell phone on my belt everywhere I go. Twenty-five years ago, that was Star Trek!" Ohler continued, "You are pioneers, my charge to you is that you can no longer be closed minded." He spoke about the future of technology and jokingly told the audience that he would have liked to have been at the school board meeting many years ago when the decision on the table was if students should retire their slates and begin to use paper. Ohler compared that past scenario to a future one where a child would ask his parents for a new robot and the parental response would be; borrow your sibling's. The child's verbal volley would be that he can't because the robot is specifically programmed for its owner. Ohler's message was one of excitement and jhmna wondrous new future for the graduate provided they remained open-minded.

Board of Regent, Robert Martin was next to offer words of praise for the student's achievements ending with the maxim; "Someone once told me the best teacher is experience. Don't believe them, the best teacher is someone else's experience!"

The time had come for the conferring of degrees signaling the end of an academic year but a new beginning for the graduates. The cum laude designation signifies students in either the Associate or Bachelor degree program who have achieved a 3.5 grade point average while the magna cum laude designation signifies those who have achieved a grade point average of 3.8 or higher. The designation PTK indicates members of Phi Theta Kappa International Honor Society.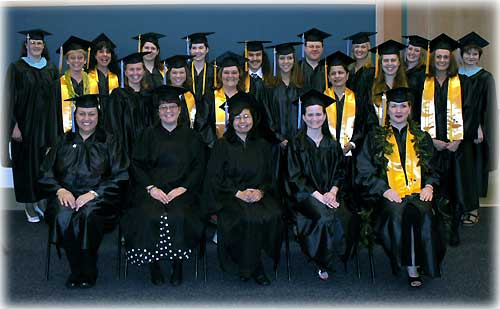 2006 University of Alaska Southeast, Ketchikan Graduates
For a high-quality print of this photograph & cost, contact Marie at 617.0927
Photograph by Marie L. Monyak ©2006


Students that received certificates or degrees are as follows:

One year Certificates
Dolee Enright, Accounting
Catherine Geer, Accounting
Devorra Langley, Community Wellness Advocate
Grace Wolf, Small Business Management

Associate of Applied Science Business Administration
Catherine Geer
Marley Holbrook, cum laude
Toby Sutton, cum laude, PTK

Associate of Applied Science Fisheries Technology
Sarah Ballard
Angel Holbrook

Associate of Applied Science Nursing ­ University of Alaska Anchorage
Theresa Howard
Diane Porter
Maryellen Purschwitz, PTK
Bridgit Stearns
Lory Stulken
Jennifer Taylor, PTK
Dawn Teune, cum laude
(These seven nursing students completed their degrees in December but were recognized at the commencement ceremony.)

Associate of Applied Science Radiologic Technology ­ University of Alaska Anchorage
Rita Fahey, cum laude, PTK
Craig James Lundy

Associate of Arts
Jane Blasingame, magna cum laude, PTK
Lindsey Bolling
Laslie Chapel, magna cum laude, PTK
Gabriel Duckworth
Amber Ferrell, cum laude, PTK
Ella Fish, PTK
BriAnna Graves
Kayleigh Hoyt, magna cum laude, PTK
Lauren Johnson, cum laude
Patricia Martinez, cum laude, PTK
Victoria Mikell
Amanda Neth
Jordan Skan, cum laude, PTK
Kathryn Spurgeon, cum laude, PTK
Christine Stack
Zachary Thompson
Marie Zellmer, magna cum laude, PTK

Bachelors Business Administration
Justin Carro, PTK
Dollee Enright, magna cum laude, PTK

Bachelors Liberal Arts
Leslie Chapel, magna cum laude, PTK
Karen Ramsey, cum laude, PTK

Bachelors Arts/History ­ University of Alaska Fairbanks
Leah Weyapuk

Masters Business Administration
Wendy Gierard
Kelly Ludwig-Johnson

The Phi Theta Kappa Honor Society Members (PTK) participated in the national service program Project Graduation that works to eliminate hunger and illiteracy. The graduates encourage their family and friends to bring canned goods and books to the commencement exercise. The donations will be given to local relief agencies and literacy organizations.

The United Students of UAS Ketchikan campus hosted the reception after the commencement for the graduates and their guests.
Marie L. Monyak is a freelance writer living in Ketchikan, Alaska.
A freelance writer is an uncommitted independent writer
from whom a publisher, such as SitNews, can order articles/photographs for a fee.
Republication fees are required for articles and/or photographs. Contact Marie at mlmx1[at]hotmail.com for costs and republication permission.
All Rights Reserved. ©2006


Publish A Letter on SitNews Read Letters/Opinions
Contact the Editor
SitNews
Stories In The News
Ketchikan, Alaska