Fill'er Up With Waste Vegetable Oil
By Marie L. Monyak
May 09, 2006
Tuesday AM

Ketchikan, Alaska - Fuel Prices on the Rise ~ Petroleum Production Tax ~ Hybrid Cars ~ Drilling in ANWR ~ Exxon's CEO's $400 Million Retirement Package ~ Biodiesel ~ Energy Crisis ~ Fuel Shortage ~ and on and on. Fuels, primarily fossil fuels and all related topics are the fodder for countless headlines in recent weeks. Americans are raging and they want answers and solutions.

The ordinary citizen depends on big business, politicians, scientists and researchers to find solutions and answers to their everyday problems yet throughout history it's been the common man, the average person, that's come to the aid of their fellow man. When a person has a need that can't be fulfilled they see it as a problem but when historic figures like DaVinci, Jefferson, Franklin, Edison and Bell had a need, they perceived it as a challenge.
John Holstrom pouring Waste Vegetable Oil in fuel tank of the M/V Hadar.
Photograph by Marie L. Monyak ©2006

One man in Ketchikan, Alaska has that same drive to find a solution for today's most talked about problem; the high cost of fuel and the reported shortages. He has successfully converted a City of Ketchikan municipal vehicle and his own personal motor vessel to operate on 100% vegetable oil. Not Biodiesel, not Ethanol, just plain waste vegetable oil that is generated daily by millions of restaurants.

Meet John Marshal Holstrom of Ketchikan; 40 years old, divorced, father of two teenagers, fisherman and boat owner who is employed by the City of Ketchikan Public Works Department as a Mechanic. One day Holstrom had a conversation with a coworker about the high cost of home heating fuel and the use of alternative fuels. That conversation led Holstrom's coworkers, Dennis Spurgeon and Bob Sivertsen, to order a conversion kit they had read about, a kit that would enable early model diesel engines to utilize vegetable oil as a fuel source.

The kit arrived in October of 2005, a very busy time for the Public Works department so it was put on the back burner so to speak. In March of this year, Holstrom read an article in the Anchorage Daily News that said the City of Anchorage was interested in creating a pilot program to convert city vehicles to burn Biodiesel as a main fuel source. The article spurred Holstrom to action knowing that the City of Ketchikan didn't need a pilot program, they already had the conversion kit sitting on a shelf, albeit a little dusty.

There's one major difference between what Anchorage and Ketchikan are doing. Anchorage is discussing the use of Biodiesel, a blend of diesel and used cooking oil, generally a 90/10 or 80/20 mix, whereas the conversion Holstrom is using calls for 100% used cooking oil.

Last month Holstrom and his coworkers successfully completed the conversion in one week on a City of Ketchikan, 1996 Ford F-800 Landfill Recycle Drop-box Vehicle. Holstrom explained that the reason it took a week was because he had to fabricate the tank mount and various parts. Speaking excitedly, Holstrom said, "The first thing we did was get the truck to operating temperature while it was sitting in the garage. As usual, we could smell the diesel fumes and feel the irritation in our eyes. Once the engine was warm we flipped the switch to vegetable oil and the smell of diesel dissipated and all we could smell was french fries!" That's right, french fries! Keep in mind that they were using waste vegetable oil (WVO) from local restaurants.

It should be explained that because vegetable oil tends to congeal at colder temperatures it must be warmed. The vehicle must be started first on diesel until the WVO has warmed sufficiently to flow freely, then with the flick of a switch the engine begins burning the WVO held in an auxiliary tank.

Holstrom was first to drive the converted truck to pick up Sivertsen across town at the City Landfill where the two traded places allowing Sivertsen to determine for himself if he felt any difference in power, which he did not. Holstrom reported that the vehicle has 5 hours operating time on WVO to date and has shown no apparent problems. "I think we may be the first Municipal vehicle in the State of Alaska burning WVO," Holstrom stated with pride.

Enthused by his first success, Holstrom had the idea to attempt the conversion in a marine application. Owner of the M/V Hadar, a 1975, 34 foot CHB Tri-Cabin Cruiser with a 120 Lehman Ford diesel engine, he set to work designing his own conversion with the help of his 17 year old son. It took the entire month of April to complete the design and fabricate the necessary parts and finally, by the end of the month, the kit was successfully installed and running smoothly.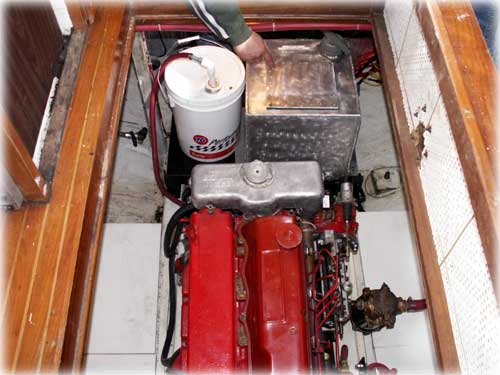 The temporary day tank that holds Holstrom's WVO and the marine vessel conversion kit of his own design.
Photograph by Marie L. Monyak ©2006

Before Sunday, May 7th, Holstrom only had 4 hours run time on his boat engine using WVO and on that day, this writer along with Holstrom's friends and family went for the inaugural boat ride. There was no discernable difference in burning WVO, no spitting, sputtering, hesitation or stalling. Shortly before returning to dock, Holstrom made the required switch back to diesel. Once again, because the WVO may congeal at low temperatures, diesel must be run through the engine and fuel pump before shutting down thereby priming the engine for the next start up. The switch was smooth and unremarkable.

Although not a scientific test, the run was an outstanding success and the trip around Pennock Island was an enjoyable one. At one point during the trip, Holstrom's friend Mary noticed a bottle of Crisco oil next to the stove in the cabin and to everyone's amusement said, "Hey, if we ever run out of fuel we have Crisco! That's our spare bottle." Since it's already filtered, straight unused vegetable oil can also be used if waste oil is unavailable.

The group couldn't help but speculate on the ramifications of this new fuel source such as the obvious benefits to the environment by using a non-polluting fuel source. In Alaska, where restaurants are not required to utilize grease traps, WVO regularly clogs sewer systems causing countless man hours to be spent on maintenance. In Ketchikan, many restaurants cooperate with the city by taking their used grease to the landfill who must then pay to ship the used grease out of state and the cost is passed on to the consumer in the form of higher landfill fees. And what of the agriculture industry, could it become the fuel supplier of the future? Would farmers increase their crops of corn and soybeans to produce more vegetable oil? Questions came and went as fast as the wind yet everyone on board agreed that as with anything new, the public would have to wholly embrace the concept of vegetable oil as a viable alternative fuel before any real consequences would be noticed.

Holstrom still has more work to do before his project is complete and meets his standards of perfection. He explained, "I'm using my day tank to hold the WVO but I plan on installing a 100 gallon main tank so I can conveniently take on fuel from outside the boat". He's keeping track of his run time so he can estimate his gallons per hour on WVO and also keeping records of any maintenance he performs so he can one day record a scheduled maintenance program for the new system. The biggest hurdle Holstrom will have to cross will be to design the conversion kit for newer diesel engines that have fuel injectors and electronic fuel management controls. In the meantime his next goal is to convert a Hitachi EX-200 Track Excavator.

With the price of Diesel advertised at $3.13 a gallon at Safeway Gas in Ketchikan and rumors of the price climbing to $4 a gallon by summer who wouldn't want to fill up their truck or boat with used vegetable oil that's free from restaurants willing to give it away? Who wouldn't prefer the smell of french fries and popcorn over diesel exhaust? While pondering these questions consider this; at the World's Fair in the late 19th century, one of Rudolph Diesel's original diesel engines was designed to run on peanut oil!

So what would be the biggest drawback to using WVO to power diesel engines? Why, the smell of course! You can't help but have a craving for fried food!
For information and questions, contact John Holstrom at: got-oil-john [at] hotmail.com
Related Story:
What's cooking in place of gasoline by Dick Kauffman - Something's cooking in place of gasoline for Joseph Prows' Chevy greese car! Prows is just one of a small growing network of drivers who are responding to environmental concerns, rising gas prices and dependence on foreign oil by finding ways to steer clear of gas pumps. - More...
July 11, 2005

Marie L. Monyak is a freelance writer living in Ketchikan, Alaska.
A freelance writer is an uncommitted independent writer
from whom a publisher, such as SitNews, can order articles/photographs for a fee.
Republication fees are required for articles and/or photographs. Contact Marie at mlmx1[at]hotmail.com for costs and republication permission.
All Rights Reserved. ©2006
Publish A Letter on SitNews
Read Letters/Opinions
Contact the Editor
SitNews
Stories In The News
Ketchikan, Alaska