Quilt Raffle brings Women's Diagnostic Imaging Suite Campaign
$2,100 closer to its goal
May 09, 2006
Tuesday AM

Ketchikan, Alaska - Ketchikan General Hospital Foundation is $2,100 closer to meeting its goal to raise funds necessary to create a Women's Diagnostic Imaging Suite thanks to the generosity of three local quilters.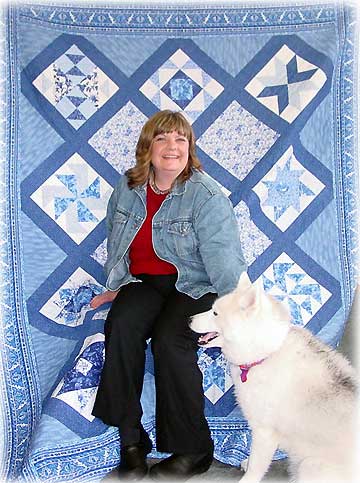 Patti Mackey held the winning raffle ticket for the quilt.
Photo courtesy Ketchikan General Hospital

This queen size quilt was constructed by Shiela Kleinschmidt together with an anonymous Ketchikan quilter in 2005, and machine quilted by Mary Luther Goodwin in 2006. From the start, the project was intended to be contributed to a local or statewide fundraiser for breast cancer research or diagnostic equipment. "It seemed natural to donate this quilt to the hospital's foundation to supplement their fundraising efforts to establish a Women's Diagnostic Imaging Suite in Ketchikan" said local quilter Sheila Kleinschmidt.
The pattern is from "The Quilt for a Cure" Sampler Book by Marti Michell, renowned quilter. The original "Cure" quilt was made from a fabric line specifically manufactured for the quilt. A portion of the funds from the purchase of those fabrics go toward finding a cure for breast cancer.
"We are so grateful to Sheila, Mary and their compatriot who made and then donated this beautiful quilt to our cause," said Karen Wolfred, KGH Foundation Development Manager. "Throughout this campaign we have been so impressed with the generosity of people and their willingness to give what they can to bring this new technology and service to our friends, family and selves."
The Women's Diagnostic Imaging Suite campaign was launched in June 2005 with a goal to raise $250,000 to match funds available in the Hospital's annual budget. "The campaign has been so successful that we were able to start purchasing some of the equipment earlier than first anticipated", says Norman Herron, MD, KGH Foundation President. "The computer aided detection equipment, a phenomenal advancement in breast cancer detection, was purchased in December 2005 and now is used in conjunction with each screening mammogram. And the replacement bone densitometer was purchased last month."
Of the 600 tickets sold, the winning ticket was held by Patti Mackey.

On the Web:
Ketchikan General Hospital
http://www.peacehealth.org/SoutheastAlaska/

Publish A Letter on SitNews
Read Letters/Opinions
Contact the Editor
SitNews
Stories In The News
Ketchikan, Alaska