Ketchikan Gymnastics Club Hosts Annual Exhibition
By Marie L. Monyak
May 07, 2006
Sunday

Ketchikan, Alaska - The Ketchikan Gymnastics Club (KGC) held their 2006 Gym Show and Award Ceremony last week on Tuesday, Wednesday and Thursday evenings. The KGC is a non-profit organization governed by a board of directors and managed by Head Coach Rhiann Golder with the help of assistant coaches Aliyah Pipal, Alison Kelly, Calli Olmstead and Kim Cole.

The annual Gym Show provides an opportunity for the student athletes to show off their progress and accomplishments for parents, family and friends prior to receiving their medals and certificates of achievement.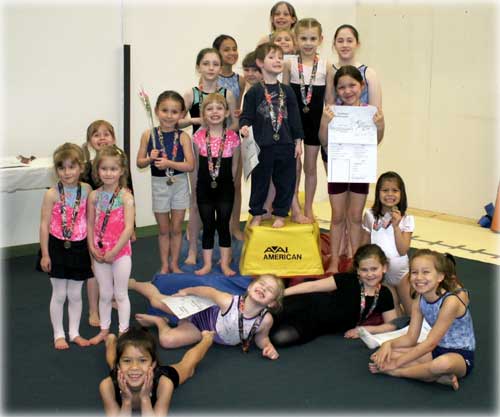 Beginner and Intermediate Classes of the Ketchikan Gymnastics Club received their medals and certificates of achievement at Thursday's Gym Show.
Photograph by Marie L. Monyak ©2006

The beginner and intermediate classes of 3 through 10 year olds held their Gym Show on Thursday evening. Charming, adorable and precious are the words that come to mind while watching these young athletes exhibit their skills. The audience was so captivated and enamored by these young performers that many commented that their faces actually hurt from smiling for so long!

The 3 year old through preschool age group, clad in their colorful leotards followed one another single file across the floor performing their routine of forward and backward rolls, cautiously walking the balance beam and even attempting one complete revolution on the parallel bar with assistance from the coaches whenever a student discovered that gravity was preventing their much heavier bottoms from completing the turn.

The audience was hushed as though watching world class athletes performing in the Olympics when one gymnast who appeared to be about 3 years old broke the silence as she completed her turn on the balance beam and shouted into the audience, "I did it Mommy!" to the laughter and delight of all those present. Not to be outdone, another gymnast stopped in mid-routine, looked into the audience and asked, "Got your camera Dad?" The pure innocence of these young stars endeared them to everyone watching.

The next group to perform was Kindergarten through 10 years of age. A bit more advanced, they performed the same forward and backward rolls but added handstands and cartwheels to their act along with floor routines. Obviously a tad more self-conscious, the athletes tugged at their leotards, brushed hair from their faces and nervously darted glances at their parents seeking the encouragement they needed to perform publicly. As each student ended their routine they quickly ran from center stage, obviously relieved to be out of the limelight.

Allowing the young groups time for a break, the more experienced Pre-Team and Team Groups entertained the audience with their floor routines and more advanced skills on the uneven parallel bars. Since graduating from beginner and intermediate classes, these gymnasts exhibited more confidence and resolve in their demeanor as they performed. Even mistakes were applauded providing the inspiration needed for the athletes to complete their routines and feel satisfaction at performing under pressure.

Ending the evening's Gym Show, the Beginner and Intermediate students were called individually to center stage. With faces beaming with satisfaction equal to their parent's look of pride, the blossoming athletes climbed to the top level of the award stage to receive their medals and certificates of achievement to a rousing applause.

Gymnastics has long been considered an excellent means for young children to develop body flexibility, coordination, balance and rhythm as well as good sportsmanship. The KGC has been training young athletes for over 20 years and has had its share of accomplishments.

Two members of KGC, along with Head Coach Rhiann Golder represented the State of Alaska at the 2006 Arctic Winter Games held in Kenai. The Arctic Winter games are a truly northern circumpolar event as participants must be from countries that are situated above the Arctic Circle. Norway, Finland, Yukon Territory and several provinces in Russia as well as Alaska, are just a few of the member countries or regions.

Kelsey Hodges, 10 years of age and Sara Carey, 11 years of age, represented not only Alaska but our very own Ketchikan at the Arctic Games. Hodges placed third on the Balance Beam while Carey placed fourth in Vault. Also, just this past April KGC member Emily Kelly, now 15 years of age, placed seventh on the Balance Beam at the 2006 Regional Championship Event held in Boise, Idaho. All three of these gymnasts are local celebrities and proof of what can be accomplished with training and determination along with the help of the Ketchikan Gymnastics Club.

On Thursday evening, even the least experienced gymnast was a celebrity in their parents' eyes!

For information about the Ketchikan Gymnastics Club, please call 247-4966.



On the Web:
Information about the 2006 Arctic Winter Games
http://www.awg2006.org
Marie L. Monyak is a freelance writer living in Ketchikan, Alaska.
A freelance writer is an uncommitted independent writer
from whom a publisher, such as SitNews, can order articles/photographs for a fee.
Republication fees are required for articles and/or photographs. Contact Marie at mlmx1[at]hotmail.com for costs and republication permission.
All Rights Reserved. ©2006
Publish A Letter on SitNews
Read Letters/Opinions
Contact the Editor
SitNews
Stories In The News
Ketchikan, Alaska