Dream Of Establishing Paintball Club Comes True
By Marie L. Monyak
May 04, 2006
Thursday

Ketchikan, Alaska - At 19 years of age, local resident Ty Rettke had a dream to share something he was passionate about with other teenagers and young adults in the Ketchikan area. He had no lofty goals of finding a cure for cancer or establishing world peace, it was something much simpler and easily attainable, or so he thought. He wanted to share his love of paintballing and begin a club.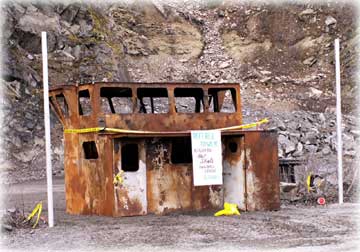 Referee Tower of Ketchikan Hot Shots Paintball League...
Plans to clean up the tower and use it as a spotting station for the referees is underway.
Photo by Marie L. Monyak
Rettke began by utilizing the Viewpoints and the free classified section of SitNews to advertise for others to join him in his quest. There were a few responses but whenever a group got together to compete they inevitably ran into obstacles. While playing in the woods surrounding Ketchikan the group was approached on two occasions by U.S. Forest Service Rangers advising them they could not play on National Forest property. On at least one occasion, State Troopers advised the group they could not play on State property either. "Each time they were all very nice, just told us to move on," Rettke said. Puzzling when one considers that the paint ball ammo is non-toxic and water soluble and Ketchikan doesn't seem to have a shortage of rain to wash it away.

With few choices left, Rettke felt that he might possibly find someone with private property that would allow them to use their land and he did just that. Naturally the land owner requested that the group, struggling to form a club, obtain insurance. Rettke first acquired a business license and then began shopping for insurance. Unavailable in Ketchikan, Rettke found a company in Juneau that offered insurance for paintballers at a cost far too exorbitant for him or the fledgling group to afford.

Not to be deterred, Rettke was single-minded in his determination. He did his research, consulting the Ketchikan Gateway Borough's website. Upon reading the mission statement for the Parks and Recreation Department, Rettke was encouraged once again. The mission statement was full of proud and noble promises to "enrich the lives of all of its citizens," and "to provide opportunities that enable people of all ages through positive use of leisure time." Many of Rettke's Viewpoint letters to SitNews reflected his strong belief that by providing local kids (teenagers and young adults) with more positive physical activities then naturally there would be less destructive behavior on the part of that age group. The Gateway Borough was the obvious answer to Rettke's problem. Or so Rettke thought.

Rettke said, "The Borough office was real nice, I talked to them and it seemed like they liked the idea at first but then said they couldn't afford it." All Rettke needed the Borough to do was cover the group under their Parks and Recreation insurance since he had the land and was willing to do any of the work involved in setting up the program.

It was beginning to look hopeless to Rettke and then one day his phone rang. Local resident Bobbi McCreary had read Rettke's Viewpoint letters in SitNews and contacted him. Together they re-formed the non-profit Ketchikan Youth Initiative (KYI). With a board of four teenagers (under 18), seven young adults and other older adults, KYI's mission statement is; "To empower the community by fostering and funding youth and young adult initiatives designed to create a constructive social environment." KYI asserts that all sponsored activities will include an alcohol and drug prevention aspect as well as seeking out underprivileged youth.

With Rettke serving as Board President, McCreary as Secretary and Gregory Vickery as Treasurer, the newly re-formed KYI's first goal was to turn the dream of a paintball club into a reality. As a non-profit 501(c)3, KYI was able to form the Hot Shots Paintball League and begin soliciting tax deductible donations for the development of the paintball park. Like the Kentucky Derby, Rettke and his friends were off and running!

Cape Fox Corporation granted a use permit for land on Revilla Road to be used as a paintball park, Tyler Rental donated the service of an excavator, Ketchikan Redi-Mix, George Lybrand and SECON donated load after load of D-1, numerous trucking companies hauled the D-1, Petro Marine donated fuel to keep the trucks running, Dawson Construction donated an employee to work on the field for one full week, leveling the ground, moving boulders and spreading the D-1. Cedars Lodge donated a container for securing supplies at the site, and the list goes on, of people and businesses willing to help make one young man's dream come true for not only himself but countless others.

Anyone passing by on their way to Harriet Hunt Lake on Saturday, April 22nd could see the activity at the park. The D-1 was being spread by Dan Zink in the D-4 dozer while Steve Shrum operating the forklift donated by SRM Inc. was sinking over 25 steel poles intended to hold the 450 foot long, 12 foot high paintball safety netting that will protect passing motorists and observers. Secretary of the Paintball League, Spencer Round, League members, Kevin Brown, Jarad Oien, Dollee Enright and several others were assisting or clearing brush and picking up trash; countless spent shell casings, beer and soda cans, broken glass and the residue of numerous campfires.

The piece de resistance, sticking out like a sore thumb, was the burnt out, thoroughly rusted landing craft tower donated by Alaska Ship and DryDock. The cliché, "One man's junk is another man's treasure" aptly describes the tower and the feeling of the league members. They could not have been happier if it were a custom designed watchtower! Plans to clean up the tower and use it as a spotting station for the referees is underway.

There are countless individuals and businesses that have donated materials and time or money to assist these industrious kids accomplish their goal but most interesting was to learn that the kids were not expecting everything to be handed to them but rather were spending their weekends doing much of the "grunt work." One member, Spencer Round is even collecting toner and ink jet cartridges which he recycles to make money for building the new park. It became more and more obvious that all these kids ever needed was a helping hand to get their project started.

Ty Rettke is now 21 years old, two years have gone by since he began his effort to make his dream become a reality. In the beginning, Rettke said there were approximately 30 people in the club but as time passed and progress stalled many lost interest until there were only nine members left. He also estimated there are approximately 125 paintballers in Ketchikan and they may very well show an interest in joining once the park is open.

As the park nears completion a grand opening is scheduled for Sunday May 21st. The Hot Shots Paintball League three founding sponsors, Cape Fox Corporation, Cellular One and Revilla Island Prevention Coalition will be supporting the event as well as Red Bull who will be providing their beverage and live music to accompany the free barbeque. Play on the field will be free of charge and will there be equipment available to borrow although a beginners set up can be acquired for only $50 at any of the four retailers in town that carry the supplies.

Rettke's perseverance, his dogged determination, his willingness to obey the law and create something for the enjoyment of other makes him a person to watch in the upcoming years. Someday he just may be a member of the Ketchikan City Council.

If you are interested in joining the league or would like to partner with them and provide much needed materials and donations, you can do so by attending the weekly meeting held on Wednesdays at 7:00 P.M. at SharJo's Restaurant or by contacting Ty Rettke at 617-2939, Spencer Round at 617-0102 or Bobbi McCreary at 225-2250.

Marie L. Monyak is a freelance writer living in Ketchikan, Alaska.
A freelance writer is an uncommitted independent writer
from whom a publisher, such as SitNews, can order articles for a fee.
For information about Monyak's freelance writing services and costs contact her at mlmx1[at]hotmail.com
Send your story ideas to SitNews at editor@sitnews us

Publish A Letter on SitNews Read Letters/Opinions
Contact the Editor
SitNews
Stories In The News
Ketchikan, Alaska