Best Western Landing Hotel Holds Festive Grand Opening
By Marie L. Monyak
May 01, 2006
Monday

Ketchikan, Alaska - Likely the biggest party in Ketchikan this past Saturday evening was held at the brand new North Court of The Best Western Landing Hotel, graciously hosted by owners Kay Sims and Terry Wanzer. The festive grand opening celebration began at 5:00 PM and it wasn't long till both the Sunny Point main banquet room and the adjacent reception room were filled with curious residents happy to get a first look at the striking new addition and congratulate both Sims and Wanzer on their newest enterprise.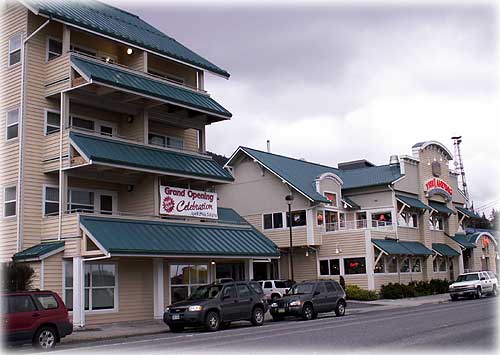 Best Western Landing Hotel, Ketchikan
Photo by Marie L. Monyak

Guests were greeted at both elevators by nicely dressed hostesses who were happy to answer questions and direct the more curious to the various hotel rooms opened for viewing. The Queen and King rooms as well as the King suite and the handicapped accessible ADA compliant rooms were beautifully appointed with rich cherry wood furnishings, charming decorative accessories and soothing fabric choices. In each room, hidden in a massive cherry wood armoire is a microwave and refrigerator and there's no need to search for the internet connection as the entire property provides free Wi-Fi access.

After satisfying their curiosity, guests moved on to the Sunny Point main conference room and were once again greeted, this time by General Manager Bridgette Sloan who was only too happy to answer questions and sign guests up for a drawing. The spaciousness of the room was remarkable by Ketchikan standards. Exquisite floral arrangements were tastefully placed throughout both the reception area and main banquet room and the telltale aroma of Chef Bong's delectable cooking wafted through the air.

After acquiring a beverage from one of several bars, guests couldn't visit with friends and neighbors for long before they were drawn to the beautifully laid out buffet tables. From the dressed salmon centerpiece to the chocolate fountains for dipping fresh strawberries, there was something to satisfy every palate. Prepared in the new full service kitchen adjacent to the banquet room, the serving platters all but overflowed with savory hor d'ouevers, crudités, delicacies and even peeled shrimp (no guest ever has to peel shrimp at the Landing!) Chef Bong's delightfully light and crispy battered fried halibut satisfied even this writer's refined palate!

Friends, neighbors and acquaintances visited and enjoyed good food and good wine while their hosts, Sims and Wanzer, wandered about ensuring their guests were attended to and the event proceeded as smooth as a newly opened rose. When asked what she was feeling and what she thought about the people attending the grand opening, Kay Sims replied, "I'm glad they seem to like this place so much, I really am. It's not just tonight but all the time, the restaurant is always busy and it's always the locals, which is why we're in business, it's for the locals. We get the rest on the sidelines, but its people like you and everyone else here that make me so happy."

Besides the 45 new rooms, giving the hotel a total of 107 rooms and suites, the Sunny Point banquet room is the jewel in the Landing's crown. Between greeting guests and making introductions, Wanzer was pleased to say, "The rates on our banquet rooms are less, much less than any others available in town. And yes, we are aggressively seeking out new business." When asked about the building itself, Wanzer replied, "I never realized how much we could get on this site as far as footprint. We just never dreamed we could get this design and size of building on this site. I feel it has a lot of design to it, it's not just your typical Ketchikan box."

Call it a conference center, banquet room, business center or reception hall, the Sunny Point rooms will fill a need in this town and the people of Ketchikan gave their wholehearted approval Saturday night.
Marie L. Monyak is a freelance writer living in Ketchikan, Alaska.
A freelance writer is an uncommitted independent writer
from whom a publisher, such as SitNews, can order articles for a fee.
For information about freelance writing services and costs contact Marie at mlmx1[at]hotmail.com
Send your story ideas for SitNews to editor@sitnews us


Publish A Letter on SitNews Read Letters/Opinions
Contact the Editor
SitNews
Stories In The News
Ketchikan, Alaska