Viewpoints
Memorial Day
By Sen. Ted Stevens
May 28, 2006
Sunday

This week, nine of my comrades from the 322nd Troop Carrier Squadron visited Washington, DC. Our squad supported the Flying Tigers during World War II in the China-Burma-India Theater. My comrades were in town for the 14th Air Force Association's commemoration of Memorial Day. President Bush was gracious enough to welcome us at the White House on Thursday morning. Standing in the Oval Office alongside the men I once fought beside is an experience I shall not soon forget.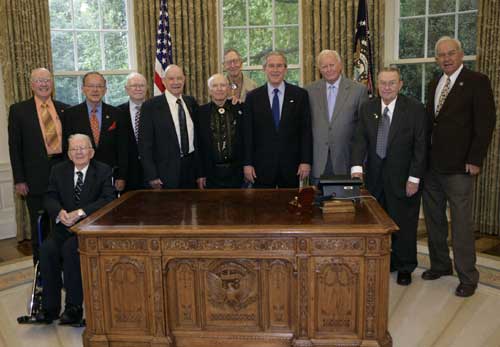 322nd Troop Carrier Squadron's visit to the White House

After our visit to the White House, we returned to my office in the Capitol, where we could see the preparations underway for the Memorial Day ceremony that will be held on the Capitol grounds. The Capitol ceremony is one of the largest public celebrations each year, and this weekend those who have worn the uniform and paid the ultimate price will be honored there - and at thousands of events, large and small, across our nation.

Having spent time with my comrades, my thoughts turned back to a time 60 years ago when I was in uniform. Our squadron had a motto: We do the impossible immediately, miracles take slightly longer. Today, our men and women in uniform are fighting for freedom in places around the world. They perform miracles every day. They truly are the new 'Greatest Generation,' and as a member of the last generation to carry that title, I salute them.

Note: Comments published on Viewpoints are the opinions of the writer
and do not necessarily reflect the opinions of Sitnews.
Write a Letter -------Read Letters

E-mail the Editor

Sitnews
Stories In The News
Ketchikan, Alaska