Viewpoints
Isn't It Amazing How...
By Jerry Cegelske
May 17, 2006
Wednesday

Saturday we had a cleanup day for the North Tongass Highway. We didn't have enough volunteers to get everything cleaned up or to get over to Revilla Road as we wanted to, although one volunteer did work on Revilla.

I was privileged to meet someone I had never met before who turned out to be a human dynamo! In four hours of hard work, she never took a break except to drink two bottles of water despite collecting and hauling trash from below the pull out at Mile 15.3 N. Tongass. Her name is Lucy Leitz. She arrived just after 9:00 a.m. on her bike which should have been a clue to her physical conditioning! I was inspired by her efforts and helped her collect and haul some of the trash from the steep slope. Below is a picture of Lucy with the trash and household garbage collected within a 100 foot radius of the pull out.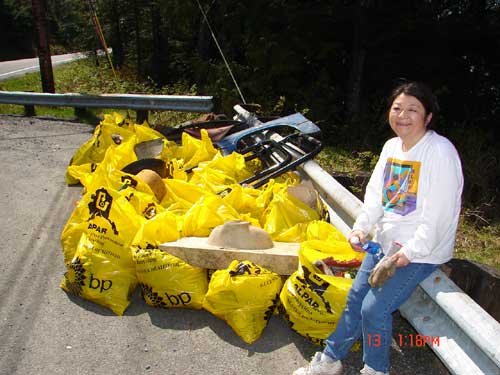 Lucy Leitz with the trash she collected at the pull-out at Mile 15.3

After Lucy had about twenty bags on the pull out with more bagged below, one of the flaggers from the highway striping crew came over and having observed the cleanup efforts, made the statement, "Isn't it amazing how." . She then stated how her father made them clean up their camping spot before they did anything else on their camping trips. If you think about it, her father was a wise man. They could then enjoy the area without worrying about the trash and it was easy to keep it clean with spots designated for their trash disposal.

I also got to meet Bill and Ann Hope who walked the highway picking up trash. They collected about 15 bags of trash themselves and would have collected more except that Ann was called away on an emergency.

Aaron Anderson from the U.S. Coast Guard volunteered for a dirty job of cleaning up the burn piles on Revilla Road. Aaron used all the bags I gave him and then loaded his truck up with larger trash he collected along the road. When he was done he took it to the landfill for disposal and it amounted to 1700 pounds of trash including the burn piles and nails he collected with the wheeled magnet.

As I said it was unfortunate that we didn't have more volunteers. Below are some pictures of a small amount of the material dumped on Revilla Road that did not get cleaned up. If you go to Lake Harriett Hunt, be careful as the mental giants of the community have taken to burning pallets on the road and pull outs, thus leaving hundreds of nails for you to drive over. It is a shame that you cannot show visitors the beauty of this community without also showing them the ugly side of our residents.

If you see Lucy, Bill or Ann Hope, or Aaron Anderson, thank them for the work they did Saturday, the community owes them that.

Oh, the flaggers full statement was "Isn't it amazing how stupid people are!"

Jerry Cegelske
Ketchikan, AK - USA



About: Jerry Cegelske is the Borough Code Enforcement Officer.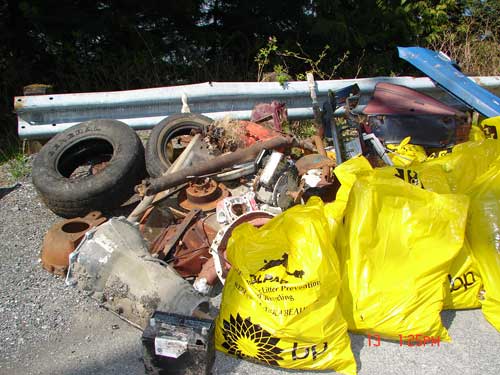 Trash collected at Mile 15.3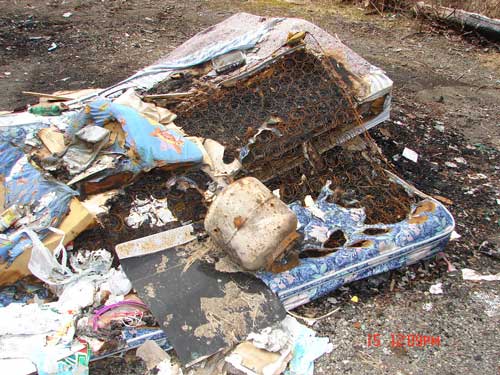 Burned mattress and trash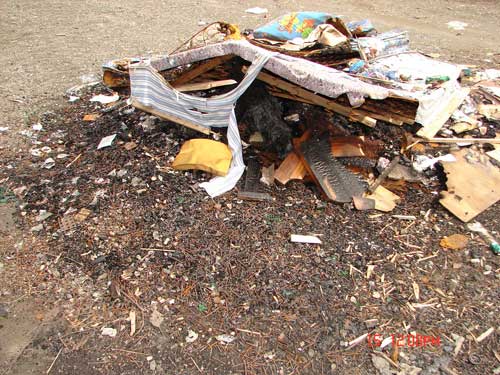 Burned mattress and trash at Lake Harriett Hunt- note nails from the burned pallets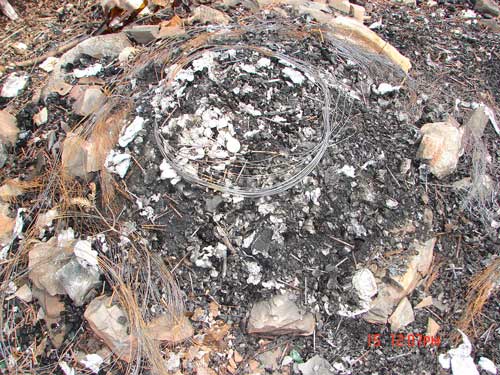 The mess left from burned tires and pallets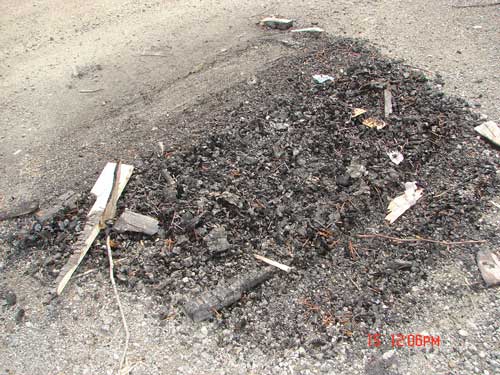 Burned pallet remains on road to Lake Harriett Hunt- Watch out for the nails



Note: Comments published on Viewpoints are the opinions of the writer
and do not necessarily reflect the opinions of Sitnews.
Write a Letter -------Read Letters

E-mail the Editor

Sitnews
Stories In The News
Ketchikan, Alaska