Unofficial Standings of Week 1 of the 58th King Salmon Derby
and Daily Drawing Winners
May 31, 2005
Tuesday

Ketchikan, Alaska - The unofficial results have been announced for the 1st week of the 58th King Salmon Derby. This family event which is sponsored by the Ketchikan CHARR membership has remained a grass roots effort over the 58 years of its existence and attracts over a thousand participants of all ages annually.
Local businesses sponsor a varitey of cash and prizes that are awarded to the top anglers. The first place derby ladder prize is $10,000 cash provided by the King Salmon Derby Committee. A complete list of all the prizes and sponsors is available on the Ketchikan CHARR web site at http://www.ketchikancharr.com/Templates/prizes.htm
All proceeds from the King Salmon Derby remain in the community and benefit the community in a variety of ways. Four non-profit organizations - the Knights of Columbus, the Society of American Foresters Dixon Entrance Chapter, the Ketchikan Volunteer Rescue Squad, and HoopMania - partner with the Derby staffing the weigh in stations. Each non-profit organization is given a stipend for their work which in turn is distributed through their respective activities throughout the local area.
According to CHARR, proceeds from the Derby have supported such projects as training for the local Search and Rescue group, the Deer Mountain Hatchery, and the downtown Ketchikan welcome arch. Currently, all proceeds from the Derby are used to provide scholarships for local students.
The 58th King Salmon Derby days are: Week 1: May 28, 29, & 30; Week 2: June 4 & 5; and Week 3: June 11 & 12, 2005.
Week 1 Unofficial Standings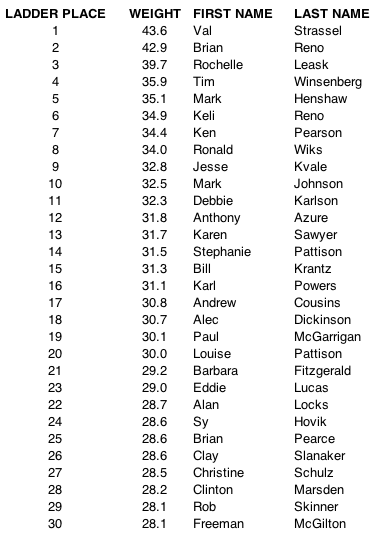 Week 1 Unofficial Special Prize Categories w/Daily Drawing Winners
Biggest King in Skiff under 16 feet: Andrew Cousins, 30.8#
Angler between age 6 and 15: Sy Hovik, 28.6#
Angler w/AK Fish & Game Permanent Fishing License: Paul McGarrigan, 30.1#
Cumulative Weight: Barbara Fitzgerald, 181.6#
Daily Drawing for Day 1 of the Derby, May 28, 2005: Shayne Patrick
Daily Drawing for Day 2 of the Derby, May 29, 2005: Kevin Quinn
Daily Drawing for Day 3 of the Derby, May 30, 2005: Christopher Lervick

On the Web:
2005 Ketchikan King Salmon Derby Rules & Information
Web Site
Source of News:
Ketchikan CHARR
Web Site
E-mail your news & photos to editor@sitnews.us


Publish A Letter on SitNews Read Letters/Opinions
Submit A Letter to the Editor
SitNews
Stories In The News
Ketchikan, Alaska