Stedman Calls Legislative Session a Success

Focuses Efforts on Retirement System Reform, District Priorities
May 27, 2005
Friday

Calling the 2004-2005 Legislative Session "a success for the people of Southeast Alaska and the entire state", Senator Bert Stedman (R-Sitka) headed home Thursday after the conclusion of the special legislative session in Juneau. Stedman represents Senate District A, which includes the Southeast communities of Ketchikan, Sitka, Wrangell and Petersburg.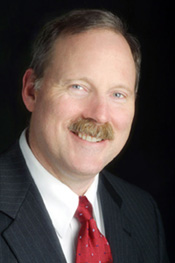 Sen. Bert Stedman
Reforming Alaska's public employees retirement system was a top priority for Senator Stedman, the Senate Majority and the Murkowski Administration. As a freshman member of the Senate Finance Committee, Senator Stedman took a lead role in successfully moving SB 141, the public pension reform bill, through the legislature. Stedman described the problems facing the Public Employees and Teachers Retirement system as "complex and financially daunting". Collectively, the plans are $5.7 billion underfunded, an amount equivalent to one fifth of the Alaska Permanent Fund. Although the state has the financial resources to pay its short-term obligations, Alaska will continue to have to redirect more of its annual operating budget towards the huge liability of these plans. SB 141 establishes a single board to manage all of the state's retirement assets and liabilities and implements a new defined contribution style retirement plan for all public employees hired after July 1st, 2006. Under the new plan, public employees and teachers will have the freedom to manage their own money, select their own investment choices and have portable savings accounts for their retirement. Senate President Ben Stevens called SB 141 "the most significant piece of legislation passed this session". Senator Stedman said, "It's critical that we have a benefit structure that attracts and retains excellent teachers and public employees. I believe SB 141 accomplishes that goal, while at the same time bringing overdue public pension reform to Alaska." Next year the Finance Committee will continue to work on bringing long-term financial stability to the system and developing a comprehensive plan for addressing the system's $5.7 liability.
Stedman chaired the Operating Budget Subcommittees for the Departments of Law, Revenue and Commerce, Community and Economic Development. Despite momentarily high oil prices, the departments under Stedman's review were held to incremental increases over FY 05 operating plans. "It's been a long time since we've had a good capital budget and much of our state's basic infrastructure needs maintenance" said Senator Stedman. "I think it's more appropriate to use our surplus to address those needs than on growing state government."
As a new member of the Senate Resources Committee, Stedman was actively involved in fisheries legislation, including two bills he personally introduced: Senate Bill 126 and Senate Bill 145. SB 126 helped legitimize an important and innovative new Southeast Alaska fishery, the aquatic farming industry. Stedman worked closely with Representative Jim Elkins (R-Ketchikan), sponsor of the House version of the bill (HB 98), and Governor Murkowski signed it into law on May 6th. Shellfish farmers will now contribute millions in additional revenue to Southeast Alaska's economy by developing a highly valued new seafood product.
SB 145 assisted a different sector of Alaska's fishing industry by allowing fish tenders to participate in the state's successful fisheries loan program. This program makes low interest loans to help fisherman upgrade their equipment in an effort to add value to their product and improve the quality of the fish they sell. On this issue, Senator Stedman worked side-by-side with Representative Bill Thomas (R-Haines), sponsor of the House version of the bill (HB 230).
In addition to the Resources Committee, Stedman served on the Legislative Budget and Audit Committee this session. Both committees spent a significant about of time this session studying gas pipeline initiatives. "I learned a great deal about Alaska's oil and gas industry and about the massive gas pipeline project", Stedman said. "I expect the Legislature to meet again before the end of this year to make some decisions about how best to protect Alaska's interest in the planned $20 billion dollar project."
The FY 06 capital budget was passed yesterday, the last day of the special session. "This is one of the largest capital budgets in Alaskan history and includes a number of important infrastructure projects for Senate District A", Stedman said. Included in the capital budget is $750,000 for the North Tongass Fire Department in Ketchikan, $100,000 for work on Ketchikan's Waterfront Promenade and $50,000 for the White Cliff School Senior Center/Arts Center revitalization project. The total amount of capital funds in House District 1 exceeds $29.5 million dollars. House District 2 capital funding includes $2.5 million for Petersburg's North Harbor and $280,000 for the Indian River Road upgrade project in Sitka. The capital bill also includes financial assistance to individual municipalities to cover increased PERS benefit costs. District-wide PERS assistance totaled more than $1.3 million.
School Districts in Southern Southeast Alaska will have access to state funds for construction and major maintenance under the provisions of Senate Bill 73, which also passed this week. The bill authorizes School Districts to bond for school construction and major construction. If voters approve the issuance of these bonds, the state will re-pay the districts 70 percent of the costs of these projects. The Ketchikan School District is authorized $1.1 million of major maintenance bonding; the Sitka School District $7.164 million; and the Wrangell School District $2.8 million.
FY2006 Capital Budget (SB46)
House District 1:
Department of Commerce, Community and Economic Development:
Alaska Industrial Development Authority - Ketchikan Shipyard Development State Match $1,000,000
(G/F Match 1,000,000)
Grants to Named Recipients (AS 37.05.316):
Tongass Coast Aquarium, Inc. $50,000
(Gen Fund 50,000)
Grants to Municipalities (AS 37.05.315):
City of Coffman Cove - Garbage Truck $30,000
(Gen Fund 30,000)
City of Ketchikan - Design and Construction of Waterfront Promenade $100,000
(Gen Fund 100,000)
City of Ketchikan - Gravina Electric/Telecommunication Line $200,000
(Gen Fund 200,000)
City of Thorne Bay - Harbor Shack Construction $70,000
(Gen Fund 70,000)
Ketchikan Gateway Borough - Mountain Point Water Upgrades/ Booster $41,500
(Gen Fund 41,500)
Ketchikan Gateway Borough - North Tongass Fire Station $750,000
(Gen Fund 750,000)
Ketchikan Gateway Borough - South Tongass Water/Sewer Crossings $300,000
(Gen Fund 300,000)
Ketchikan Gateway Borough - White Cliff School Redevelopment Project $50,000
(Gen Fund 50,000)
Department of Education and Early Development Major Maintenance Grant Fund (AS 14.11.007):
Southeast Island - Thorne Bay House Access Ramp $141,415
(Gen Fund 141,415)
Department of Environmental Conservation Village Safe Water Projects:
Saxman Water System Upgrades $1,659,000
(Fed Rcpts 1,244,200) (G/F Match 414,800)
Department of Transportation/Public Facilities
Airport Improvement Program:
Coffman Cove: Seaplane Float Relocation $250,000
(Fed Rcpts 250,000)
Hollis and Clark Bay: Seaplane Float Construction $900,000
(Fed Rcpts 900,000)
Ketchikan: Runway Overlay and Runway Safety Area Upgrade $10,000,000
(Fed Rcpts 10,000,000)
Ketchikan: Snow Removal Equipment/Sand/Urea Building Construction $2,875,000
(Fed Rcpts 2,875,000)
Surface Transportation Program:
Alaska Marine Highways: Ketchikan Layup Berth and Mooring Structures $6,400,000
(Fed Rcpts 6,400,000)
Alaska Marine Highways: Ketchikan Transfer Facilities Improvements $4,200,000
(Fed Rcpts 4,200,000)
Congressional Earmarks:
Ketchikan: Airport Improvements $500,000
(Fed Rcpts 500,000)
PERS Relief to Municipalities:
Ketchikan Gateway Borough $206,307
City of Ketchikan $415,937
City of Saxman $21,534
City of Thorne Bay $14,513
(General Funds)
*** Total Election District Expenditures $30,175,206
*** Total Election District Funding
General Funds $3,806,006
Federal Receipts $26,369,200
FY2006 Capital Budget (SB46)
House District 2:
Department of Commerce, Community and Economic Development
Grants to Municipalities (AS 37.05.315):
City and Borough of Sitka - Indian River Road Upgrade $280,000
(Gen Fund 280,000)
City and Borough of Sitka- Sitka High School Vocational Education Major Maintenance $272,676
(Gen Fund 272,676)
City of Petersburg - Ira II Playground $60,000
(Gen Fund 60,000)
City of Petersburg - Public Safety Building Engineering / Feasibility Study $60,000
(Gen Fund 60,000)
City of Wrangell - Regional Cold Storage $100,000
(Gen Fund 100,000)
Department of Environmental Conservation
Municipal Water, Sewer and Solid Waste Matching Grant Projects:
Petersburg Water Treatment Plant Upgrade Phase 2 $1,658,300
(Fed Rcpts 1,243,700)
(ASLC Bonds 414,600)
Sitka Tongass Drive and Seward Avenue Water System Improvements $200,300
(Fed Rcpts 150,200)
(ASLC Bonds 50,100)
Sitka Water Distribution System Improvements $136,900
(Fed Rcpts 102,600)
(ASLC Bonds 34,300)
Department of Fish and Game Non-Program Appropriations:
Crystal Lake Hatchery Transformer Replacement $30,000
(Fish/Game 30,000)
Department of Public Safety Non-Program Appropriations:
Driving Simulator -Training Academy $265,000
(Fed Rcpts 265,000)
Department of Transportation/Public Facilities
Non-Program Appropriations:
Petersburg: North Harbor Deferred Maintenance and Transfer $2,500,000
(Gen Fund 2,500,000)
Congestion, Mitigation and Safety Initiative:
Sitka - Rocky Guitierrez Airport Access Improvements $3,500,000
(Gen Fund 3,500,000)
Airport Improvement Program:
Sitka: Rocky Gutierrez Terminal Area Master Plan $100,000
(Fed Rcpts 100,000)
Wrangell: Runway Overlay, Runway Safety Area, and Seaplane Pullout $10,000,000
(Fed Rcpts 10,000,000)
Surface Transportation Program:
Petersburg: Mitkof Highway Upgrade $4,800,000
(Fed Rcpts 4,800,000)
Sitka: Sawmill Creek Road Upgrade $5,200,000
(Fed Rcpts 5,200,000)
PERS Relief to Municipalities:
City and Borough of Sitka $371,607
City of Petersburg $198,490
City of Wrangell $125,854
City of Pelican $6,559
(General Funds)
*** Total Election District Expenditures $29,865,686
*** Total Election District Funding
General Funds $7,475,186
Federal Receipts $21,861,500
Other $529,000

Source of News & Photograph:
Office of Senator Bert Stedman
E-mail your news & photos to editor@sitnews.us


Publish A Letter on SitNews Read Letters/Opinions
Submit A Letter to the Editor
SitNews
Stories In The News
Ketchikan, Alaska