New Saxman I.R.A. Tribal Council Members Sworn In
by Gigi Pilcher
May 21, 2005
Saturday

Saxman, Alaska - The Organized Village of Saxman, Saxman I.R.A. Council held an oath of office ceremony Friday evening to swear in the newly elected and re-elected members to the Council. The ceremony was held at the Saxman Tribal Office in Saxman which is located just south of Ketchikan.
Saxman I.R.A. Council President Lee Wallace called the meeting to order and the Invocation was given by Captain Joe Thomas of the Salvation Army. Ray Compo, 16-year- old Saxman Youth Leader, led the Pledge of Allegiance.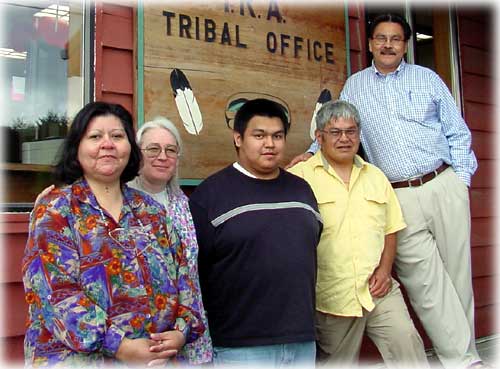 Saxman I.R.A. Council Members Nora DeWitt, Sylvia Banie, Kevin Shields, Richards Shields, Lee Wallace (not present Tim Burton and Denise Nathan)
Photograph by Gigi Pilcher

Winnona Wallace, Tribal Administrator presented the Departure from Office and Tribal Secretary Gladys Jerred administered the Oath of Office to the new Council Members.

Newly Elected Council Members:
President: Lee Wallace (re-elected)
Council Member: Nora DeWitt (re-elected)
Sylvia Banie (new)
Kevin Shields (re-elected)
Council Members who were not up for re-eleciton and serving on the Saxman I.R.A. Council are:
Tim Burton
Denise Nathan
Richard Shields
Council Member Richard Shields, closed the ceremony. Following the ceremony cake and coffee were served.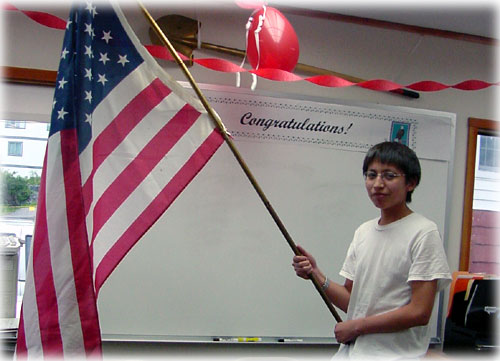 Saxman Youth Leader and Ketchikan High School student
Ray Compo led the Pledge of Allegiance.
Photograph by Gigi Pilcher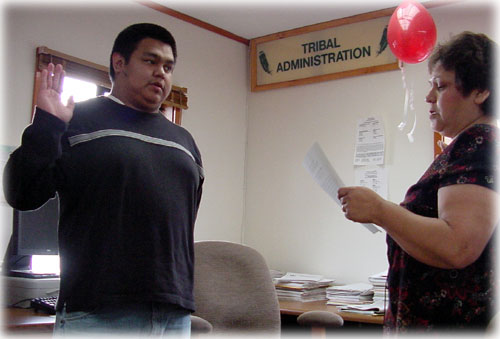 Gladys Jerred administers the Oath of Office to Kevin Shields.
Photograph by Gigi Pilcher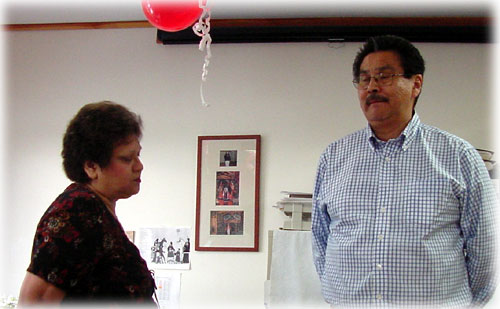 Gladys Jerred administers the Oath of Office to Lee Wallace,
newly re-elected president of the Saxman IRA Tribal Council.
Photograph by Gigi Pilcher

Nora DeWitt is pictured as she signs her Oath of Office as Tribal Council Member.
Photograph by Gigi Pilcher
E-mail your news & photos to editor@sitnews.us


Publish A Letter on SitNews Read Letters/Opinions
Submit A Letter to the Editor
SitNews
Stories In The News
Ketchikan, Alaska